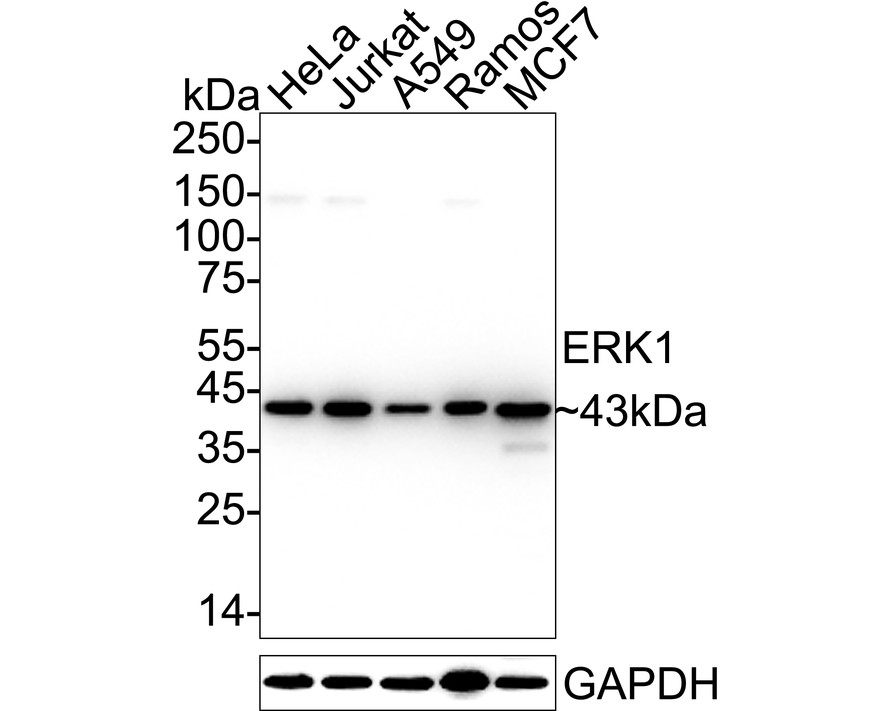 Western blot analysis of ERK1 on different lysates using anti-ERK1 antibody at 1/1,000 dilution.
Positive control:
Lane 1: Hela
Lane 2: Jurkat
Lane 3: K562
SPECIFICATIONS
Product Type
Recombinant Rabbit monoclonal primary
Product Name
ERK1 Recombinant Rabbit Monoclonal Antibody [SP05-09] (ET1604-32)
Positive Control
Jurkat, MCF-7, Hela, K562, NIH/3T3, human colon cancer tissue, human breast tissue, mouse stomach tissue.
PROPERTIES
Storage Condition
Store at +4C after thawing. Aliquot store at -20C or -80C. Avoid repeated freeze / thaw cycles.
Storage Buffer
1*TBS (pH7.4), 0.05% BSA, 40% Glycerol. Preservative: 0.05% Sodium Azide.
TARGET
SYNONYMS
ERK 1 antibody; ERK antibody; ERK-1 antibody; ERK1 antibody; ERT 2 antibody; ERT2 antibody; Extracellular Signal Regulated Kinase 1 antibody; Extracellular signal related kinase 1 antibody; Extracellular signal-regulated kinase 1 antibody; HGNC6877 antibody; HS44KDAP antibody; HUMKER1A antibody; Insulin Stimulated MAP2 Kinase antibody; Insulin-stimulated MAP2 kinase antibody; MAP kinase 1 antibody; MAP kinase 3 antibody; MAP Kinase antibody; MAP kinase isoform p44 antibody; MAPK 1 antibody; MAPK 3 antibody; MAPK antibody; MAPK1 antibody; Mapk3 antibody; MGC20180 antibody; Microtubule Associated Protein 2 Kinase antibody; Microtubule-associated protein 2 kinase antibody; Mitogen Activated Protein Kinase 3 antibody; Mitogen-activated protein kinase 1 antibody; Mitogen-activated protein kinase 3 antibody; MK03_HUMAN antibody; OTTHUMP00000174538 antibody; OTTHUMP00000174541 antibody; p44 ERK1 antibody; p44 MAPK antibody; p44-ERK1 antibody; p44-MAPK antibody; P44ERK1 antibody; P44MAPK antibody; PRKM 3 antibody; PRKM3 antibody; Protein Kinase Mitogen Activated 3 antibody
SEQUENCE SIMILARITIES
Belongs to the protein kinase superfamily. CMGC Ser/Thr protein kinase family. MAP kinase subfamily.
POST-TRANSLATIONAL MODIFICATION
Phosphorylated upon KIT and FLT3 signaling (By similarity). Dually phosphorylated on Thr-202 and Tyr-204, which activates the enzyme. Ligand-activated ALK induces tyrosine phosphorylation. Dephosphorylated by PTPRJ at Tyr-204.
FUNCTION
Mitogen-activated protein kinase (MAPK) signaling pathways involve two closely related MAP kinases, known as extracellular-signal-related kinase 1 (ERK 1, p44) and 2 (ERK 2, p42). Growth factors, steroid hormones, G protein-coupled receptor ligands and neurotransmitters can initiate MAPK signaling pathways. Activation of ERK 1 and ERK 2 requires phosphorylation by upstream kinases such as MAP kinasekinase (MEK), MEK kinase and Raf-1. ERK 1 and ERK 2 phosphorylation can occur at specific tyrosine and threonine sites mapping within consensus motifs that include the threonine-glutamate-tyrosine motif. ERK activation leads to dimerization with other ERKs and subsequent localization to the nucleus. Active ERK dimers phosphorylate serine and threonine residues on nuclear proteins and influence a host of responses that include proliferation, differentiation, transcription regulation and development. The human ERK 1 gene maps to chromosome 16p12-p11.2 and encodes a 379 amino acid protein that shares 83% sequence identity to ERK 2.
CITATIONS
Shen, Junyi et al.

Loss of FoxA2 accelerates neoplastic changes in the intrahepatic bile duct partly via the MAPK signaling pathway. | Aging [2019]