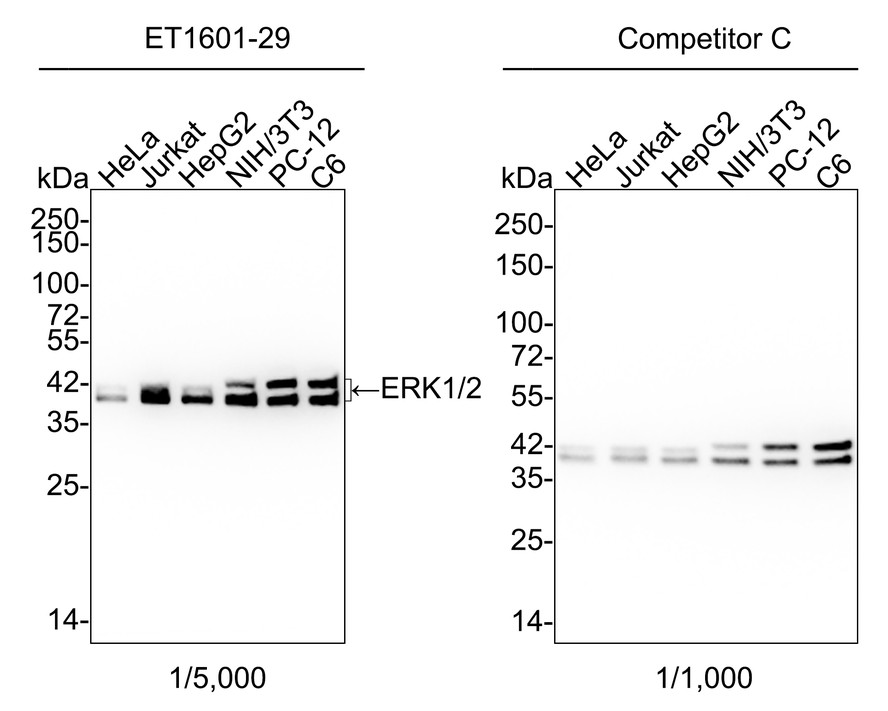 Western blot analysis of ERK1/2 on different lysates. Proteins were transferred to a PVDF membrane and blocked with 5% BSA in PBS for 1 hour at room temperature. The primary antibody (ET1601-29, 1/500) was used in 5% BSA at room temperature for 2 hours. Goat Anti-Rabbit IgG - HRP Secondary Antibody (HA1001) at 1:5,000 dilution was used for 1 hour at room temperature.
Positive control:
Lane 1: Hela cell lysate
Lane 2: SW480 cell lysate
Lane 3: HCT116 cell lysate
Lane 4: PC-12 cell lysate
REACTIVITY
Human

Mouse

Rat

Zebrafish
SPECIFICATIONS
Product Type
Recombinant Rabbit monoclonal primary
Product Name
ERK1/2 Recombinant Rabbit Monoclonal Antibody [SA43-03] (ET1601-29)
Immunogen
Recombinant protein within human erk2 aa 180-379.
Positive Control
Hela cell lysate, SW480 cell lysate, HCT116 cell lysate, PC-12 cell lysate, hybrid fish (crucian-carp) brain tissue lysates, Hela, MCF-7, NIH/3T3, A549, SH-SY5Y.
PROPERTIES
Storage Condition
Store at +4C after thawing. Aliquot store at -20C or -80C. Avoid repeated freeze / thaw cycles.
Storage Buffer
1*TBS (pH7.4), 0.05% BSA, 40% Glycerol. Preservative: 0.05% Sodium Azide.
PURIFICATION
Protein A affinity purified.
TARGET
SYNONYMS
ERK 1 antibody; ERK 2 antibody; ERK-2 antibody; ERK1 antibody; erk1/2 antibody; ERK2 antibody; ERT1 antibody; ERT2 antibody; Extracellular signal regulated kinase 1 antibody; Extracellular signal-regulated kinase 2 antibody; MAP kinase 1 antibody; MAP kinase 2 antibody; MAP kinase isoform p42 antibody; MAP kinase isoform p44 antibody; MAPK 1 antibody; MAPK 2 antibody; MAPK 3 antibody; Mapk1 antibody; MAPK2 antibody; MAPK3 antibody; Mitogen-activated protein kinase 1 antibody; Mitogen-activated protein kinase 2 antibody; MK01_HUMAN antibody; p38 antibody; p40 antibody; p41 antibody; p42-MAPK antibody; PRKM 2 antibody
SEQUENCE SIMILARITIES
Belongs to the protein kinase superfamily. CMGC Ser/Thr protein kinase family. MAP kinase subfamily.
POST-TRANSLATIONAL MODIFICATION
Phosphorylated upon KIT and FLT3 signaling (By similarity). Dually phosphorylated on Thr-202 and Tyr-204, which activates the enzyme. Ligand-activated ALK induces tyrosine phosphorylation. Dephosphorylated by PTPRJ at Tyr-204.
FUNCTION
Mitogen-activated protein kinase (MAPK) signaling pathways involve two closely related MAP kinases, known as extracellular-signal-related kinase 1 (ERK 1, p44) and 2 (ERK 2, p42). Growth factors, steroid hormones, G protein-coupled receptor ligands and neurotransmitters can initiate MAPK signaling pathways. Activation of ERK 1 and ERK 2 requires phosphorylation by upstream kinases such as MAP kinasekinase (MEK), MEK kinase and Raf-1. ERK 1 and ERK 2 phosphorylation can occur at specific tyrosine and threonine sites mapping within consensus motifs that include the threonine-glutamate-tyrosine motif. ERK activation leads to dimerization with other ERKs and subsequent localization to the nucleus. Active ERK dimers phosphorylate serine and threonine residues on nuclear proteins and influence a host of responses that include proliferation, differentiation, transcription regulation and development. The human ERK 1 gene maps to chromosome 16p11.2 and encodes a 379 amino acid protein that shares 83% sequence identity to ERK 2. The human ERK2 gene maps to chromosome 22q11.21 and encodes a 360-amino acid protein.
CITATIONS
Chen, Qiuhua et al.

Sini decoction ameliorates sepsis-induced acute lung injury via regulating ACE2-Ang (1-7)-Mas axis and inhibiting the MAPK signaling pathway. | Biomedicine & Pharmacotherapy = Biomedecine & Pharmacotherapie [2019]

Wen, Di et al.

Molecular hydrogen attenuates methamphetamine-induced behavioral sensitization and activation of ERK-ΔFosB signaling in the mouse nucleus accumbens. | Progress in Neuro-Psychopharmacology & Biological Psychiatry [2020]