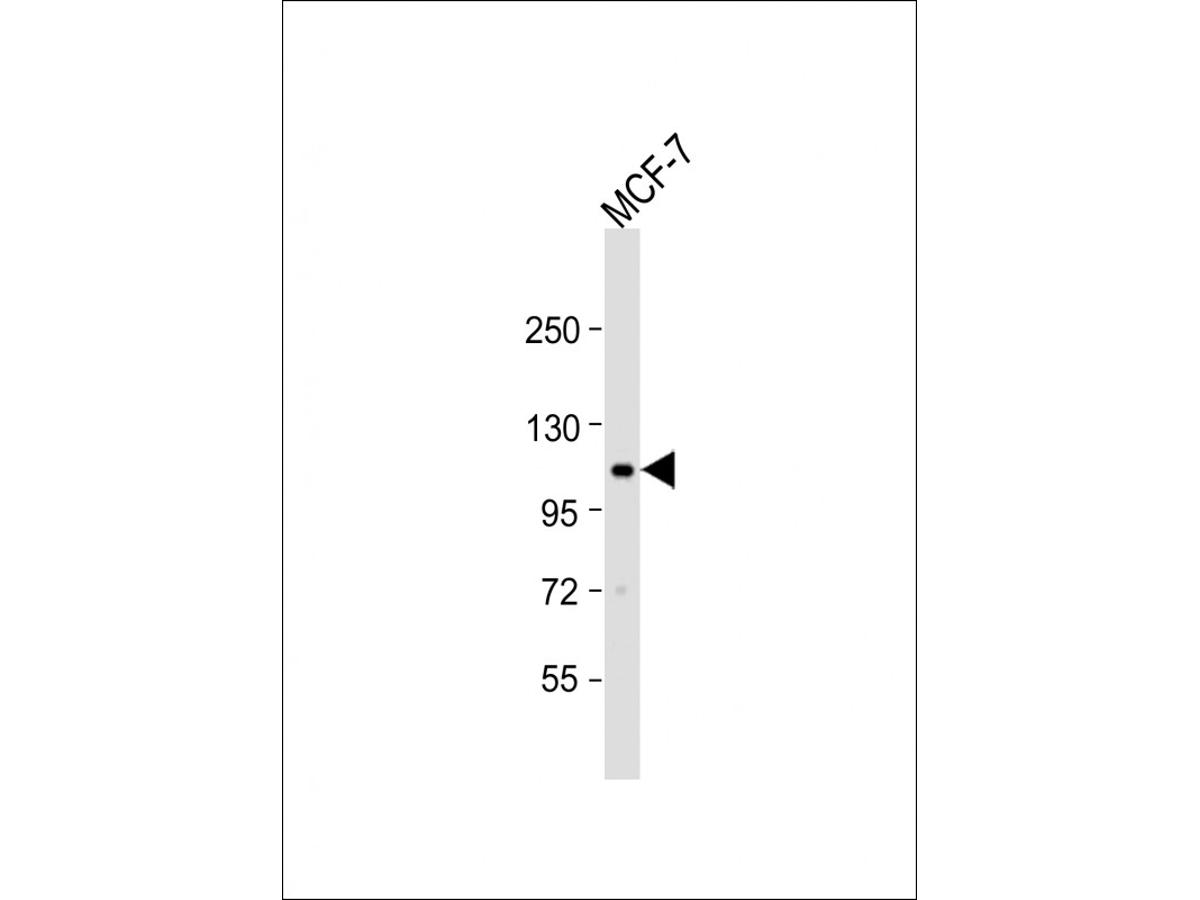 Western blot analysis of EPHA2 on different lysates. Proteins were transferred to a PVDF membrane and blocked with 5% BSA in PBS for 1 hour at room temperature. The primary antibody (ER2001-31, 1/500) was used in 5% BSA at room temperature for 2 hours. Goat Anti-Rabbit IgG - HRP Secondary Antibody (HA1001) at 1:5,000 dilution was used for 1 hour at room temperature.
Positive control:
Lane 1: A549 cell lysate
Lane 2: PC-3M cell lysate
SPECIFICATIONS
Product Type
Rabbit polyclonal primary
Product Name
EPHA2 Rabbit Polyclonal Antibody (ER2001-31)
Immunogen
Synthetic peptide within human epha2 aa 550-600.
Positive Control
A549 cell lysate, PC-3M cell lysate, PANC-1, rat brain tissue, mouse brain tissue, SHSY5Y.
PROPERTIES
Storage Condition
Store at +4Á¾ after thawing. Aliquot store at -20Á¾. Avoid repeated freeze / thaw cycles.
Storage Buffer
1*TBS (pH7.4), 0.2% BSA, 50% Glycerol. Preservative: 0.05% Sodium Azide.
PURIFICATION
Peptide affinity purified.
MOLECULAR WEIGHT
Predicted band size: 108 kDa
TARGET
SYNONYMS
ARCC2 antibody; AW545284 antibody; CTPA antibody; CTPP1 antibody; CTRCT6 antibody; EC 2.7.10.1 antibody; Eck antibody; Eph receptor A2 antibody; EPHA2 antibody; EPHA2_HUMAN antibody; Ephrin receptor antibody; Ephrin receptor EphA2 antibody; Ephrin type A receptor 2 antibody; Ephrin type-A receptor 2 antibody; Epithelial cell kinase antibody; Epithelial cell receptor protein tyrosine kinase antibody; Myk 2 antibody; Myk2 antibody; Sek 2 antibody; Sek2 antibody; Soluble EPHA2 variant 1 antibody; Tyrosine protein kinase receptor ECK antibody; Tyrosine-protein kinase receptor ECK antibody; Tyrosine-protein kinase receptor MPK-5 antibody; Tyrosine-protein kinase receptor SEK-2 antibody
SUBCELLULAR LOCATION
Cell junction, Cell membrane, Cell projection, Membrane.
FUNCTION
Receptor tyrosine kinase which binds promiscuously membrane-bound ephrin-A family ligands residing on adjacent cells, leading to contact-dependent bidirectional signaling into neighboring cells. The signaling pathway downstream of the receptor is referred to as forward signaling while the signaling pathway downstream of the ephrin ligand is referred to as reverse signaling. Activated by the ligand ephrin-A1/EFNA1 regulates migration, integrin-mediated adhesion, proliferation and differentiation of cells. Regulates cell adhesion and differentiation through DSG1/desmoglein-1 and inhibition of the ERK1/ERK2 (MAPK3/MAPK1, respectively) signaling pathway. May also participate in UV radiation-induced apoptosis and have a ligand-independent stimulatory effect on chemotactic cell migration. During development, may function in distinctive aspects of pattern formation and subsequently in development of several fetal tissues. Involved for instance in angiogenesis, in early hindbrain development and epithelial proliferation and branching morphogenesis during mammary gland development. Engaged by the ligand ephrin-A5/EFNA5 may regulate lens fiber cells shape and interactions and be important for lens transparency development and maintenance. With ephrin-A2/EFNA2 may play a role in bone remodeling through regulation of osteoclastogenesis and osteoblastogenesis.