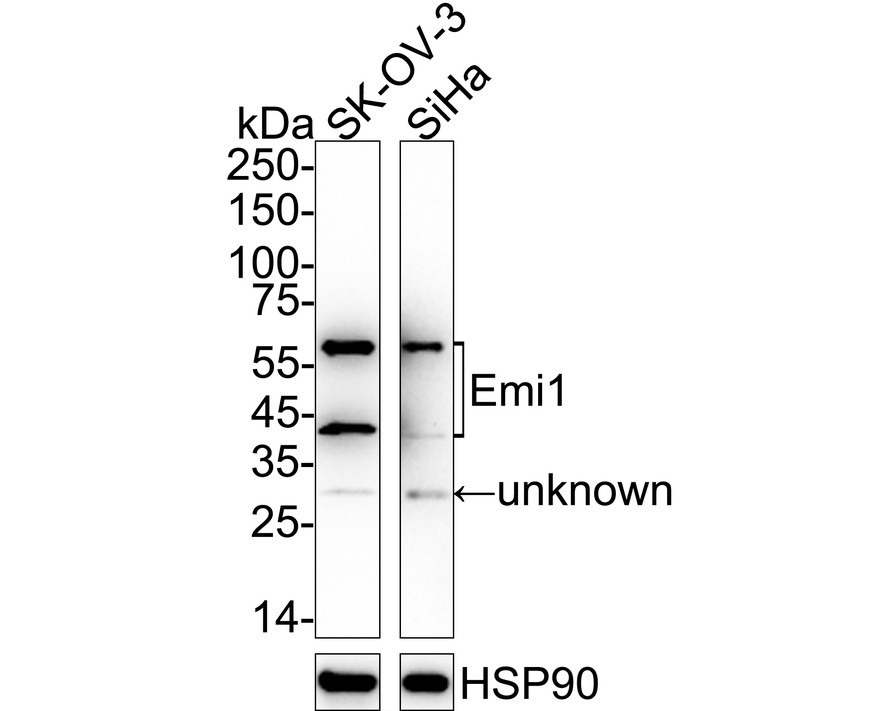 ICC staining Emi1 in LOVO cells (green). The nuclear counter stain is DAPI (blue). Cells were fixed in paraformaldehyde, permeabilised with 0.25% Triton X100/PBS.
SPECIFICATIONS
Product Type
Recombinant Rabbit monoclonal primary
Product Name
Emi1 Recombinant Rabbit Monoclonal Antibody [JG35-83] (ET7108-20)
Immunogen
Recombinant protein within human emi1 aa 50-250.
Positive Control
LOVO, Siha, Rat cerebellum tissue, human tonsil tissue, human colon cancer tissue, human kidney tissue, mouse cerebellum tissue.
PROPERTIES
Storage Condition
Store at +4C after thawing. Aliquot store at -20C. Avoid repeated freeze / thaw cycles.
Storage Buffer
1*TBS (pH7.4), 0.05% BSA, 40% Glycerol. Preservative: 0.05% Sodium Azide.
TARGET
SYNONYMS
Early mitotic inhibitor 1 antibody; Emi 1 antibody; EMI1 antibody; F box only protein 5 antibody; F box protein 5 antibody; F box protein Fbx 5 antibody; F box protein Fbx5 antibody; F-box only protein 5 antibody; FBX5 antibody; FBX5_HUMAN antibody; Fbxo31 antibody; fbxo5 antibody
DEVELOPMENTAL STAGE
Accumulates in late G1 phase, levels rise during S phase and drop in early mitosis.
POST-TRANSLATIONAL MODIFICATION
Phosphorylation by CDK2 and subsequently by PLK1 triggers degradation during early mitosis through ubiquitin-mediated proteolysis by the SCF ubiquitin ligase complex containing the F-box protein BTRC. This degradation is necessary for the activation of APC in late mitosis and subsequent mitotic progression. Phosphorylated by RPS6KA2; increases and stabilizes interaction with CDC20 (By similarity).; Ubiquitinated by the SCF(BTRC) complex following phosphorylation by PLK1. Undergoes both 'Lys-11' and 'Lys-48'-linked polyubiquitination by APC-FZR1 complex leading to degradation by proteasome during G1 phase. Degraded through the SCF(BTRC) complex; degradation occurs during oocyte maturation, between germinal vesicle breakdown (GVBD) and meiosis I, and is required for the meiosis I-meiosis II transition (By similarity).
SUBCELLULAR LOCATION
Cytoplasm. Cytoskeleton. Nucleus.
FUNCTION
Emi1 (for early mitotic inhibitor) regulates mitosis by inhibiting the anaphase promoting complex/cyclosome (APC). Emi1 is a conserved F box protein containing a zinc binding region essential for APC inhibition. The Emi1 protein functions to promote cyclin A accumulation and S phase entry in somatic cells by inhibiting the APC complex. At the G1-S transition, Emi1 is transcriptionally induced by the E2F transcription factor. Emi1 overexpression accelerates S phase entry and can override a G1 block caused by overexpression of Cdh1 or the E2F-inhibitor p105 retinoblastoma protein (pRb). Depleting cells of Emi1 through RNA interference prevents accumulation of cyclin A and inhibits S phase entry. Emi1 is required to arrest unfertilized eggs at metaphase of meiosis II and may be the long-sought mediator of CSF activity. Human Emi1 is similar to Xenopus laevis Emi1, which inhibits the APC (Cdc20) ubiquitination complex to allow accumulation of cyclin B.