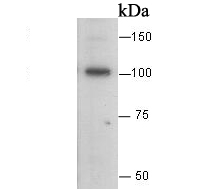 Western blot analysis of E-Cadherin on A431 cell lysate. Proteins were transferred to a PVDF membrane and blocked with 5% BSA in PBS for 1 hour at room temperature. The primary antibody was used at a 1:500 dilution in 5% BSA at room temperature for 2 hours. Goat Anti-Rabbit IgG - HRP Secondary Antibody (HA1001) at 1:5,000 dilution was used for 1 hour at room temperature.
SPECIFICATIONS
Product Type
Rabbit polyclonal primary
Product Name
E-Cadherin Rabbit Polyclonal Antibody (0407-25)
Immunogen
Synthetic peptide within mouse e-cadherin aa 595-644 / 882.
PROPERTIES
Storage Condition
Store at +4C after thawing. Aliquot store at -20C. Avoid repeated freeze / thaw cycles.
Storage Buffer
1*PBS (pH7.4), 0.2% BSA, 40% Glycerol. Preservative: 0.05% Sodium Azide.
PURIFICATION
Immunogen affinity purified.
TARGET
SYNONYMS
Arc 1 antibody;CADH1_HUMAN antibody;Cadherin 1 antibody;cadherin 1 type 1 E-cadherin antibody;Cadherin1 antibody;CAM 120/80 antibody;CD 324 antibody;CD324 antibody;CD324 antigen antibody;cdh1 antibody;CDHE antibody;E-Cad/CTF3 antibody;E Cadherin antibody;E-cadherin antibody;ECAD antibody;Epithelial cadherin antibody;epithelial calcium dependant adhesion protein antibody;LCAM antibody;Liver cell adhesion molecule antibody;UVO antibody;Uvomorulin antibody
TISSUE SPECIFICITY
Non-neural epithelial tissues.
POST-TRANSLATIONAL MODIFICATION
During apoptosis or with calcium influx, cleaved by a membrane-bound metalloproteinase (ADAM10), PS1/gamma-secretase and caspase-3. Processing by the metalloproteinase, induced by calcium influx, causes disruption of cell-cell adhesion and the subsequent release of beta-catenin into the cytoplasm. The residual membrane-tethered cleavage product is rapidly degraded via an intracellular proteolytic pathway. Cleavage by caspase-3 releases the cytoplasmic tail resulting in disintegration of the actin microfilament system. The gamma-secretase-mediated cleavage promotes disassembly of adherens junctions. During development of the cochlear organ of Corti, cleavage by ADAM10 at adherens junctions promotes pillar cell separation (By similarity).; N-glycosylation at Asn-637 is essential for expression, folding and trafficking. Addition of bisecting N-acetylglucosamine by MGAT3 modulates its cell membrane location.; Ubiquitinated by a SCF complex containing SKP2, which requires prior phosphorylation by CK1/CSNK1A1. Ubiquitinated by CBLL1/HAKAI, requires prior phosphorylation at Tyr-754.; O-glycosylated. O-manosylated by TMTC1, TMTC2, TMTC3 or TMTC4. Thr-285 and Thr-509 are O-mannosylated by TMTC2 or TMTC4 but not TMTC1 or TMTC3.
FUNCTION
Cadherins are calcium-dependent cell adhesion proteins. The classic cadherin subfamily includes N-, P-, R-, B- and E-cadherins as well as about ten other members which are found in adherens junctions (AJ), E-cadherin is found at the junctions of epithelial cells. Besides mediating cell-cell adhesion through homophilic interactions, E-cadherin mediates contact inhibition of cell growth, and loss of E-cadherin is associated with tumorigenesis. E-cadherin expression is frequently down-regulated or extinguished in malignancy which strongly correlates with poor prognosis.
CITATIONS
Yuan, J., Jiang, X., Lan, H...

Multi-Omics Analysis of the Therapeutic Value of MAL2 Based on Data Mining in Human Cancers

Zhou, Yong-Chun et al.

Ionizing radiation promotes migration and invasion of cancer cells through transforming growth factor-beta-mediated epithelial-mesenchymal transition. | International Journal of Radiation Oncology, Biology, Physics [2011]