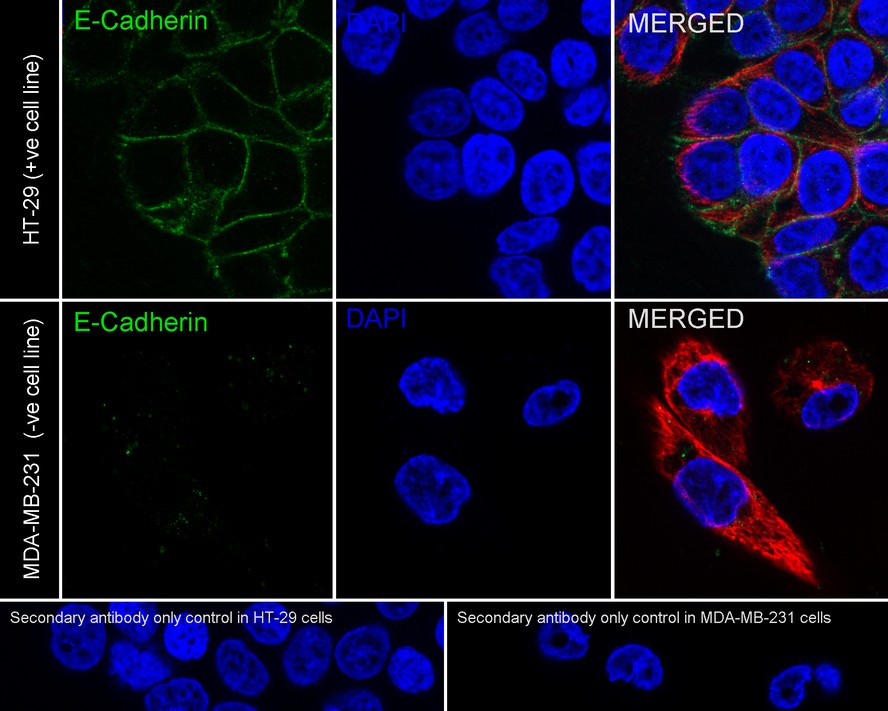 Western blot analysis of E-Cadherin on different lysates. Proteins were transferred to a PVDF membrane and blocked with 5% BSA in PBS for 1 hour at room temperature. The primary antibody (ET1607-75, 1/500) was used in 5% BSA at room temperature for 2 hours. Goat Anti-Rabbit IgG - HRP Secondary Antibody (HA1001) at 1:5,000 dilution was used for 1 hour at room temperature.
Positive control:
Lane 1: A431 cell lysate
Lane 2: MCF-7 cell lysate
SPECIFICATIONS
Product Type
Recombinant Rabbit monoclonal primary
Product Name
E-Cadherin Recombinant Rabbit Monoclonal Antibody [SY0287] (ET1607-75)
Positive Control
A431 cell lysate, MCF-7 cell lysate, A431, A549, MCF-7, human lung carcinoma tissue.
PROPERTIES
Storage Condition
Store at +4C after thawing. Aliquot store at -20C or -80C. Avoid repeated freeze / thaw cycles.
Storage Buffer
1*TBS (pH7.4), 0.05% BSA, 40% Glycerol. Preservative: 0.05% Sodium Azide.
PURIFICATION
Protein A affinity purified.
TARGET
SYNONYMS
Arc 1 antibody; CADH1_HUMAN antibody; Cadherin 1 antibody; cadherin 1 type 1 E-cadherin antibody; Cadherin1 antibody; CAM 120/80 antibody; CD 324 antibody; CD324 antibody; CD324 antigen antibody; cdh1 antibody; CDHE antibody; E-Cad/CTF3 antibody; E Cadherin antibody; E-cadherin antibody; ECAD antibody; Epithelial cadherin antibody; epithelial calcium dependant adhesion protein antibody; LCAM antibody; Liver cell adhesion molecule antibody; UVO antibody; Uvomorulin antibody
TISSUE SPECIFICITY
Non-neural epithelial tissues.
POST-TRANSLATIONAL MODIFICATION
During apoptosis or with calcium influx, cleaved by a membrane-bound metalloproteinase (ADAM10), PS1/gamma-secretase and caspase-3. Processing by the metalloproteinase, induced by calcium influx, causes disruption of cell-cell adhesion and the subsequent release of beta-catenin into the cytoplasm. The residual membrane-tethered cleavage product is rapidly degraded via an intracellular proteolytic pathway. Cleavage by caspase-3 releases the cytoplasmic tail resulting in disintegration of the actin microfilament system. The gamma-secretase-mediated cleavage promotes disassembly of adherens junctions. During development of the cochlear organ of Corti, cleavage by ADAM10 at adherens junctions promotes pillar cell separation (By similarity).; N-glycosylation at Asn-637 is essential for expression, folding and trafficking. Addition of bisecting N-acetylglucosamine by MGAT3 modulates its cell membrane location.; Ubiquitinated by a SCF complex containing SKP2, which requires prior phosphorylation by CK1/CSNK1A1. Ubiquitinated by CBLL1/HAKAI, requires prior phosphorylation at Tyr-754.; O-glycosylated. O-manosylated by TMTC1, TMTC2, TMTC3 or TMTC4. Thr-285 and Thr-509 are O-mannosylated by TMTC2 or TMTC4 but not TMTC1 or TMTC3.
SUBCELLULAR LOCATION
Cell junction, Cell membrane, Endosome, Golgi apparatus.
FUNCTION
Cadherins comprise a family of Ca2+-dependent adhesion molecules that function to mediate cell-cell binding critical to the maintenance of tissue structure and morphogenesis. Members of this family of adhesion proteins include rat cadherin K (and its human homolog, cadherin-6), R-cadherin, B-cadherin, E/P cadherin and cadherin-5. The classical cadherins, E-, N- and P-cadherin, consist of large extracellular domains characterized by a series of five homologous NH2 terminal repeats. The most distal of these cadherins is thought to be responsible for binding specificity, transmembrane domains and carboxy terminal intracellular domains. The relatively short intracellular domains interact with a variety of cytoplasmic proteins, such as β-catenin, to regulate cadherin function.
CITATIONS
Lu, Meng et al.

Basolateral CD147 induces hepatocyte polarity loss by E-cadherin ubiquitination and degradation in hepatocellular carcinoma progress. | Hepatology (Baltimore, Md.) [2018]

Kong, Lingyu et al.

Qigesan inhibits esophageal cancer cell invasion and migration by inhibiting Gas6/Axl-induced epithelial-mesenchymal transition. | Aging [2020]