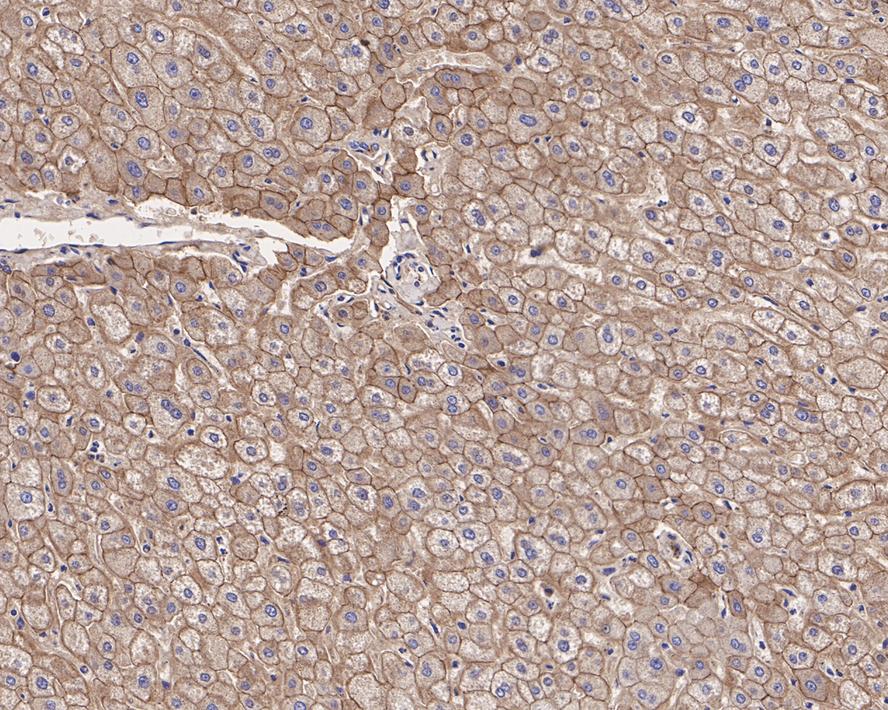 ICC staining E-cadherin in HCT116 cells (green). Cells were fixed in paraformaldehyde, permeabilised with 0.25% Triton X100/PBS.
SPECIFICATIONS
Product Name
E-cadherin Mouse Monoclonal Antibody [3-F9] (M1405-3)
PROPERTIES
Storage Condition
Store at +4C after thawing. Aliquot store at -20C or -80C. Avoid repeated freeze / thaw cycles.
Storage Buffer
1*PBS (pH7.4), 0.2% BSA, 40% Glycerol. Preservative: 0.05% Sodium Azide.
TARGET
SYNONYMS
Arc 1 antibody; CADH1_HUMAN antibody; Cadherin 1 antibody; cadherin 1 type 1 E-cadherin antibody; Cadherin1 antibody; CAM 120/80 antibody; CD 324 antibody; CD324 antibody; CD324 antigen antibody; cdh1 antibody; CDHE antibody; E-Cad/CTF3 antibody; E-cadherin antibody; ECAD antibody; Epithelial cadherin antibody; epithelial calcium dependant adhesion protein antibody; LCAM antibody; Liver cell adhesion molecule antibody; UVO antibody; Uvomorulin antibody
TISSUE SPECIFICITY
Expressed in inner and outer pillar cells of the organ of Corti (at protein level). Non-neural epithelial tissues.
DEVELOPMENTAL STAGE
In the testis, expression is highest in fetal gonad, then decreases 5-fold in newborn. Detectable in 7-day-old but not in 21-day-old or adult.
POST-TRANSLATIONAL MODIFICATION
During apoptosis or with calcium influx, cleaved by a membrane-bound metalloproteinase (ADAM10), PS1/gamma-secretase and caspase-3 (By similarity). Processing by the metalloproteinase, induced by calcium influx, causes disruption of cell-cell adhesion and the subsequent release of beta-catenin into the cytoplasm (By similarity). The residual membrane-tethered cleavage product is rapidly degraded via an intracellular proteolytic pathway (By similarity). Cleavage by caspase-3 releases the cytoplasmic tail resulting in disintegration of the actin microfilament system (By similarity). The gamma-secretase-mediated cleavage promotes disassembly of adherens junctions (By similarity). During development of the cochlear organ of Corti, cleavage by ADAM10 at adherens junctions promotes pillar cell separation.; O-glycosylated. O-manosylated by TMTC1, TMTC2, TMTC3 or TMTC4. Ser-287 and Thr-511 are O-manosylated by TMTC2 or TMTC4 but not TMTC1 or TMTC3.; N-glycosylation at Asn-639 is essential for expression, folding and trafficking. Addition of bisecting N-acetylglucosamine by MGAT3 modulates its cell membrane location (By similarity).; Ubiquitinated by a SCF complex containing SKP2, which requires prior phosphorylation by CK1/CSNK1A1. Ubiquitinated by CBLL1/HAKAI, requires prior phosphorylation at Tyr-756 (By similarity).
FUNCTION
E-cadherin (epithelial) is the most well-studied member of the cadherin family. It consists of 5 cadherin repeats (EC1 ~ EC5) in the extracellular domain, one transmembrane domain, and an intracellular domain that binds p120-catenin and beta-catenin. The intracellular domain contains a highly-phosphorylated region vital to beta-catenin binding and, therefore, to E-cadherin function. Loss of E-cadherin function or expression has been implicated in cancer progression and metastasis. E-cadherin downregulation decreases the strength of cellular adhesion within a tissue, resulting in an increase in cellular motility. This in turn may allow cancer cells to cross the basement membrane and invade surrounding tissues. E-cadherin is also used by pathologists to diagnose different kinds of breast cancer.
CITATIONS
Liu, Ningning et al.

A High Content Screening Assay to Identify Compounds with Anti-Epithelial-Mesenchymal Transition Effects from the Chinese Herbal Medicine Tong-Mai-Yang-Xin-Wan. | Molecules (Basel, Switzerland) [2016]