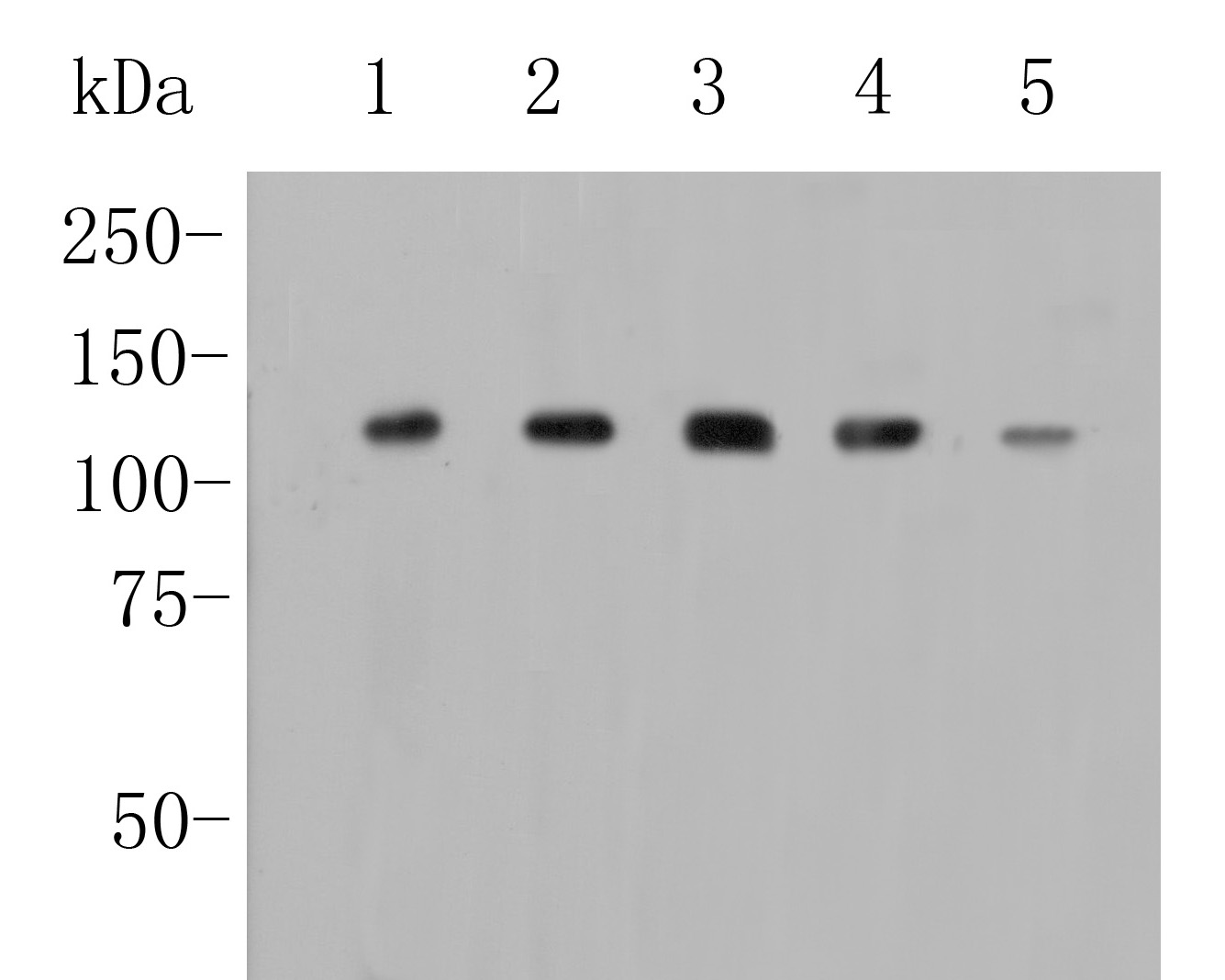 Western blot analysis of Drebrin on different lysates. Proteins were transferred to a PVDF membrane and blocked with 5% BSA in PBS for 1 hour at room temperature. The primary antibody (ER1902-55, 1/1000) was used in 5% BSA at room temperature for 2 hours. Goat Anti-Rabbit IgG - HRP Secondary Antibody (HA1001) at 1:5,000 dilution was used for 1 hour at room temperature.
Positive control:
Lane 1: A549 cell lysate
Lane 2: PC-3M cell lysate
Lane 3: HepG2 cell lysate
Lane 4: 293 cell lysate
Lane 5: Siha cell lysate
SPECIFICATIONS
Product Type
Rabbit polyclonal primary
Product Name
Drebrin Rabbit Polyclonal Antibody (ER1902-55)
Immunogen
Recombinant protein within human drebrin aa 275-468 / 649.
Positive Control
A549 cell lysate, PC-3M cell lysate, HepG2 cell lysate, 293 cell lysate, Siha cell lysate, human lung cancer tissue, human kidney tissue, SHSY5Y.
PROPERTIES
Storage Condition
Store at +4C after thawing. Aliquot store at -20C. Avoid repeated freeze / thaw cycles.
Storage Buffer
1*PBS (pH7.4), 0.2% BSA, 50% Glycerol. Preservative: 0.05% Sodium Azide.
PURIFICATION
Protein affinity purified.
MOLECULAR WEIGHT
Predicted band size: 71 kDa
TARGET
SYNONYMS
D0S117E antibody; DBN 1 antibody; DBN1 antibody; Developmentally regulated brain protein antibody; Developmentally-regulated brain protein antibody; DKFZp434D064 antibody; DREB_HUMAN antibody; Drebrin 1 antibody; Drebrin antibody; Drebrin E antibody; Drebrin E2 antibody; Drebrin1 antibody; DrebrinE antibody
TISSUE SPECIFICITY
Expressed in the brain, with expression in the molecular layer of the dentate gyrus, stratum pyramidale, and stratum radiatum of the hippocampus (at protein level). Also expressed in the terminal varicosities distributed along dendritic trees of pyramidal cells in CA4 and CA3 of the hippocampus (at protein level). Expressed in pyramidal cells in CA2, CA1 and the subiculum of the hippocampus (at protein level). Expressed in peripheral blood lymphocytes, including T-cells (at protein level). Expressed in the brain. Expressed in the heart, placenta, lung, skeletal muscle, kidney, pancreas, skin fibroblasts, gingival fibroblasts and bone-derived cells (Ref.2).
SUBCELLULAR LOCATION
Cell junction, Cell projection, Cytoplasm.
FUNCTION
The protein encoded by this gene is a cytoplasmic actin-binding protein thought to play a role in the process of neuronal growth. It is a member of the drebrin family of proteins that are developmentally regulated in the brain. A decrease in the amount of this protein in the brain has been implicated as a possible contributing factor in the pathogenesis of memory disturbance in Alzheimer's disease. At least two alternative splice variants encoding different protein isoforms have been described for this gene.Actin cytoskeleton-organizing protein that plays a role in the formation of cell projections . Required for actin polymerization at immunological synapses (IS) and for the recruitment of the chemokine receptor CXCR4 to IS . Plays a role in dendritic spine morphogenesis and organization, including the localization of the dopamine receptor DRD1 to the dendritic spines (By similarity). Involved in memory-related synaptic plasticity in the hippocampus (By similarity).