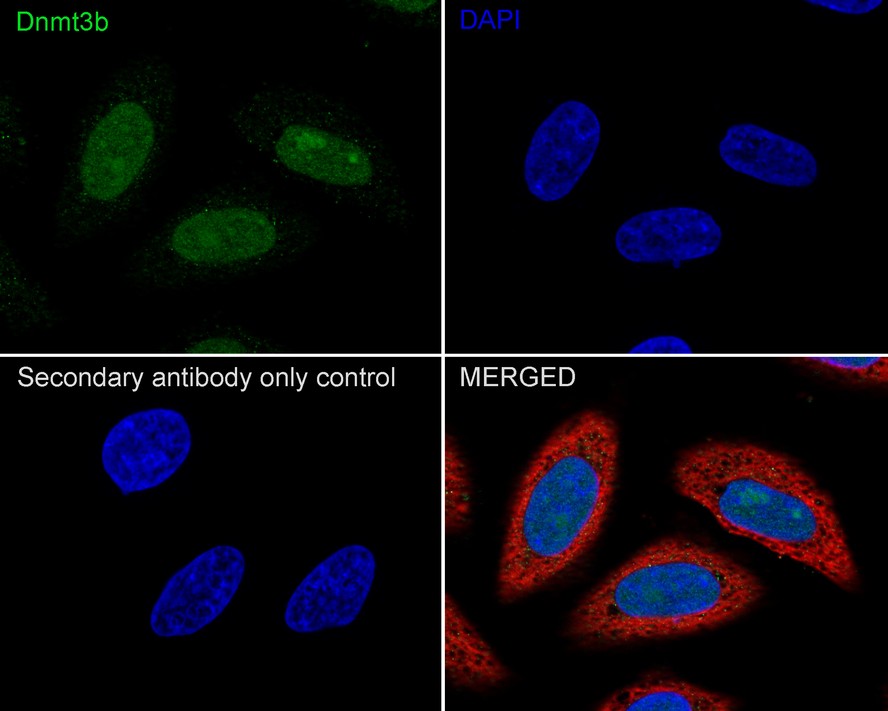 Western blot analysis of Dnmt3b on K562 cell lysate using anti-Dnmt3b antibody at 1/500 dilution.
SPECIFICATIONS
Product Type
Rabbit polyclonal primary
Product Name
Dnmt3b Rabbit Polyclonal Antibody (ER1802-55)
Immunogen
Synthetic peptide within n-terminal human dnmt3b.
Positive Control
K562, 293T, mouse testis tissue, rat brain tissue.
PROPERTIES
Storage Condition
Store at +4C after thawing. Aliquot store at -20C. Avoid repeated freeze / thaw cycles.
Storage Buffer
1*PBS (pH7.4), 0.2% BSA, 50% Glycerol. Preservative: 0.05% Sodium Azide.
PURIFICATION
Peptide affinity purified.
TARGET
SYNONYMS
Cytosine 5methyltransferase 3B antibody; DNA antibody; DNA (cytosine 5) methyltransferase 3 beta antibody; DNA (cytosine 5)-methyltransferase 3B antibody; DNA (cytosine-5)-methyltransferase 3B antibody; DNA methyltransferase HsaIIIB antibody; DNA MTase HsaIIIB antibody; DNM3B_HUMAN antibody; Dnmt3b antibody; EC 2.1.1.37 antibody; ICF antibody; ICF1 antibody; M.HsaIIIB antibody; MGC124407 antibody; RP23-89H14.3 antibody
SEQUENCE SIMILARITIES
Belongs to the class I-like SAM-binding methyltransferase superfamily. C5-methyltransferase family.
TISSUE SPECIFICITY
Ubiquitous; highly expressed in fetal liver, heart, kidney, placenta, and at lower levels in spleen, colon, brain, liver, small intestine, lung, peripheral blood mononuclear cells, and skeletal muscle. Isoform 1 is expressed in all tissues except brain, skeletal muscle and PBMC, 3 is ubiquitous, 4 is expressed in all tissues except brain, skeletal muscle, lung and prostate and 5 is detectable only in testis and at very low level in brain and prostate.
POST-TRANSLATIONAL MODIFICATION
Sumoylated.; Citrullinated by PADI4.
FUNCTION
Methylation at the 5'-position of cytosine is the only known naturally occurring covalent modification of the mammalian genome. DNA methylation requires the enzymatic activity of DNA 5-cytosine methyltransferase (Dnmt) proteins, which catalyze the transfer of a methyl group from S-adenosyl methionine to the 5'-position of cytosines residing in the dinucleotide CpG motif, and this methylation results in transcriptional repression of the target gene. The Dnmt enzymes are encoded by independent genes. Dnmt1 is the most abundant, and it preferentially methylates hemimethylated DNA and coordinates gene expression during development. Additional mammalian Dnmt proteins include Dnmt2 and Dnmt3. Dnmt2 lacks the large N-terminal regulator domain of Dnmt1, is expressed at substantially lower levels in adult tissues, and is likely involved in methylating newly integrated retroviral DNA. Dnmt3a and Dnmt3b are encoded by two distinct genes, but both are abundantly expressed in embryonic stem cells, where they also methylate CpG motifs on DNA.