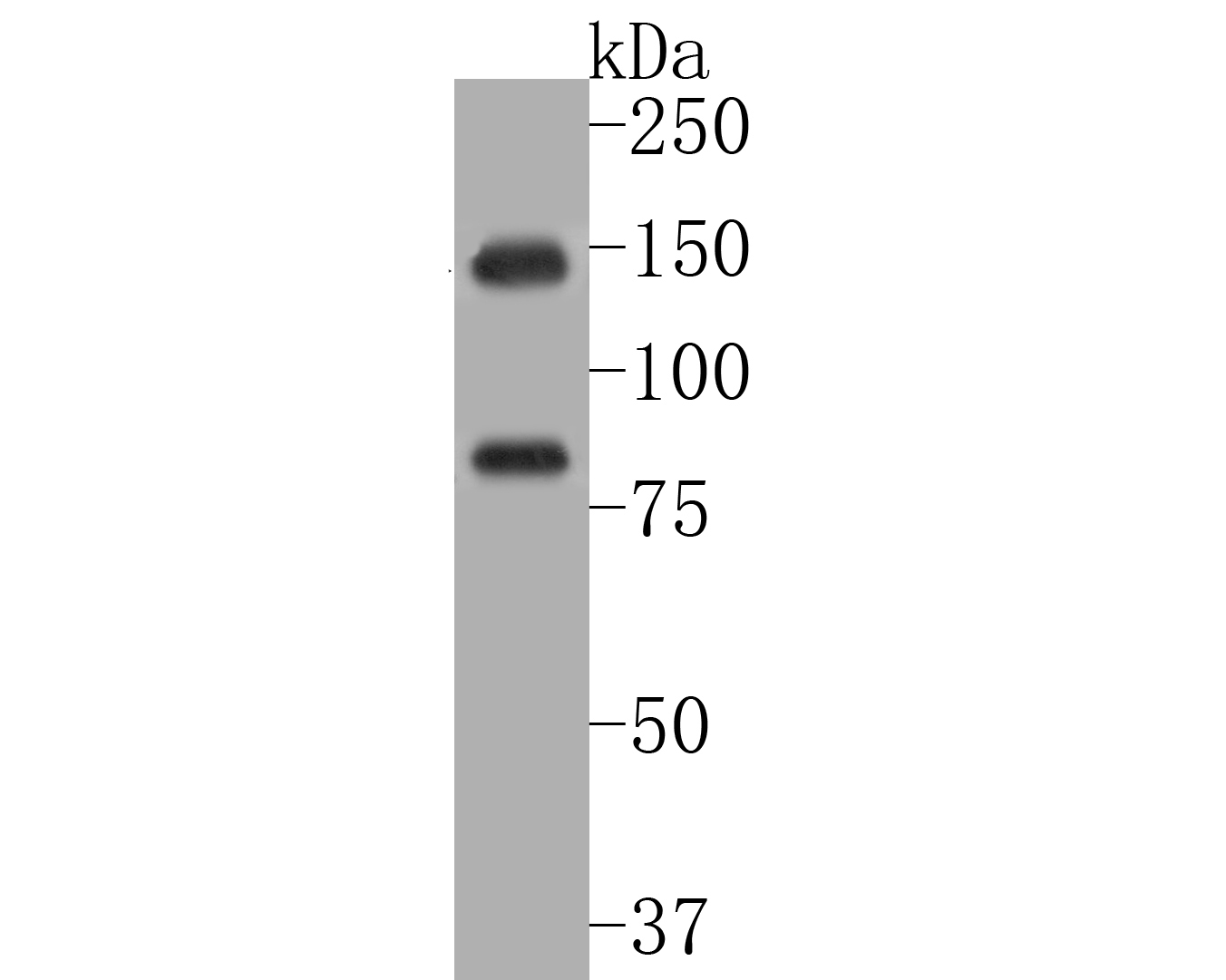 Western blot analysis of DNMT3A on Hela cell lysates. Proteins were transferred to a PVDF membrane and blocked with 5% BSA in PBS for 1 hour at room temperature. The primary antibody (ER1902-62, 1/500) was used in 5% BSA at room temperature for 2 hours. Goat Anti-Rabbit IgG - HRP Secondary Antibody (HA1001) at 1:200,000 dilution was used for 1 hour at room temperature.
SPECIFICATIONS
Product Type
Rabbit polyclonal primary
Product Name
DNMT3A Rabbit Polyclonal Antibody (ER1902-62)
Immunogen
Recombinant protein within human dnmt3a aa 1-300.
Positive Control
Hela cell lysates, rat large intestine tissue, human tonsil tissue, human breast carcinoma tissue, human kidney tissue, human fetal skeletal muscle tissue, mouse brain tissue, SH-SY5Y.
PROPERTIES
Storage Condition
Store at +4C after thawing. Aliquot store at -20C. Avoid repeated freeze / thaw cycles.
Storage Buffer
1*PBS (pH7.4), 0.2% BSA, 50% Glycerol. Preservative: 0.05% Sodium Azide.
PURIFICATION
Protein affinity purified.
MOLECULAR WEIGHT
Predicted band size 102 kDa
TARGET
SYNONYMS
DNA (cytosine 5) methyltransferase 3 alpha antibody; DNA (cytosine 5) methyltransferase 3A antibody; DNA (cytosine-5)-methyltransferase 3A antibody; DNA cytosine methyltransferase 3A2 antibody; DNA methyltransferase 3 alpha antibody; DNA methyltransferase 3a antibody; DNA methyltransferase HsaIIIA antibody; DNA MTase HsaIIIA antibody; DNM3A_HUMAN antibody; DNMT 3a antibody; DNMT antibody; Dnmt3a antibody; DNMT3A2 antibody; M.HsaIIIA antibody; MCMT antibody; OTTHUMP00000201149 antibody; TBRS antibody
SEQUENCE SIMILARITIES
Belongs to the class I-like SAM-binding methyltransferase superfamily. C5-methyltransferase family.
TISSUE SPECIFICITY
Highly expressed in fetal tissues, skeletal muscle, heart, peripheral blood mononuclear cells, kidney, and at lower levels in placenta, brain, liver, colon, spleen, small intestine and lung.
POST-TRANSLATIONAL MODIFICATION
Sumoylated; sumoylation disrupts the ability to interact with histone deacetylases (HDAC1 and HDAC2) and repress transcription.
FUNCTION
CpG methylation is an epigenetic modification that is important for embryonic development, imprinting, and X-chromosome inactivation. Studies in mice have demonstrated that DNA methylation is required for mammalian development. This gene encodes a DNA methyltransferase that is thought to function in de novo methylation, rather than maintenance methylation. The protein localizes to the cytoplasm and nucleus and its expression is developmentally regulated. Required for genome-wide de novo methylation and is essential for the establishment of DNA methylation patterns during development. DNA methylation is coordinated with methylation of histones. It modifies DNA in a non-processive manner and also methylates non-CpG sites. May preferentially methylate DNA linker between 2 nucleosomal cores and is inhibited by histone H1. Plays a role in paternal and maternal imprinting. Required for methylation of most imprinted loci in germ cells. Acts as a transcriptional corepressor for ZBTB18. Recruited to trimethylated 'Lys-36' of histone H3 (H3K36me3) sites. Can actively repress transcription through the recruitment of HDAC activity.