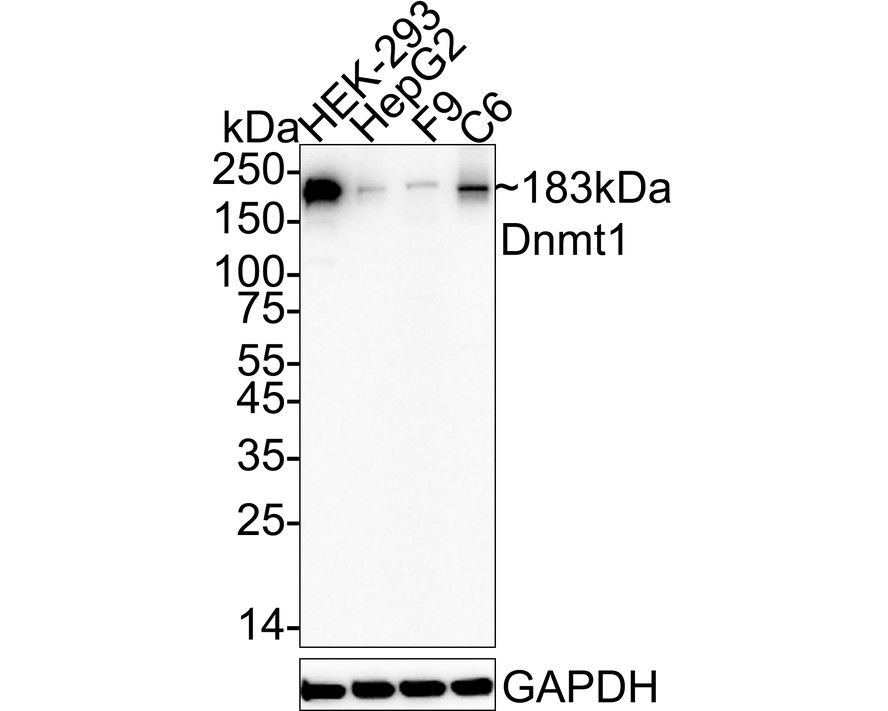 Western blot analysis of Dnmt1 on HepG2 cell lysates. Proteins were transferred to a PVDF membrane and blocked with 5% BSA in PBS for 1 hour at room temperature. The primary antibody (ET1702-77, 1/500) was used in 5% BSA at room temperature for 2 hours. Goat Anti-Rabbit IgG - HRP Secondary Antibody (HA1001) at 1:5,000 dilution was used for 1 hour at room temperature.
SPECIFICATIONS
Product Type
Recombinant Rabbit monoclonal primary
Product Name
Dnmt1 Recombinant Rabbit Monoclonal Antibody [JF09-89] (ET1702-77)
Immunogen
Synthetic peptide within human dnmt1 aa+l577:l592 1506-1549 / 1616.
Positive Control
HepG2 cell lysates, Hela, HepG2, 293T, mouse placenta tissue.
PROPERTIES
Storage Condition
Store at +4C after thawing. Aliquot store at -20C or -80C. Avoid repeated freeze / thaw cycles.
Storage Buffer
1*TBS (pH7.4), 0.05% BSA, 40% Glycerol. Preservative: 0.05% Sodium Azide.
PURIFICATION
Protein A affinity purified.
TARGET
SYNONYMS
ADCADN antibody; AIM antibody; CXXC finger protein 9 antibody; CXXC-type zinc finger protein 9 antibody; CXXC9 antibody; DNA (cytosine 5 ) methyltransferase 1 antibody; DNA (cytosine-5)-methyltransferase 1 antibody; DNA methyltransferase 1 antibody; DNA methyltransferase HsaI antibody; DNA methyltransferase M.HsaI. antibody; DNA MTase antibody; DNA MTase HsaI antibody; DNMT 1 antibody; DNMT antibody; Dnmt1 antibody; DNMT1_HUMAN antibody; Dnmt1o antibody; FLJ16293 antibody; HSN1E antibody; M.HsaI antibody; MCMT antibody; Met1 antibody; MGC104992 antibody; mMmul antibody; MommeD2 antibody
SEQUENCE SIMILARITIES
Belongs to the class I-like SAM-binding methyltransferase superfamily. C5-methyltransferase family.
TISSUE SPECIFICITY
Ubiquitous; highly expressed in fetal tissues, heart, kidney, placenta, peripheral blood mononuclear cells, and expressed at lower levels in spleen, lung, brain, small intestine, colon, liver, and skeletal muscle. Isoform 2 is less expressed than isoform 1.
POST-TRANSLATIONAL MODIFICATION
Sumoylated; sumoylation increases activity.; Acetylation on multiple lysines, mainly by KAT2B/PCAF, regulates cell cycle G(2)/M transition. Deacetylation of Lys-1349 and Lys-1415 by SIRT1 increases methyltransferase activity.; Phosphorylation of Ser-154 by CDKs is important for enzymatic activity and protein stability. Phosphorylation of Ser-143 by AKT1 prevents methylation by SETD7 therebye increasing DNMT1 stability.; Methylation at Lys-142 by SETD7 promotes DNMT1 proteasomal degradation.; Ubiquitinated by UHRF1; interaction with USP7 counteracts ubiquitination by UHRF1 by promoting deubiquitination and preventing degradation by the proteasome.
FUNCTION
Methylation at the 5'-position of cytosine is the only known naturally occurring covalent modification of the mammalian genome. DNA methylation requires the enzymatic activity of DNA 5-cytosine methyltransferase (Dnmt) proteins, which catalyze the transfer of a methyl group from S-adenosyl methionine to the 5'-position of cytosines residing in the dinucleotide CpG motif, and this methylation results in transcriptional repression of the target gene. The Dnmt enzymes are encoded by independent genes. Dnmt1 is the most abundant, and it preferentially methylates hemimethylated DNA and coordinates gene expression during development. Additional mammalian Dnmt proteins include Dnmt2 and Dnmt3. Dnmt2 lacks the large N-terminal regulator domain of Dnmt1, is expressed at substantially lower levels in adult tissues, and is likely involved in methylating newly integrated retroviral DNA. Dnmt3a and Dnmt3b are encoded by two distinct genes, but both are abundantly expressed in embryonic stem cells, where they also methylate CpG motifs on DNA.