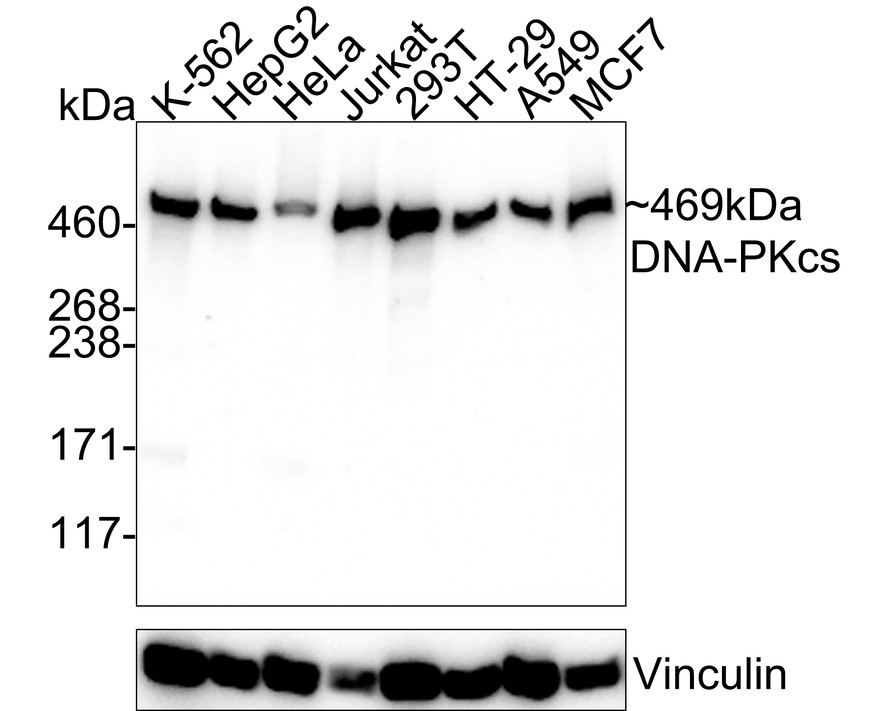 Western blot analysis on HepG2 cell lysates using anti-DNA-PKcs Mouse mAb (Cat. # M1204-6).
SPECIFICATIONS
Product Name
DNA-PKcs/PRKDC Mouse Monoclonal Antibody [2-B3] (M1204-6)
PROPERTIES
Storage Condition
Store at +4C after thawing. Aliquot store at -20C or -80C. Avoid repeated freeze / thaw cycles.
Storage Buffer
1*PBS (pH7.4), 0.2% BSA, 40% Glycerol. Preservative: 0.05% Sodium Azide.
TARGET
SYNONYMS
DNA dependent protein kinase catalytic subunit antibody; DNA PK catalytic subunit antibody; DNA-dependent protein kinase catalytic subunit antibody; DNA-PK catalytic subunit antibody; DNA-PKcs antibody; DNAPK antibody; DNAPK catalytic subunit antibody; DNPK 1 antibody; DNPK1 antibody; Hyper radiosensitivity of murine scid mutation, complementing 1 antibody; Hyperradiosensitivity complementing 1, mouse, homolog of 1 antibody; HYRC 1 antibody; HYRC antibody; HYRC1 antibody; IMD26 antibody; p350 antibody; p460 antibody; PKRDC antibody; PRKDC antibody; PRKDC_HUMAN antibody; Protein Kinase DNA Activated Catalytic Polypeptide antibody; XRCC 7 antibody; XRCC7 antibody
SEQUENCE SIMILARITIES
Belongs to the PI3/PI4-kinase family.
POST-TRANSLATIONAL MODIFICATION
Autophosphorylated at two clusters, the T2609 cluster and the S2056 cluster (By similarity). Autophosphorylated on Ser-2056, Thr-2609, Thr-2638 and Thr-2647. Ser-2056 and Thr-2609 are DNA damage-inducible phosphorylation sites (inducible with ionizing radiation, IR) dephosphorylated by PPP5C. Autophosphorylation induces a conformational change that leads to remodeling of the DNA-PK complex, requisite for efficient end processing and DNA repair. Autophosphorylation of the T2609 cluster is required for hematopoietic development and protein synthesis in erythrocytes precursors (By similarity).; S-nitrosylated by GAPDH.; Polyubiquitinated by RNF144A, leading to proteasomal degradation.
FUNCTION
DNA-activated serine/threonine protein kinase (DNA-PK) is a heterotrimer of PRKDC and the Ku p70-p86 (XRCC6-XRCC5) dimer. DNA-PK is a nuclear protein kinase that is involved in DNA nonhomologous end joining (NHEJ) required for double- strand brake repair and V(D)J recombination.