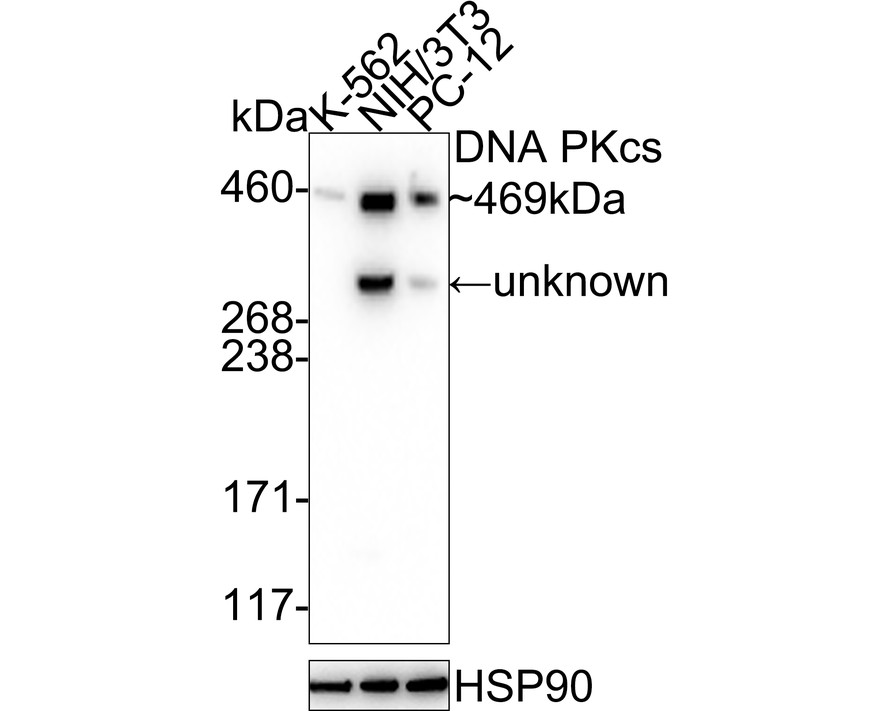 Western blot analysis of DNA PKcs on different lysates. Proteins were transferred to a PVDF membrane and blocked with 5% BSA in PBS for 1 hour at room temperature. The primary antibody (ET1610-12, 1/500) was used in 5% BSA at room temperature for 2 hours. Goat Anti-Rabbit IgG - HRP Secondary Antibody (HA1001) at 1:5,000 dilution was used for 1 hour at room temperature.
Positive control:
Lane 1: Hela cell lysate
Lane 2: MCF-7 cell lysate
SPECIFICATIONS
Product Type
Recombinant Rabbit monoclonal primary
Product Name
DNA PKcs Recombinant Rabbit Monoclonal Antibody [SC57-08] (ET1610-12)
Positive Control
Hela cell lysate, MCF-7 cell lysate, Hela, MCF-7, A549.
PROPERTIES
Storage Condition
Store at +4C after thawing. Aliquot store at -20C or -80C. Avoid repeated freeze / thaw cycles.
Storage Buffer
1*TBS (pH7.4), 0.05% BSA, 40% Glycerol. Preservative: 0.05% Sodium Azide.
PURIFICATION
Protein A affinity purified.
TARGET
SYNONYMS
DNA dependent protein kinase catalytic subunit antibody; DNA PK catalytic subunit antibody; DNA-dependent protein kinase catalytic subunit antibody; DNA-PK catalytic subunit antibody; DNA-PKcs antibody; DNAPK antibody; DNAPK catalytic subunit antibody; DNPK 1 antibody; DNPK1 antibody; Hyper radiosensitivity of murine scid mutation, complementing 1 antibody; HYRC 1 antibody; HYRC antibody; HYRC1 antibody; IMD26 antibody; p350 antibody; p460 antibody; PKRDC antibody; PRKDC antibody; PRKDC_HUMAN antibody; Protein Kinase DNA Activated Catalytic Polypeptide antibody; XRCC 7 antibody; XRCC7 antibody
SEQUENCE SIMILARITIES
Belongs to the PI3/PI4-kinase family.
POST-TRANSLATIONAL MODIFICATION
Autophosphorylated at two clusters, the T2609 cluster and the S2056 cluster (By similarity). Autophosphorylated on Ser-2056, Thr-2609, Thr-2638 and Thr-2647. Ser-2056 and Thr-2609 are DNA damage-inducible phosphorylation sites (inducible with ionizing radiation, IR) dephosphorylated by PPP5C. Autophosphorylation induces a conformational change that leads to remodeling of the DNA-PK complex, requisite for efficient end processing and DNA repair. Autophosphorylation of the T2609 cluster is required for hematopoietic development and protein synthesis in erythrocytes precursors (By similarity).; S-nitrosylated by GAPDH.; Polyubiquitinated by RNF144A, leading to proteasomal degradation.
FUNCTION
The phosphatidylinositol kinase (PIK) family members fall into two distinct subgroups. The first subgroup contains proteins such as the PI 3- and PI 4-kinases and the second group comprises the PIK-related kinases. The PIK-related kinases include Atm, DNA-PKCS and FRAP. These proteins have in common a region of homology at their carboxy termini that is not present in the PI 3- and PI 4-kinases. The Atm gene is mutated in the autosomal recessive disorder ataxia telangiectasia (AT) that is characterized by cerebellar degeneration (ataxia) and the appearance of dilated blood vessels (telangiectases) in the conjunctivae of the eyes. AT cells are hypersensitive to ionizing radiation, impaired in mediating the inhibition of DNA synthesis and they display delays in p53 induction. DNA-PK is a heterotrimeric DNA binding enzyme that is composed of a large subunit, DNA-PKCS, and two smaller subunits collectively known as Ku. The loss of DNA-PK leads to defects in DSB repair and V(D)J recombination. FRAP can autophosphorylate on serine and bind to rapamycin/FKBP. FRAP is also an upstream regulator of S6 kinase and has been implicated in the regulation of p27 and p21 expression.