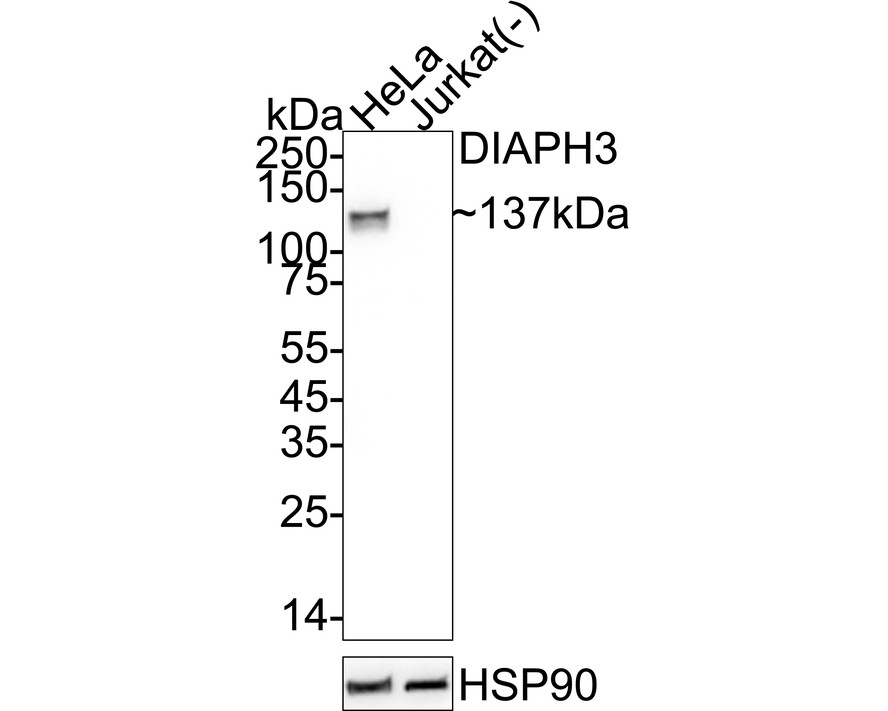 Western blot analysis of DIAPH3 on SiHa cell lysate using anti-DIAPH3 antibody at 1/500 dilution.
SPECIFICATIONS
Product Type
Rabbit polyclonal primary
Product Name
DIAPH3 Rabbit Polyclonal Antibody (ER1802-54)
Immunogen
Synthetic peptide within human diaph3 aa 1,059-1,108 / 1,193.
Positive Control
A431, LOVO, SiHa, human kidney tissue, human placenta tissue.
PROPERTIES
Storage Condition
Store at +4C after thawing. Aliquot store at -20C. Avoid repeated freeze / thaw cycles.
Storage Buffer
1*PBS (pH7.4), 0.2% BSA, 50% Glycerol. Preservative: 0.05% Sodium Azide.
PURIFICATION
Peptide affinity purified.
TARGET
SYNONYMS
AN antibody; AUNA1 antibody; Dia2 antibody; diap3 antibody; DIAP3_HUMAN antibody; DIAPH3 antibody; Diaphanous homolog 3 (Drosophila) antibody; Diaphanous homolog 3 antibody; Diaphanous related formin 3 antibody; Diaphanous, Drosophila, homolog of, 3 antibody; Diaphanous-related formin-3 antibody; DKFZp434C0931 antibody; DKFZp686A13178 antibody; DRF3 antibody; FLJ34705 antibody; mDia2 antibody; NSDAN antibody; OTTHUMP00000018480 antibody; Protein diaphanous homolog 3 antibody; RP11-26P21.1 antibody
SEQUENCE SIMILARITIES
Belongs to the formin homology family. Diaphanous subfamily.
DEVELOPMENTAL STAGE
Increased expression in S phase and mitotic cells; levels decrease as cells enter in G0/G1 phase due to proteasomal degradation (at protein level).
POST-TRANSLATIONAL MODIFICATION
FUNCTION
DIAPH3 (diaphanous homolog 3), also known as DIAP3, DRF3 or mDia2 of mouse origin, is a 1,193 amino acid member of the formin homology protein family and is required for the correct function of various cellular processes. DIAPH3 binds to both Profilin, a protein involved in cell maintenance, and to the GTP-bound form of Rho (Rho-GTP). Binding to both of these proteins allows DIAPH3 to recruit Profilin to the membrane, in a Rho-dependent manner. At the membrane, DIAPH3 promotes Actin polymerization and is required for stress fiber formation, cytokinesis and transcriptional activation of the serum response factor (SRF). DIAPH3 also regulates Actin dynamics by coupling Src tyrosine kinase (c-Src) and Rho during Actin signaling events. DIAPH3 contains one diaph-anous autoregulatory domain (DAD) and one Rho GTPase-binding domain (GBD). When DAD and GBD are intramolecularly bound, the GBD is occupied and DIAPH3 is inactive. Interruption of the DAD-GBD bond allows the GBD to bind to Rho-GTP, thus activating DIAPH3. Seven isoforms of DIAPH3 exist due to alternative splicing events.