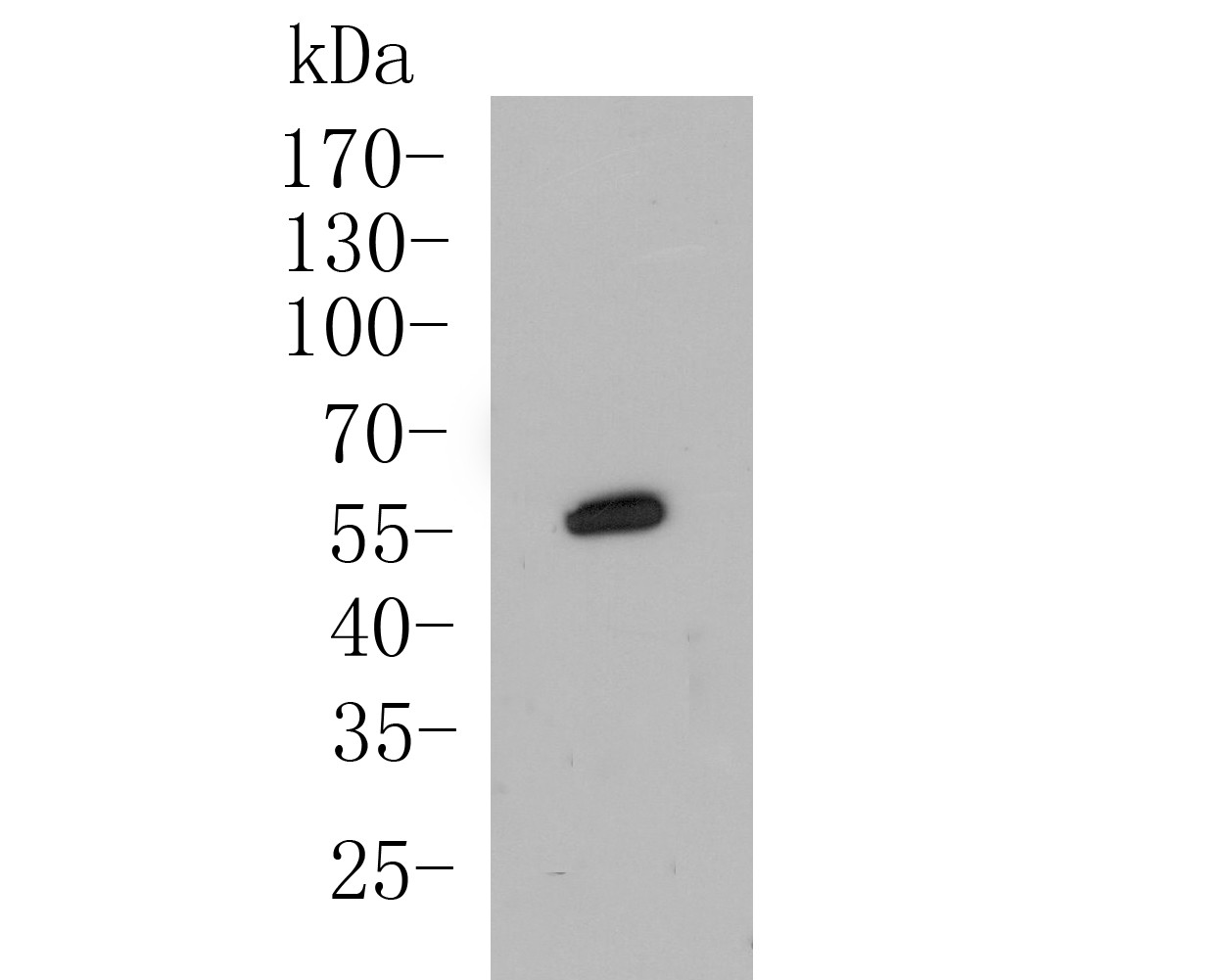 Western blot analysis of Cytokeratin 5+6 on A431 cell lysate. Proteins were transferred to a PVDF membrane and blocked with 5% BSA in PBS for 1 hour at room temperature. The primary antibody was used at a 1:2,000 dilution in 5% BSA at room temperature for 2 hours. Goat Anti-Rabbit IgG - HRP Secondary Antibody (HA1001) at 1:5,000 dilution was used for 1 hour at room temperature.
SPECIFICATIONS
Product Type
Rabbit polyclonal primary
Product Name
Cytokeratin 5+6 Rabbit Polyclonal Antibody (ER1901-86)
Immunogen
Synthetic peptide within human cytokeratin 5 aa 187-236 / 590.
Positive Control
A431 cell lysates, human skin tissue, human esophagus tissue, Hela.
PROPERTIES
Storage Condition
Store at +4C after thawing. Aliquot store at -20C. Avoid repeated freeze / thaw cycles.
Storage Buffer
1*PBS (pH7.4), 0.2% BSA, 50% Glycerol. Preservative: 0.05% Sodium Azide.
PURIFICATION
Peptide affinity purified.
TARGET
SYNONYMS
58 kDa cytokeratin antibody; CK-5 antibody; CK5 antibody; Cytokeratin-5 antibody; Cytokeratin5 antibody; DDD antibody; DDD1 antibody; EBS2 antibody; epidermolysis bullosa simplex 2 Dowling-Meara/Kobner/Weber-Cockayne types antibody; K2C5_HUMAN antibody; K5 antibody; keratin 5 (epidermolysis bullosa simplex, Dowling-Meara/Kobner/Weber-Cockayne types) antibody; Keratin 5 antibody; Keratin antibody; keratin complex 2, basic, gene 5 antibody; keratin, type II cytoskeletal 5 antibody; Keratin-5 antibody; Keratin5 antibody; KRT 5 antibody; Krt5 antibody; KRT5A antibody; type II cytoskeletal 5 antibody; Type-II keratin Kb5 antibody
SEQUENCE SIMILARITIES
Belongs to the intermediate filament family.
TISSUE SPECIFICITY
Expressed in corneal epithelium (at protein level).
SUBCELLULAR LOCATION
Cytoskeleton. Cytosol. Nucleus. Extracellular region or secreted.
FUNCTION
The protein encoded by this gene is a member of the keratin gene family. Cytokeratins comprise a diverse group of intermediate filament proteins (IFPs) that are expressed as pairs in both keratinized and non-keratinized epithelial tissue. Cytokeratins play a critical role in differentiation and tissue specialization and function to maintain the overall structural integrity of epithelial cells. Keratin 5 (and K14) are expressed primarily in basal keratinocytes in the epidermis, specifically in the stratified epithelium lining the skin and digestive tract. Keratin intermediate filaments make up the cytoskeletal scaffold within epithelial cells, which contributes to the cell architecture and provides the cells with the ability to withstand mechanical, and non-mechanical, stresses. K5/K14 keratin pairs are able to undergo extensive bundling due to the non-helical tail of K15 acting as a weak cross-linker at the intermediate filament surface. This bundling increases the elasticity, and therefore the mechanical resilience, of the intermediate filaments. K5/K14 intermediate filaments are anchored to the desmosomes of basal cells via desmoplakin and plakophilin-1, connecting the cells to their neighbours. At the hemidesmosome, plectin and BPAG1 associate with transmembrane proteins α6β4 integrin, a type of cell adhesion molecule, and BP180/collagen XVII, linking K5/K14 filaments in the basal cells to the basal lamina. Mutations of the cytokeratin 5 gene (KRT5) have been shown to result in the autosomal dominant disorder epidermolysis bullosa (EB).