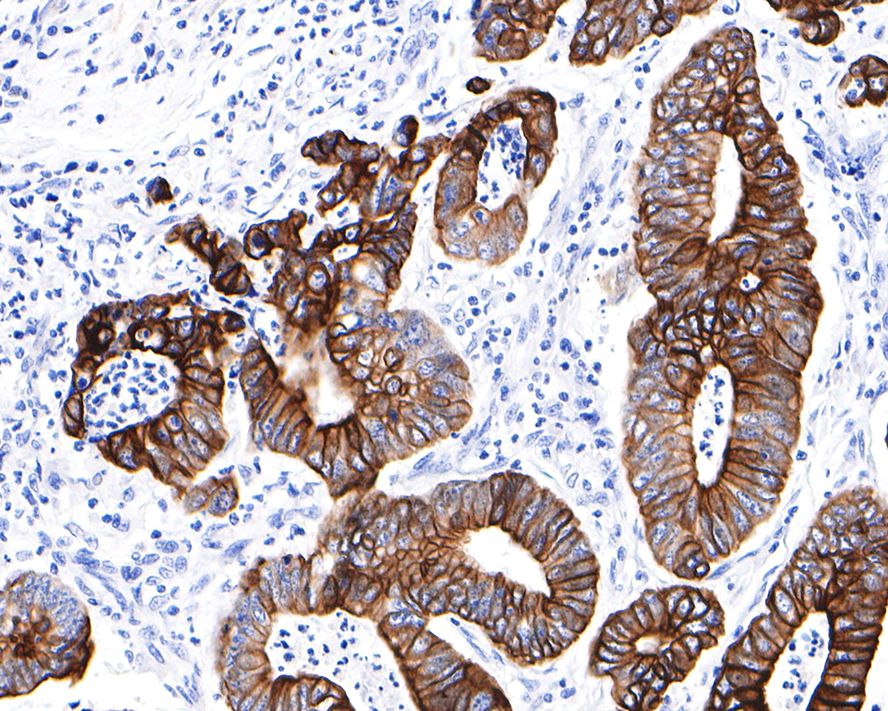 Immunohistochemical analysis of paraffin-embedded human colon carcinoma tissue using anti-Cytokeratin 20 antibody. The section was pre-treated using heat mediated antigen retrieval with Tris-EDTA buffer (pH 8.0-8.4) for 20 minutes.The tissues were blocked in 5% BSA for 30 minutes at room temperature, washed with ddH2O and PBS, and then probed with the primary antibody (EM1901-97, 1/100) for 30 minutes at room temperature. The detection was performed using an HRP conjugated compact polymer system. DAB was used as the chromogen. Tissues were counterstained with hematoxylin and mounted with DPX.
SPECIFICATIONS
Product Name
Cytokeratin 20 Mouse Monoclonal Antibody [A3H7] (EM1901-97)
Immunogen
Synthetic peptide within n-terminal human cytokeratin 20.
Positive Control
Human colon carcinoma tissue, human small intestine tissue.
PROPERTIES
Storage Condition
Store at +4C after thawing. Aliquot store at -20C. Avoid repeated freeze / thaw cycles.
Storage Buffer
1*PBS (pH7.4), 0.2% BSA, 50% Glycerol. Preservative: 0.05% Sodium Azide.
PURIFICATION
Protein G affinity purified.
TARGET
SYNONYMS
CK 20 antibody; CK-20 antibody; CK20 antibody; Cytokeratin-20 antibody; Cytokeratin20 antibody; K1C20_HUMAN antibody; K20 antibody; KA20 antibody; Keratin 20 antibody; keratin 20, type I antibody; keratin 21, rat, homolog of antibody; Keratin antibody; Keratin type I cytoskeletal 20 antibody; Keratin-20 antibody; Keratin20 antibody; KRT 20 antibody; KRT 21 antibody; KRT20 antibody; KRT21 antibody; MGC35423 antibody; OTTHUMP00000164518 antibody; Protein IT antibody; type I cytoskeletal 20 antibody
SEQUENCE SIMILARITIES
Belongs to the intermediate filament family.
TISSUE SPECIFICITY
Expressed predominantly in the intestinal epithelium. Expressed in luminal cells of colonic mucosa. Also expressed in the Merkel cells of keratinized oral mucosa; specifically at the tips of some rete ridges of the gingival mucosa, in the basal layer of the palatal mucosa and in the taste buds of lingual mucosa.
DEVELOPMENTAL STAGE
First detected at embryonic week 8 in individual 'converted' simple epithelial cells of the developing intestinal mucosa. In later fetal stages, synthesis extends over most goblet cells and a variable number of villus enterocytes. In the developing gastric and intestinal mucosa, expressed in all enterocytes and goblet cells as well as certain 'low-differentiated' columnar cells, whereas the neuroendocrine and Paneth cells are negative.
POST-TRANSLATIONAL MODIFICATION
Hyperphosphorylation at Ser-13 occurs during the early stages of apoptosis but becomes less prominent during the later stages. Phosphorylation at Ser-13 also increases in response to stress brought on by cell injury (By similarity).; Proteolytically cleaved by caspases during apoptosis. Cleavage occurs at Asp-228.
FUNCTION
The protein encoded by this gene is a member of the keratin family. The keratins are intermediate filament proteins responsible for the structural integrity of epithelial cells and are subdivided into cytokeratins and hair keratins. The type I cytokeratins consist of acidic proteins which are arranged in pairs of heterotypic keratin chains. This cytokeratin is a major cellular protein of mature enterocytes and goblet cells and is specifically expressed in the gastric and intestinal mucosa. Keratin 20 is a type I cytokeratin. It is a major cellular protein of mature enterocytes and goblet cells and is specifically found in the gastric and intestinal mucosa. In immunohistochemistry, antibodies to CK20 can be used to identify a range of adenocarcinoma arising from epithelia that normally contain the CK20 protein. For example, the protein is commonly found in colorectal cancer, transitional cell carcinomas and in Merkel cell carcinoma, but is absent in lung cancer, prostate cancer, and non-mucinous ovarian cancer. It is often used in combination with antibodies to CK7 to distinguish different types of glandular tumour.