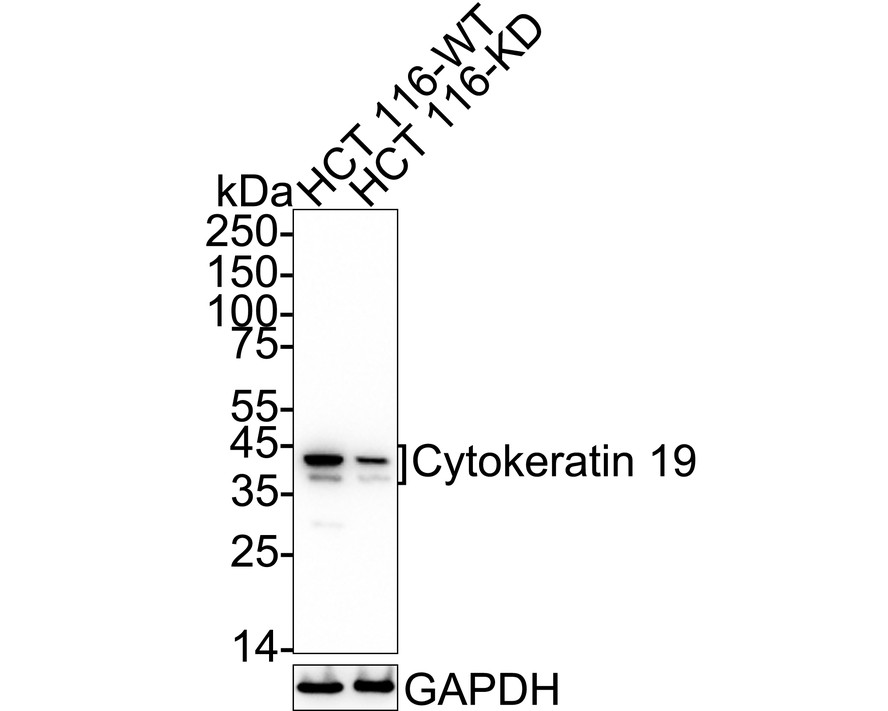 Western blot analysis of Cytokeratin 19 on MCF-7 cell lysate. Proteins were transferred to a PVDF membrane and blocked with 5% BSA in PBS for 1 hour at room temperature. The primary antibody (EM1901-76, 1/5000) was used in 5% BSA at room temperature for 2 hours. Goat Anti-Mouse IgG - HRP Secondary Antibody (HA1006) at 1:5,000 dilution was used for 1 hour at room temperature.
SPECIFICATIONS
Product Name
Cytokeratin 19 Mouse Monoclonal Antibody [A3D5] (EM1901-76)
Immunogen
Recombinant protein within human keratin 19 aa 128-322.
Positive Control
MCF-7 cell lysates, human pancreas tissue, human colon cancer tissue, human breast tissue, human small intestine tissue, MCF-7.
PROPERTIES
Storage Condition
Store at +4C after thawing. Aliquot store at -20C. Avoid repeated freeze / thaw cycles.
Storage Buffer
1*PBS (pH7.4), 0.2% BSA, 50% Glycerol. Preservative: 0.05% Sodium Azide.
TARGET
SYNONYMS
40 kDa keratin intermediate filament antibody; CK 19 antibody; CK-19 antibody; CK19 antibody; Cytokeratin 19 antibody; Cytokeratin-19 antibody; K19 antibody; K1C19_HUMAN antibody; K1CS antibody; Keratin 19 antibody; Keratin type I 40 kD antibody; Keratin type I 40kD antibody; Keratin type I cytoskeletal 19 antibody; Keratin, type I cytoskeletal 19 antibody; Keratin, type I, 40 kd antibody; Keratin-19 antibody; KRT19 antibody; MGC15366 antibody
SEQUENCE SIMILARITIES
Belongs to the intermediate filament family.
TISSUE SPECIFICITY
Expressed in a defined zone of basal keratinocytes in the deep outer root sheath of hair follicles. Also observed in sweat gland and mammary gland ductal and secretory cells, bile ducts, gastrointestinal tract, bladder urothelium, oral epithelia, esophagus, ectocervical epithelium (at protein level). Expressed in epidermal basal cells, in nipple epidermis and a defined region of the hair follicle. Also seen in a subset of vascular wall cells in both the veins and artery of human umbilical cord, and in umbilical cord vascular smooth muscle. Observed in muscle fibers accumulating in the costameres of myoplasm at the sarcolemma in structures that contain dystrophin and spectrin.
DEVELOPMENTAL STAGE
Present in hair follicles at all stages of development.
FUNCTION
The keratin gene family is a large group of intermediate filament and structural proteins that provide the structural components of hair, nails, horns, scales, claws and similar types of hard tissues. Keratins are also important for intracellular stability in epithelial tissues and different keratins often display organ- or tissue specific expression patterns. Due to these specific expression patterns, keratins are often used as diagnostic biomarkers. Keratin 19 is a type I keratin and expressed in simple epithelia including glandular cell types present in the GI-tract, female tissues, male tissues, and respiratory epithelium. Clinically, keratin 19 is used together with keratin 18 to distinguish hepatocellular cancer from cholangiocellular carcinoma (both keratins are expressed in bile ducts, but keratin 18 is expressed in hepatocytes whereas keratin 19 is not). Keratin 19 is a type I keratin. The type I cytokeratins consist of acidic proteins which are arranged in pairs of heterotypic keratin chains. Unlike its related family members, this smallest known acidic cytokeratin is not paired with a basic cytokeratin in epithelial cells. It is specifically found in the periderm, the transiently superficial layer that envelops the developing epidermis. The type I cytokeratins are clustered in a region of chromosome 17q12-q21.