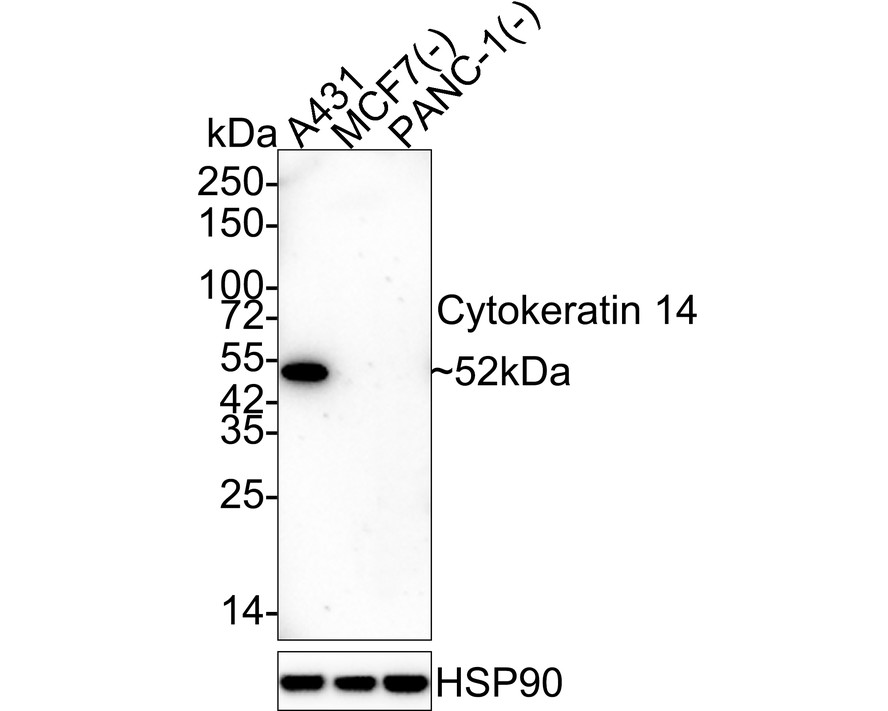 Western blot analysis of Cytokeratin 14 on A431 lysates. Proteins were transferred to a PVDF membrane and blocked with 5% BSA in PBS for 1 hour at room temperature. The primary antibody (em1901-32, 1/500) was used in 5% BSA at room temperature for 2 hours. Goat Anti-Mouse IgG - HRP Secondary Antibody (HA1006) at 1:5,000 dilution was used for 1 hour at room temperature.
SPECIFICATIONS
Product Name
Cytokeratin 14 Mouse Monoclonal Antibody [A2C11] (EM1901-32)
Immunogen
Synthetic peptide within human cytokeratin 14 aa 423-472 / 472.
Positive Control
A431 cell lysates, human skin tissue.
PROPERTIES
Storage Condition
Store at +4C after thawing. Aliquot store at -20C. Avoid repeated freeze / thaw cycles.
Storage Buffer
1*PBS (pH7.4), 0.2% BSA, 50% Glycerol. Preservative: 0.05% Sodium Azide.
TARGET
SYNONYMS
CK 14 antibody; CK-14 antibody; ck14 antibody; Cytokeratin 14 antibody; Cytokeratin-14 antibody; Cytokeratin14 antibody; Dowling Meara antibody; EBS3 antibody; EBS4 antibody; Epidermolysis bullosa simplex antibody; K14 antibody; K1C14_HUMAN antibody; Keratin 14 (epidermolysis bullosa simplex, Dowling-Meara, Koebner) antibody; Keratin 14 antibody; Keratin antibody; Keratin type I cytoskeletal 14 antibody; Keratin, type I cytoskeletal 14 antibody; Keratin-14 antibody; Keratin14 antibody; Koebner antibody; Krt 14 antibody; Krt14 antibody; NFJ antibody; OTTHUMP00000164624 antibody; type I cytoskeletal 14 antibody
SEQUENCE SIMILARITIES
Belongs to the intermediate filament family.
TISSUE SPECIFICITY
Expressed in the corneal epithelium (at protein level). Detected in the basal layer, lowered within the more apically located layers specifically in the stratum spinosum, stratum granulosum but is not detected in stratum corneum. Strongly expressed in the outer root sheath of anagen follicles but not in the germinative matrix, inner root sheath or hair. Found in keratinocytes surrounding the club hair during telogen.
POST-TRANSLATIONAL MODIFICATION
A disulfide bond is formed between rather than within filaments and promotes the formation of a keratin filament cage around the nucleus.; Ubiquitinated by the BCR(KLHL24) E3 ubiquitin ligase complex.
FUNCTION
Keratin 14 is a member of the type I keratin family of intermediate filament proteins. Keratin 14 is also known as cytokeratin-14 (CK-14) or keratin-14 (KRT14). In humans it is encoded by the KRT14 gene. Keratin 14 is usually found as a heterodimer with type II keratin 5 and form the cytoskeleton of epithelial cells. Cytokeratin 14 is found in squamous epithelial basal cells, myoepithelium, some glandular epithelia, and mesothelial cells. Anti-Cytokeratin 14 is useful for distinguishing squamous cell carcinomas from other epithelial tumors, and for classifying metaplastic breast carcinomas. The Cytokeratin 14 (IHC555) antibody is intended for qualified laboratories to qualitatively identify by light microscopy the presence of associated antigens in sections of formalin-fixed, paraffin-embedded tissue sections using IHC test methods. Use of this antibody is indicated, subsequent to clinical differential diagnoses of diseases, as an aid in the identification of squamous cell carcinomas within the context of antibody panels, the patient's clinical history and other diagnostic tests evaluated by a qualified pathologist.