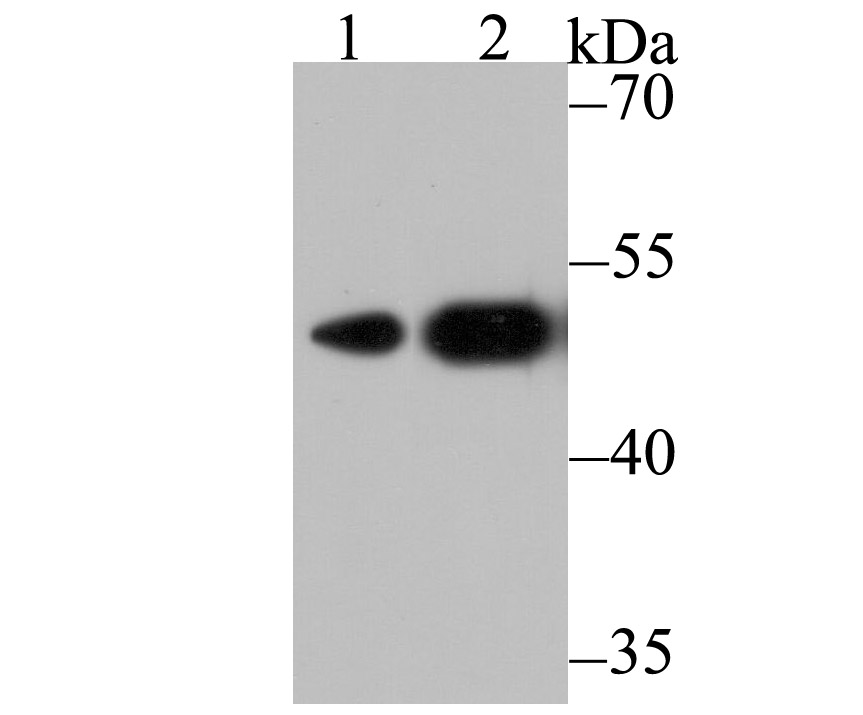 Western blot analysis of CXCR4 on different cell lysates using anti-CXCR4 antibody at 1/500 dilution.
Positive control:
Lane 1: 293
Lane 2: K562
SPECIFICATIONS
Product Type
Rabbit polyclonal primary
Product Name
CXCR4 Rabbit Polyclonal Antibody (ER1802-28)
Immunogen
Synthetic peptide within n-terminal human cxcr4 aa.
Positive Control
293, K562, Hela, HUVEC, rat lung tissue, human tonsil tissue, human liver tissue, THP-1.
PROPERTIES
Storage Condition
Store at +4C after thawing. Aliquot store at -20C or -80C. Avoid repeated freeze / thaw cycles.
Storage Buffer
1*PBS (pH7.4), 0.2% BSA, 50% Glycerol. Preservative: 0.05% Sodium Azide.
PURIFICATION
Peptide affinity purified
TARGET
SYNONYMS
C-X-C chemokine receptor type 4 antibody; CD184 antibody; CD184 antigen antibody; Chemokine (C X C motif) receptor 4 antibody; Chemokine CXC Motif Receptor 4 antibody; CXC-R4 antibody; CXCR-4 antibody; CXCR4 antibody; CXCR4_HUMAN antibody; D2S201E antibody; FB22 antibody; Fusin antibody; HM89 antibody; HSY3RR antibody; LAP 3 antibody; LAP3 antibody; LCR1 antibody; LESTR antibody; Leukocyte derived seven transmembrane domain receptor antibody; Leukocyte-derived seven transmembrane domain receptor antibody; Lipopolysaccharide associated protein 3 antibody; Neuropeptide Y receptor Y3 antibody; NPY3R antibody; NPYR antibody; NPYRL antibody; NPYY3 antibody; NPYY3R antibody; Probable G protein coupled receptor lcr1 homolog antibody; SDF 1 receptor antibody; SDF-1 receptor antibody; SEVEN-TRANSMEMBRANE-SEGMENT RECEPTOR antibody; Stromal cell derived factor 1 receptor antibody; Stromal cell-derived factor 1 receptor antibody; WHIM antibody; WHIMS antibody
SEQUENCE SIMILARITIES
Belongs to the G-protein coupled receptor 1 family.
TISSUE SPECIFICITY
Expressed in numerous tissues, such as peripheral blood leukocytes, spleen, thymus, spinal cord, heart, placenta, lung, liver, skeletal muscle, kidney, pancreas, cerebellum, cerebral cortex and medulla (in microglia as well as in astrocytes), brain microvascular, coronary artery and umbilical cord endothelial cells. Isoform 1 is predominant in all tissues tested.
POST-TRANSLATIONAL MODIFICATION
Phosphorylated on agonist stimulation. Rapidly phosphorylated on serine and threonine residues in the C-terminal. Phosphorylation at Ser-324 and Ser-325 leads to recruitment of ITCH, ubiquitination and protein degradation.; Ubiquitinated after ligand binding, leading to its degradation. Ubiquitinated by ITCH at the cell membrane on agonist stimulation. The ubiquitin-dependent mechanism, endosomal sorting complex required for transport (ESCRT), then targets CXCR4 for lysosomal degradation. This process is dependent also on prior Ser-/Thr-phosphorylation in the C-terminal of CXCR4. Also binding of ARRB1 to STAM negatively regulates CXCR4 sorting to lysosomes though modulating ubiquitination of SFR5S.; Sulfation on Tyr-21 is required for efficient binding of CXCL12/SDF-1alpha and promotes its dimerization. Tyr-7 and Tyr-12 are sulfated in a sequential manner after Tyr-21 is almost fully sulfated, with the binding affinity for CXCL12/SDF-1alpha increasing with the number of sulfotyrosines present. Sulfotyrosines Tyr-7 and Tyr-12 occupy clefts on opposing CXCL12 subunits, thus bridging the CXCL12 dimer interface and promoting CXCL12 dimerization.; O- and N-glycosylated. Asn-11 is the principal site of N-glycosylation. There appears to be very little or no glycosylation on Asn-176. N-glycosylation masks coreceptor function in both X4 and R5 laboratory-adapted and primary HIV-1 strains through inhibiting interaction with their Env glycoproteins. The O-glycosylation chondroitin sulfate attachment does not affect interaction with CXCL12/SDF-1alpha nor its coreceptor activity.
SUBCELLULAR LOCATION
Cell junction. Plasma membrane. Endosome. Lysosome.
FUNCTION
The C-X-C or a chemokine family is characterized by a pair of cysteine residues separated by a single amino acid and primarily functions as chemoattractants for neutrophils. The C-X-C family includes IL-8, NAP-2, MSGA and stromal cell derived factor-1 (SDF-1). SDF-1 was originally described as a pre-B cell stimulatory factor, but has now been shown to function as a potent chemo-attractant for T cells and monocytes but not neutrophils. Receptors for the C-X-C family are G protein-coupled, seven pass transmembrane domain proteins which include IL-8RA, IL-8RB and CXCR-4 (also known as LESTR or fusin). CXCR-4 is highly homologous to the IL-8 receptors, sharing 37% sequence identity at the amino acid level. The IL-8 receptors bind to IL-8, NAP-2 and MSGA, while fusin binds to its cognate ligand, SDF-1. CXCR-4 has been identified as the major co-receptor for T-tropic HIV-1 and SDF-1 has been shown to inhibit HIV-1 infection.
CITATIONS
He, Y., Wang, X., Lu, W., Z...

PGK1 contributes to tumorigenesis and sorafenib resistance of renal clear cell carcinoma via activating CXCR4/ERK signaling pathway and accelerating glycolysis