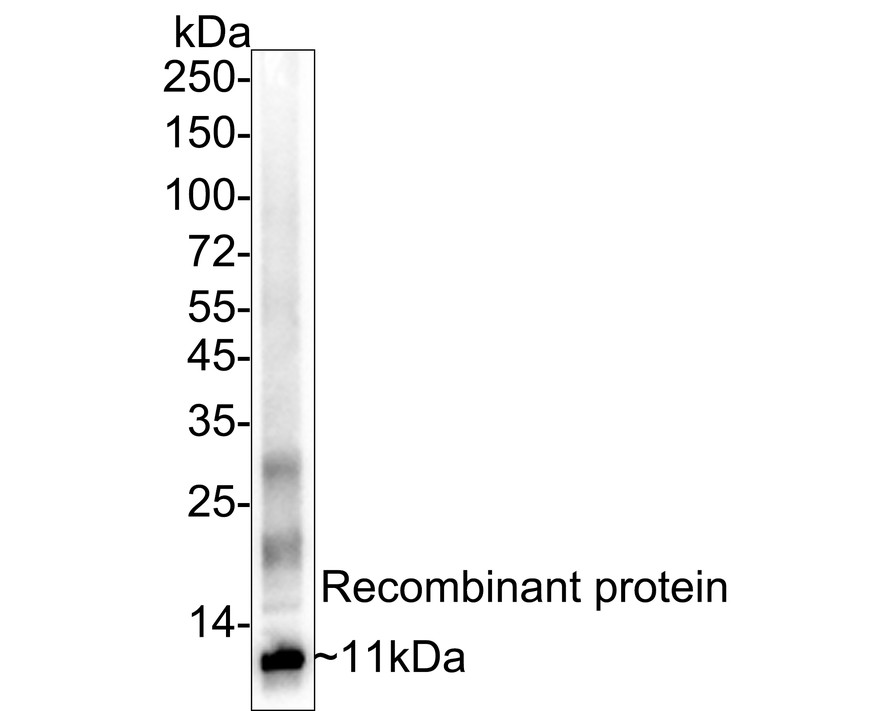 Western blot analysis of SDF1 on Hela cell lysate using anti-SDF1 antibody at 1/500 dilution.
SPECIFICATIONS
Product Type
Rabbit polyclonal primary
Product Name
CXCL12 Rabbit Polyclonal Antibody (ER1802-6)
Immunogen
Recombinant protein within human cxcl12 aa 22-93.
Positive Control
Hela, rat brain tissue, mouse small intestine tissue, HepG2.
PROPERTIES
Storage Condition
Store at +4C after thawing. Aliquot store at -20C or -80C. Avoid repeated freeze / thaw cycles.
Storage Buffer
1*PBS (pH7.4), 0.2% BSA, 50% Glycerol. Preservative: 0.05% Sodium Azide.
PURIFICATION
Protein affinity purified
TARGET
SYNONYMS
12-O-tetradecanoylphorbol 13-acetate repressed protein 1 antibody; AI174028 antibody; C-X-C motif chemokine 12 antibody; Chemokine (C-X-C motif) ligand 12 (stromal cell-derived factor 1) antibody; Chemokine (C-X-C motif) ligand 12 antibody; Chemokine CXC motif ligand 12 antibody; cxcl12 antibody; hIRH antibody; hSDF-1 antibody; Intercrine reduced in hepatomas antibody; IRH antibody; OTTHUMP00000019491 antibody; PBSF antibody; Pre-B cell growth-stimulating factor antibody; SCYB12 antibody; SDF 1 antibody; SDF-1 antibody; SDF-1-alpha(3-67) antibody; SDF-1a antibody; SDF-1b antibody; SDF1_HUMAN antibody; SDF1A antibody; SDF1B antibody; Stromal cell-derived factor 1 antibody; Stromal cell-derived factor 1 delta antibody; Stromal cell-derived factor 1 gamma antibody; Stromal cell-derived factor 1a antibody; Stromal cell-derived factor-1 alpha antibody; Thymic lymphoma cell-stimulating factor antibody; Tlsf antibody; TLSF-a antibody; TLSF-b antibody; Tlsfa antibody; Tlsfb antibody; TPAR1 antibody
SEQUENCE SIMILARITIES
Belongs to the intercrine alpha (chemokine CxC) family.
TISSUE SPECIFICITY
Isoform Alpha and isoform Beta are ubiquitously expressed, with highest levels detected in liver, pancreas and spleen. Isoform Gamma is mainly expressed in heart, with weak expression detected in several other tissues. Isoform Delta, isoform Epsilon and isoform Theta have highest expression levels in pancreas, with lower levels detected in heart, kidney, liver and spleen.
DEVELOPMENTAL STAGE
Isoform Alpha is ubiquitously expressed in fetal tissues. Isoform Beta and isoform Delta have more limited expression patterns, with highest levels detected in fetal spleen and fetal liver, respectively. Isoform Gamma and isoform Theta are weakly detected in fetal kidney.
POST-TRANSLATIONAL MODIFICATION
Processed forms SDF-1-beta(3-72) and SDF-1-alpha(3-67) are produced after secretion by proteolytic cleavage of isoforms Beta and Alpha, respectively. The N-terminal processing is probably achieved by DPP4. Isoform Alpha is first cleaved at the C-terminus to yield a SDF-1-alpha(1-67) intermediate before being processed at the N-terminus. The C-terminal processing of isoform Alpha is reduced by binding to heparin and, probably, cell surface proteoglycans.
FUNCTION
The stromal cell-derived factor 1 (SDF1), also known as C-X-C motif chemokine 12 (CXCL12), is a chemokine protein that in humans is encoded by the CXCL12 gene on chromosome 10. It is ubiquitously expressed in many tissues and cell types. Stromal cell-derived factors 1-alpha and 1-beta are small cytokines that belong to the chemokine family, members of which activate leukocytes and are often induced by proinflammatory stimuli such as lipopolysaccharide, TNF, or IL1. The chemokines are characterized by the presence of 4 conserved cysteines that form 2 disulfide bonds. They can be classified into 2 subfamilies. In the CC subfamily, the cysteine residues are adjacent to each other. In the CXC subfamily, they are separated by an intervening amino acid. The SDF1 proteins belong to the latter group. CXCL12 signaling has been observed in several cancers. The CXCL12 gene also contains one of 27 SNPs associated with increased risk of coronary artery disease.