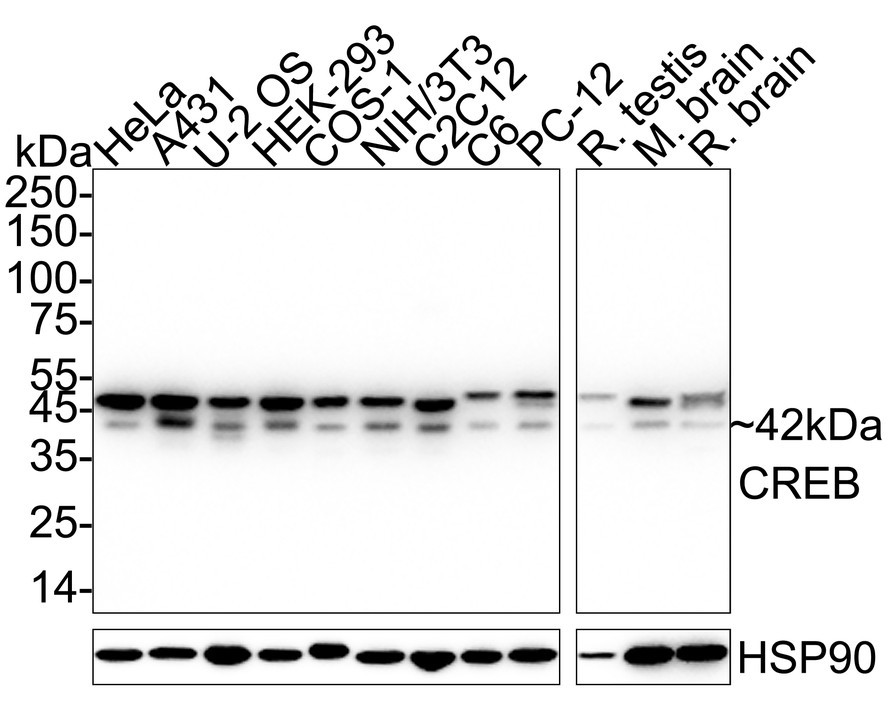 Western blot analysis of CREB on different lysates. Proteins were transferred to a PVDF membrane and blocked with 5% BSA in PBS for 1 hour at room temperature. The primary antibody (ET1601-15, 1/500) was used in 5% BSA at room temperature for 2 hours. Goat Anti-Rabbit IgG - HRP Secondary Antibody (HA1001) at 1:5,000 dilution was used for 1 hour at room temperature.
Positive control:
Lane 1: Hela cell lysate
Lane 2: HepG2 cell lysate
Lane 3: Jurkat cell lysate
Lane 4: NIH/3T3 cell lysate
REACTIVITY
Human

Mouse

Zebrafish

Rat
SPECIFICATIONS
Product Type
Recombinant Rabbit monoclonal primary
Product Name
CREB Recombinant Rabbit Monoclonal Antibody [SA04-04] (ET1601-15)
Immunogen
Synthetic peptide within human creb aa 250-290.
Positive Control
Hela cell lysate, HepG2 cell lysate, Jurkat cell lysate, NIH/3T3 cell lysate, zebrafish tissue lysates, Hela, human tonsil tissue, human lung carcinoma tissue, human breast carcinoma tissue, human thyroid tissue, human stomach carcinoma tissue, human pancreas tissue, mouse brain tissue, mouse colon tissue.
PROPERTIES
Storage Condition
Store at +4C after thawing. Aliquot store at -20C or -80C. Avoid repeated freeze / thaw cycles.
Storage Buffer
1*TBS (pH7.4), 0.05% BSA, 40% Glycerol. Preservative: 0.05% Sodium Azide.
PURIFICATION
Protein A affinity purified.
TARGET
SYNONYMS
Active transcription factor CREB antibody; cAMP response element binding protein 1 antibody; cAMP response element binding protein antibody; cAMP responsive element binding protein 1 antibody; cAMP-responsive element-binding protein 1 antibody; CREB antibody; CREB-1 antibody; CREB1 antibody; CREB1_HUMAN antibody; Cyclic AMP-responsive element-binding protein 1 antibody; MGC9284 antibody; OTTHUMP00000163864 antibody; OTTHUMP00000163865 antibody; OTTHUMP00000206660 antibody; OTTHUMP00000206662 antibody; OTTHUMP00000206667 antibody; Transactivator protein antibody
SEQUENCE SIMILARITIES
Belongs to the bZIP family.
POST-TRANSLATIONAL MODIFICATION
Stimulated by phosphorylation. Phosphorylation of both Ser-133 and Ser-142 in the SCN regulates the activity of CREB and participates in circadian rhythm generation. Phosphorylation of Ser-133 allows CREBBP binding. In liver, phosphorylation is induced by fasting or glucagon in a circadian fashion (By similarity). CREBL2 positively regulates phosphorylation at Ser-133 thereby stimulating CREB1 transcriptional activity (By similarity). Phosphorylated upon calcium influx by CaMK4 and CaMK2 on Ser-133. CaMK4 is much more potent than CaMK2 in activating CREB. Phosphorylated by CaMK2 on Ser-142. Phosphorylation of Ser-142 blocks CREB-mediated transcription even when Ser-133 is phosphorylated. Phosphorylated by CaMK1 (By similarity). Phosphorylation of Ser-271 by HIPK2 in response to genotoxic stress promotes CREB1 activity, facilitating the recruitment of the coactivator CBP. Phosphorylated at Ser-133 by RPS6KA3, RPS6KA4 and RPS6KA5 in response to mitogenic or stress stimuli. Phosphorylated by TSSK4 on Ser-133.; Sumoylated with SUMO1. Sumoylation on Lys-304, but not on Lys-285, is required for nuclear localization of this protein. Sumoylation is enhanced under hypoxia, promoting nuclear localization and stabilization.
FUNCTION
Eukaryotic gene transcription is regulated by sequence-specific transcription factors that bind modular cis-acting promoter and enhancer elements. The ATF/CREB transcription factor family binds the palindromic cAMP response element (CRE) octanucleotide TGACGTCA. The ATF/CREB family includes CREB-1, CREB-2 (also designated ATF-4), ATF-1, ATF-2 and ATF-3. This family of proteins contains highly divergent N-terminal domains, but shares a C-terminal leucine zipper for dimerization and DNA binding. Although CREB can bind to DNA in an unphosphorylated state, it cannot activate transcription. Phosphorylation of CREB on Ser 133 by protein kinase A facilitates its interaction with the CREB-binding protein (CBP) and activates the basal transcription complex. CREB functions in neoglucogenesis through interactions with the nuclear coactivator PGC-1. CREB may play a role in the pathogenesis of type II diabetes and dilated cardiomyopathy.
CITATIONS
Zhang, Yanjie et al.

Regulation of hepatic gluconeogenesis by nuclear factor Y transcription factor in mice. | The Journal of Biological Chemistry [2018]

Shen, Junyi et al.

Loss of FoxA2 accelerates neoplastic changes in the intrahepatic bile duct partly via the MAPK signaling pathway. | Aging [2019]