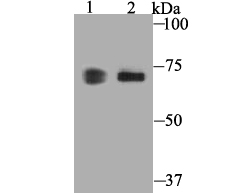 Western blot analysis of COX1/Cyclooxygenase 1 on different lysates. Proteins were transferred to a PVDF membrane and blocked with 5% BSA in PBS for 1 hour at room temperature. The primary antibody was used at a 1:500 dilution in 5% BSA at room temperature for 2 hours. Goat Anti-Rabbit IgG - HRP Secondary Antibody (HA1001) at 1:5,000 dilution was used for 1 hour at room temperature.
Positive control:
Lane 1: 293T cell lysate, untreated
Lane 2: NIH/3T3 cell lysate, untreated
SPECIFICATIONS
Product Type
Rabbit polyclonal primary
Product Name
COX1/Cyclooxygenase 1 Rabbit Polyclonal Antibody (0807-3)
Immunogen
Synthetic peptide within human cox-1 aa 550-599.
PROPERTIES
Storage Condition
Store at +4C after thawing. Aliquot store at -20C. Avoid repeated freeze / thaw cycles.
Storage Buffer
1*PBS (pH7.4), 0.2% BSA, 25% Glycerol. Preservative: 0.05% Sodium Azide.
PURIFICATION
Peptide affinity purified.
TARGET
SYNONYMS
COX 1 antibody; COX 3 antibody; COX-1 antibody; COX1 antibody; Cox3 antibody; Cyclooxygenase 1 antibody; Cyclooxygenase 3, included antibody; Cyclooxygenase-1 antibody; EC 1.14.99.1 antibody; Partial COX1 proteins, included antibody; PCOX1 antibody; PGG/HS antibody; PGH synthase 1 antibody; PGH1_HUMAN antibody; PGHS-1 antibody; PGHS1 antibody; PHS 1 antibody; PHS1 antibody; Prostaglandin G/H synthase 1 antibody; Prostaglandin H2 synthase 1 antibody; Prostaglandin-endoperoxide synthase 1 (prostaglandin G/H synthase and cyclooxygenase) antibody; Prostaglandin-endoperoxide synthase 1 antibody; PTGHS antibody; PTGS1 antibody
SEQUENCE SIMILARITIES
Belongs to the prostaglandin G/H synthase family.
SUBCELLULAR LOCATION
Microsome membrane, Endoplasmic reticulum membrane.
FUNCTION
Cytochrome c oxidase subunit I, COX1 (also designated COI, MTCO1 or oxidative phosphorylation (OxPhos) Complex IV, subunit I) is one of three mitochondrial DNA (mtDNA) encoded subunits (MTCO1-3) of respiratory Complex IV. Cytochrome c oxidase is a hetero-oligomeric enzyme composed of 13 subunits localized to the mitochondrial inner membrane and is the terminal enzyme complex of the electron transport chain. Complex IV catalyzes the reduction of molecular oxygen to water. The energy released is used to transport protons across the mitochondrial inner membrane. The resulting electro-chemical gradient is necessary for the synthesis of ATP. Complex IV contains 13 polypeptides; COX1, COX2 and COX3 (MTCO1-3) make up the catalytic core and are encoded by mtDNA while subunits IV, Va, Vb, VIa, VIb, VIc, VIIa, VIIb, VIIc and VIII are nuclear-encoded.