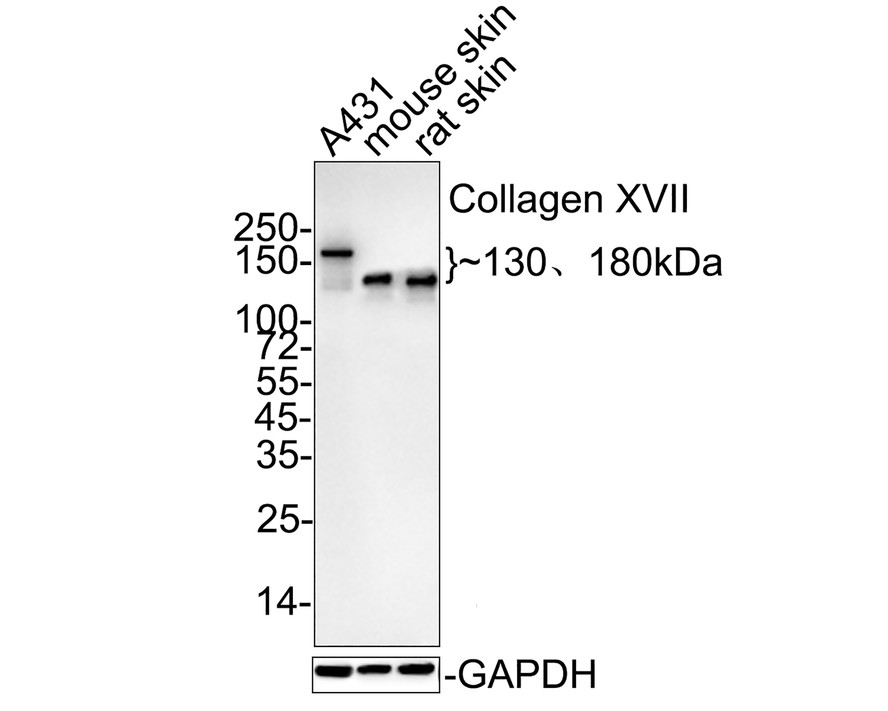 Western blot analysis of Collagen XVII on rat skin tissue lysates. Proteins were transferred to a PVDF membrane and blocked with 5% BSA in PBS for 1 hour at room temperature. The primary antibody (ET1602-14, 1/1,000) was used in 5% BSA at room temperature for 2 hours. Goat Anti-Rabbit IgG - HRP Secondary Antibody (HA1001) at 1:5,000 dilution was used for 1 hour at room temperature.
SPECIFICATIONS
Product Type
Recombinant Rabbit monoclonal primary
Product Name
Collagen XVII Recombinant Rabbit Monoclonal Antibody [SR46-05] (ET1602-14)
Immunogen
Recombinant protein within human collagen xvii aa 1313-1420 / 1497.
Positive Control
Rat skin tissue lysates, HUVEC, mouse skin tissue, human skin tissue.
PROPERTIES
Storage Condition
Store at +4C after thawing. Aliquot store at -20C or -80C. Avoid repeated freeze / thaw cycles.
Storage Buffer
1*TBS (pH7.4), 0.05% BSA, 40% Glycerol. Preservative: 0.05% Sodium Azide.
PURIFICATION
Protein A affinity purified.
TARGET
SYNONYMS
180 kDa bullous pemphigoid antigen 2 antibody; Alpha 1 type XVII collagen antibody; BA16H23.2 antibody; BP 180 antibody; BP180 antibody; BPA 2 antibody; BPAG 2 antibody; BPAG2 antibody; Bullous pemphigoid antigen 2 antibody; COL17A1 antibody; Collagen 17 antibody; Collagen alpha 1 XVII chain antibody; Collagen alpha 1(XVII) chain antibody; Collagen alpha1 XVII chain antibody; Collagen type XVII alpha 1 antibody; Collagen XVII alpha 1 polypeptide antibody; CollagenXVII antibody; Epidermolysis bullosa junctional localisata variant antibody; FLJ60881 antibody; KIAA0204 antibody; LAD 1 antibody; LAD1 antibody
TISSUE SPECIFICITY
Detected in skin. In the cornea, it is detected in the epithelial basement membrane, the epithelial cells, and at a lower level in stromal cells (at protein level). Stratified squamous epithelia. Found in hemidesmosomes. Expressed in cornea, oral mucosa, esophagus, intestine, kidney collecting ducts, ureter, bladder, urethra and thymus but is absent in lung, blood vessels, skeletal muscle and nerves.
POST-TRANSLATIONAL MODIFICATION
The intracellular/endo domain is disulfide-linked.; Prolines at the third position of the tripeptide repeating unit (G-X-Y) are hydroxylated in some or all of the chains.; The ectodomain is shedded from the surface of keratinocytes resulting in a 120-kDa soluble form, also named as 120 kDa linear IgA disease antigen. The shedding is mediated by membrane-bound metalloproteases. This cleavage is inhibited by phosphorylation at Ser-544.
SUBCELLULAR LOCATION
Cell junction, Membrane, Secreted
FUNCTION
The extensive collagen family comprises several chain types, including fibril-forming interstitial collagens and basement membrane collagens, with each type containing multiple isoforms. Products of the COL gene family, collagens are characterized as fibrous, extracellular matrix proteins with high tensile strength that constitute the major components of connective tissues, such as tendons and cartilage. All collagens contain a triple helix domain and frequently show lateral self-association in order to form complex connective tissues. Collagen Type XVII, also designated BP180, represents a type II transmembrane, epithelial adhesion molecule that plays a role in cell migration and differentiation. The full length Collagen Type XVII protein is expressed in hemidesmosomes of keratinocytes. Proteolytic shedding of Collagen Type XVII results in a species in the extracellular matrix, and this process may be mediated by a disintegrin and metalloprotease (ADAM) family member. The BPAG2 gene, which encodes the Collagen Type XVII protein, maps to human chromosome 10q25.1. Mutations in this gene result in Bullous pemphigoid, an inflammatory subepidermal blistering skin disease associated with an IgG autoimmune response to Collagen Type XVII.