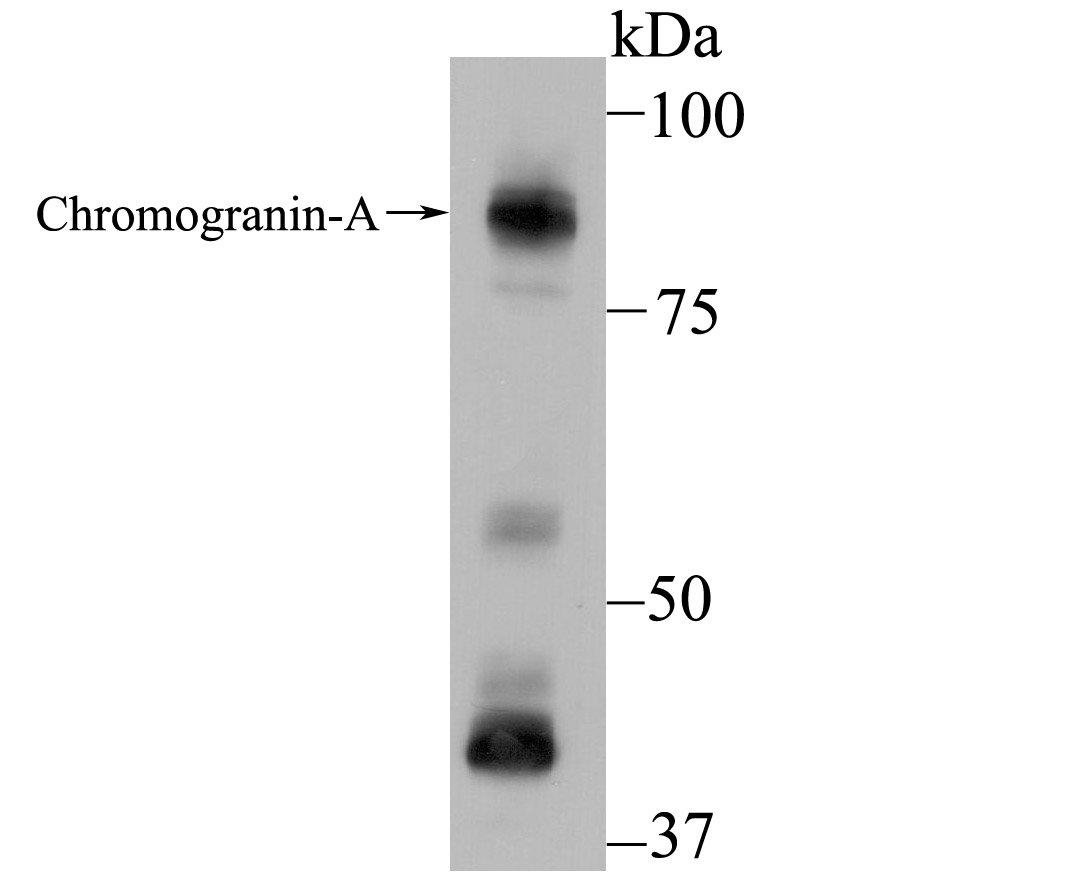 Western blot analysis of Chromogranin A on PC-12 using anti-Chromogranin A antibody at 1/500 dilution.
SPECIFICATIONS
Product Name
Chromogranin-A(C-term) Mouse Monoclonal Antibody [D11-2] (EM0407-24)
Positive Control
PC-12, Hela, LOVO, PANC-1, rat small intestine tissue, rat pancreas tissue, mouse pancreas tissue.
PROPERTIES
Storage Condition
Store at +4C after thawing. Aliquot store at -20C or -80C. Avoid repeated freeze / thaw cycles.
Storage Buffer
1*PBS (pH7.4), 0.2% BSA, 50% Glycerol. Preservative: 0.05% Sodium Azide.
TARGET
SYNONYMS
beta Granin antibody; betagranin (N-terminal fragment of chromogranin A) antibody; catestatin antibody; CgA antibody; CHG A antibody; Chga antibody; chromofungin antibody; Chromogranin A antibody; Chromogranin A parathyroid secretory protein 1 antibody; Chromogranin A precursor antibody; ChromograninA antibody; CMGA_HUMAN antibody; ER-37 antibody; Pancreastatin antibody; Parastatin antibody; Parathyroid secretory protein 1 antibody; Pituitary secretory protein I antibody; Secretory protein I antibody; SP I antibody; SP-I antibody; SP1 antibody; SPI antibody; Vasostatin antibody; Vasostatin I antibody; Vasostatin II antibody
SEQUENCE SIMILARITIES
Belongs to the chromogranin/secretogranin protein family.
TISSUE SPECIFICITY
GE-25 is found in the brain.
POST-TRANSLATIONAL MODIFICATION
Sulfated on tyrosine residues and/or contains sulfated glycans.; O-glycosylated with core 1 or possibly core 8 glycans.; Proteolytic processing gives rise to an additional longer form of catestatin (residues 358-390) which displays a less potent catecholamine release-inhibitory activity. Plasmin-mediated proteolytic processing can give rise to additional shorter and longer forms of catestatin peptides.
SUBCELLULAR LOCATION
Secreted. Secretory vesicle lumen.
FUNCTION
Chromogranins (secretogranins) are acidic glycoproteins that localize within secretory granules of endocrine, neuroendocrine and neuronal tissue. Family members include chromogranin A (Chr-A), chromogranin B (Chr-B, also known as secretogranin I) chromogranin C (also known as secretogranin II or Sg II), secretogranin III (Sg III or SCG3). High levels of Chr-A expression is a characteristic of neuroendocrine tumors. Pancreastatin is a peptide derived from Chr-A which inhibits insulin secretion, exocrine pancreatic secretion and gastric acid secretion. Pancreastatin exists as two forms; the major form is expressed in stomach and colon extracts. In neuroendocrine cells the level Sg II has been shown to increase four-fold in response to histamine, while levels of Chr-A and Chr-B showed little or no increase. Sg III is an acidic secretory protein expressed in neuronal and endocrine cells. In the anterior lobe of the rat pituitary gland, Sg III is present in mammotropes and thyrotropes, moderately in gonadotropes and corticotropes, though not in somatotropes. Sg III and carboxypeptidase E (CPE) bind specifically to cholesterol-rich secretory granule (SG) membranes.