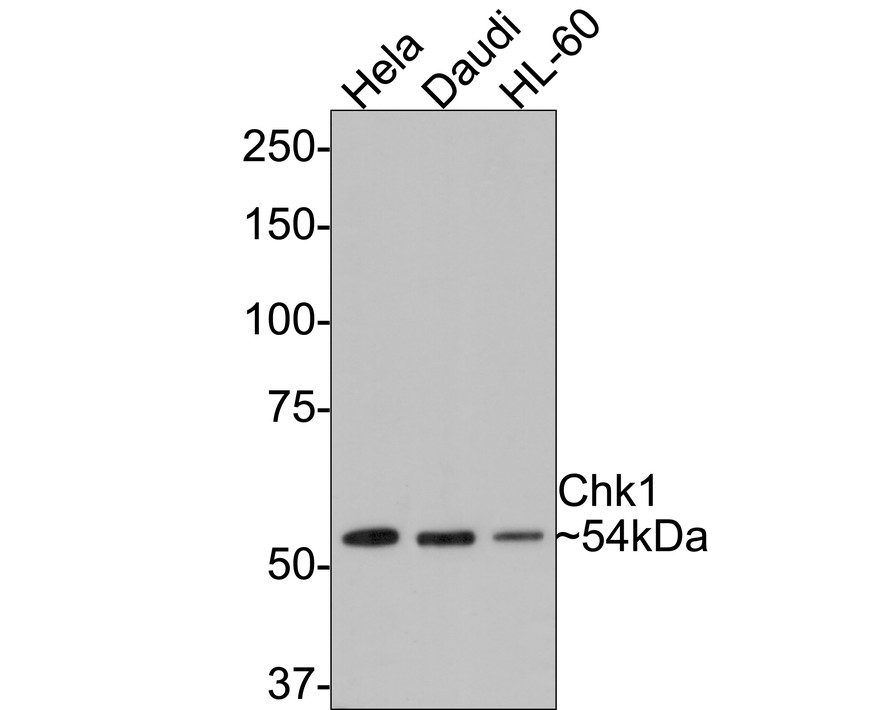 Western blot analysis of Chk1 on different lysates. Proteins were transferred to a PVDF membrane and blocked with 5% BSA in PBS for 1 hour at room temperature. The primary antibody (ET1609-71, 1/500) was used in 5% BSA at room temperature for 2 hours. Goat Anti-Rabbit IgG - HRP Secondary Antibody (HA1001) at 1:5,000 dilution was used for 1 hour at room temperature.
Positive control:
Lane 1: Hela cell lysate
Lane 2: PC-3M cell lysate
SPECIFICATIONS
Product Type
Recombinant Rabbit monoclonal primary
Product Name
Chk1 Recombinant Rabbit Monoclonal Antibody [ST57-09] (ET1609-71)
Positive Control
Hela cell lysate, PC-3M cell lysate, Hela, MCF-7, PC-3M, mouse liver tissue.
PROPERTIES
Storage Condition
Store at +4C after thawing. Aliquot store at -20C or -80C. Avoid repeated freeze / thaw cycles.
Storage Buffer
1*TBS (pH7.4), 0.05% BSA, 40% Glycerol. Preservative: 0.05% Sodium Azide.
PURIFICATION
Protein A affinity purified.
TARGET
SYNONYMS
C85740 antibody; Cell cycle checkpoint kinase antibody; Checkpoint , S. pombe, homolog of, 1 antibody; Checkpoint kinase 1 antibody; Checkpoint kinase 1 homolog (S. pombe) antibody; CHEK 1 antibody; Chek1 antibody; Chk 1 antibody; Chk1 antibody; CHK1 checkpoint homolog (S. pombe) antibody; CHK1_HUMAN antibody; EC 2.7.11.1 antibody; rad27 antibody; Serine/threonine protein kinase Chk1 antibody; Serine/threonine-protein kinase CHK1 antibody; STT3, subunit of the oligosaccharyltransferase complex, homolog A (S. cerevisiae) antibody
SEQUENCE SIMILARITIES
Belongs to the protein kinase superfamily. CAMK Ser/Thr protein kinase family. NIM1 subfamily.
TISSUE SPECIFICITY
Expressed ubiquitously with the most abundant expression in thymus, testis, small intestine and colon.
POST-TRANSLATIONAL MODIFICATION
Phosphorylated by ATR in a RAD17-dependent manner in response to ultraviolet irradiation and inhibition of DNA replication. Phosphorylated by ATM in response to ionizing irradiation. ATM and ATR can both phosphorylate Ser-317 and Ser-345 and this results in enhanced kinase activity. Phosphorylation at Ser-345 induces a change in the conformation of the protein, activates the kinase activity and is a prerequisite for interaction with FBXO6 and subsequent ubiquitination at Lys-436. Phosphorylation at Ser-345 also increases binding to 14-3-3 proteins and promotes nuclear retention. Conversely, dephosphorylation at Ser-345 by PPM1D may contribute to exit from checkpoint mediated cell cycle arrest. Phosphorylation at Ser-280 by AKT1/PKB, may promote mono and/or diubiquitination. Also phosphorylated at undefined residues during mitotic arrest, resulting in decreased activity.; Ubiquitinated. Mono or diubiquitination promotes nuclear exclusion (By similarity). The activated form (phosphorylated on Ser-345) is polyubiquitinated at Lys-436 by some SCF-type E3 ubiquitin ligase complex containing FBXO6 promoting its degradation. Ubiquitination and degradation are required to terminate the checkpoint and ensure that activated CHEK1 does not accumulate as cells progress through S phase, when replication forks encounter transient impediments during normal DNA replication.
FUNCTION
Cell cycle events are regulated by the sequential activation and deactivation of cyclin dependent kinases (Cdks) and by proteolysis of cyclins. Chk1 and Chk2 are involved in these processes as regulators of Cdks. Chk1 and Chk2 both function as essential components in the G2 DNA damage checkpoint by phosphorylating Cdc25C in response to DNA damage. Phosphorylation inhibits Cdc25C activity, thereby blocking mitosis. Cdc25A, Cdc25B and Cdc25C protein tyrosine phosphatases function as mitotic activators by dephosphorylating Cdc2 p34 on regulatory tyrosine residues. It has also been shown that Chk1 can phosphorylate Wee1 in vitro, providing evidence that the hyperphosphorylated form of Wee1, seen in cells delayed by Chk1 overexpression, is due to phosphorylation by Chk1.