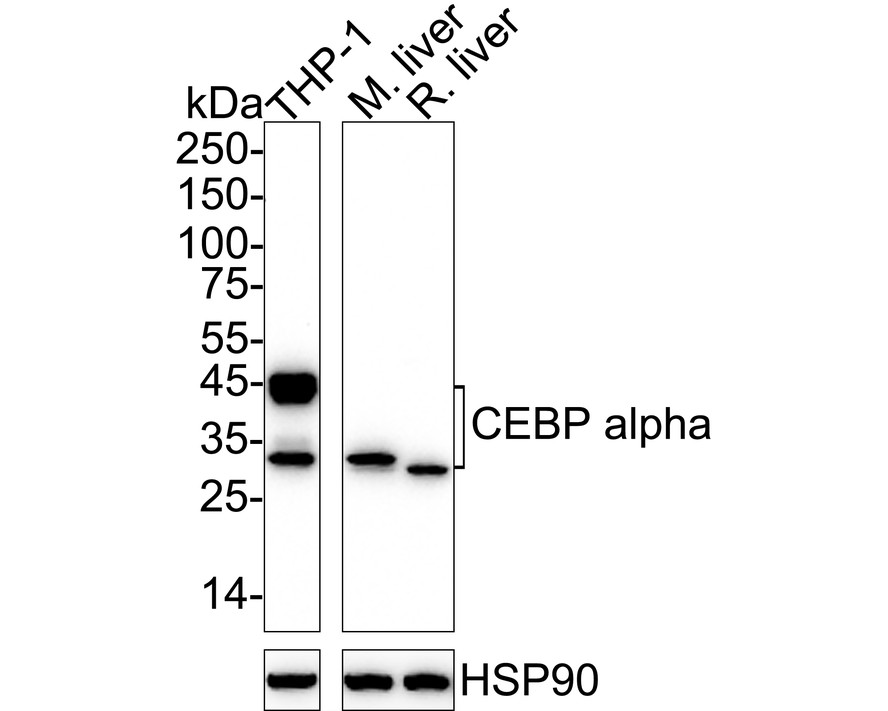 Flow cytometric analysis of CEBP alpha was done on Hela cells. The cells were fixed, permeabilized and stained with the primary antibody (ET1612-46, 1/50) (red). After incubation of the primary antibody at room temperature for an hour, the cells were stained with a Alexa Fluor 488-conjugated Goat anti-Rabbit IgG Secondary antibody at 1/1000 dilution for 30 minutes.Unlabelled sample was used as a control (cells without incubation with primary antibody; black).
SPECIFICATIONS
Product Type
Recombinant Rabbit monoclonal primary
Product Name
CEBP alpha Recombinant Rabbit Monoclonal Antibody [SD202-09] (ET1612-46)
Immunogen
Synthetic peptide within c-terminal human cebp alpha.
PROPERTIES
Storage Condition
Store at +4C after thawing. Aliquot store at -20C or -80C. Avoid repeated freeze / thaw cycles.
Storage Buffer
1*TBS (pH7.4), 0.05% BSA, 40% Glycerol. Preservative: 0.05% Sodium Azide.
PURIFICATION
Protein A affinity purified.
TARGET
SYNONYMS
Apoptotic cysteine protease antibody; Apoptotic protease Mch 5 antibody; C/EBP alpha antibody; C/ebpalpha antibody; CAP4 antibody; Caspase 8 precursor antibody; CBF-A antibody; CCAAT Enhancer Binding Protein alpha antibody; CCAAT/enhancer binding protein (C/EBP), alpha antibody; CCAAT/enhancer-binding protein alpha antibody; CEBP antibody; CEBP A antibody; CEBP alpha antibody; Cebpa antibody; CEBPA_HUMAN antibody; FADD homologous ICE/CED 3 like protease antibody; FADD like ICE antibody; FLICE antibody; ICE like apoptotic protease 5 antibody; ICE8 antibody; MACH antibody; MCH5 antibody; MORT1 associated CED 3 homolog antibody
SEQUENCE SIMILARITIES
Belongs to the bZIP family. C/EBP subfamily.
POST-TRANSLATIONAL MODIFICATION
Phosphorylation at Ser-190 is required for interaction with CDK2, CDK4 and SWI/SNF complex leading to cell cycle inhibition. Dephosphorylated at Ser-190 by protein phosphatase 2A (PP2A) through PI3K/AKT signaling pathway regulation. Phosphorylation at Thr-226 and Thr-230 by GSK3 is constitutive in adipose tissue and lung. In liver, both Thr-226 and Thr-230 are phosphorylated only during feeding but not during fasting. Phosphorylation of the GSK3 consensus sites selectively decreases transactivation activity on IRE-controlled promoters.; Sumoylated, sumoylation blocks the inhibitory effect on cell proliferation by disrupting the interaction with SMARCA2.; Ubiquitinated by COP1 upon interaction with TRIB1.
FUNCTION
The transcription factor C/EBP α (CCAAT-enhancer binding protein) is a heat-stable, sequence-specific DNA-binding protein that binds avidly to several different cis-regulatory DNA sequences commonly associated with viral and cellular genes transcribed by RNA polymerase II. C/EBP α regulates gene expression in a variety of tissues including liver, adipose, lung and intestine. C/EBP α is a basic region/leucine zipper transcription factor selectively expressed during the differentiation of liver, adipose tissue, blood cells and the endocrine pancreas. C/EBP α uses a bipartite structural motif to bind DNA and appears to function exclusively in terminally differentiated, growth-arrested cells. In the liver, C/EBP α is a transactivator of several genes, which are regulated by growth hormone. Growth hormone enhances not only the levels of C/EBP α mRNA and protein, but also the DNA binding activity of C/EBP α. C/EBP α functions as an important transcription factor that regulates different genes, including prolactin gene expression.