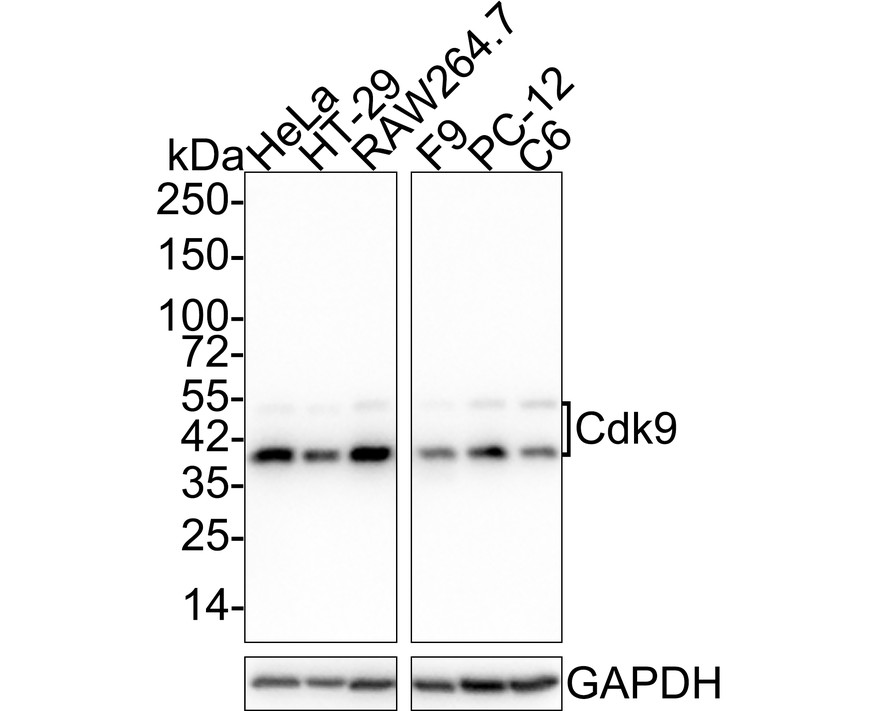 Western blot analysis of Cdk9 on different lysates. Proteins were transferred to a PVDF membrane and blocked with 5% BSA in PBS for 1 hour at room temperature. The primary antibody (ET1612-78, 1/500) was used in 5% BSA at room temperature for 2 hours. Goat Anti-Rabbit IgG - HRP Secondary Antibody (HA1001) at 1:5,000 dilution was used for 1 hour at room temperature.
Positive control:
Lane 1: Hela cell lysate
Lane 2: Jurkat cell lysate
Lane 2: A431 cell lysate
SPECIFICATIONS
Product Type
Recombinant Rabbit monoclonal primary
Product Name
Cdk9 Recombinant Rabbit Monoclonal Antibody [SD204-07] (ET1612-78)
Immunogen
Synthetic peptide within c-terminal human cdk9.
Positive Control
Hela cell lysate, Jurkat cell lysate, A431 cell lysate, Hela, A549, SW480, human lung carcinoma tissue, human breast carcinoma tissue, human tonsil tissue, human colon carcinoma tissue.
PROPERTIES
Storage Condition
Store at +4C after thawing. Aliquot store at -20C or -80C. Avoid repeated freeze / thaw cycles.
Storage Buffer
1*TBS (pH7.4), 0.05% BSA, 40% Glycerol. Preservative: 0.05% Sodium Azide.
PURIFICATION
Protein A affinity purified.
TARGET
SYNONYMS
C-2K antibody; CDC2 related kinase antibody; CDC2L4 antibody; Cdk 9 antibody; Cdk9 antibody; CDK9_HUMAN antibody; Cell division cycle 2-like protein kinase 4 antibody; Cell division protein kinase 9 antibody; CTK1 antibody; Cyclin dependent kinase 9 antibody; Cyclin-dependent kinase 9 antibody; PITALRE antibody; Serine/threonine-protein kinase PITALRE antibody; TAK antibody; Tat associated kinase complex catalytic subunit antibody
SEQUENCE SIMILARITIES
Belongs to the protein kinase superfamily. CMGC Ser/Thr protein kinase family. CDC2/CDKX subfamily.
POST-TRANSLATIONAL MODIFICATION
Autophosphorylation at Thr-186, Ser-347, Thr-350, Ser-353, Thr-354 and Ser-357 triggers kinase activity by promoting cyclin and substrate binding (e.g. HIV TAT) upon conformational changes. Thr-186 phosphorylation requires the calcium Ca(2+) signaling pathway, including CaMK1D and calmodulin. This inhibition is relieved by Thr-29 dephosphorylation. However, phosphorylation at Thr-29 is inhibitory within the HIV transcription initiation complex. Phosphorylation at Ser-175 inhibits kinase activity. Can be phosphorylated on either Thr-362 or Thr-363 but not on both simultaneously.; Dephosphorylation of Thr-186 by PPM1A and PPM1B blocks CDK9 activity and may lead to CDK9 proteasomal degradation. However, PPP1CA-mediated Thr-186 dephosphorylation is required to release P-TEFb from its inactive P-TEFb/7SK snRNP complex. Dephosphorylation of C-terminus Thr and Ser residues by protein phosphatase-1 (PP1) triggers CDK9 activity, contributing to the activation of HIV-1 transcription.; N6-acetylation of Lys-44 promotes kinase activity, whereas acetylation of both Lys-44 and Lys-48 mediated by PCAF/KAT2B and GCN5/KAT2A reduces kinase activity. The acetylated form associates with PML bodies in the nuclear matrix and with the transcriptionally silent HIV-1 genome; deacetylated upon transcription stimulation. Deacetylated by SIRT7, promoting the kinase activity and subsequent 'Ser-2' phosphorylation of the C-terminal domain (CTD) of RNA polymerase II.; Polyubiquitinated and thus activated by UBR5. This ubiquitination is promoted by TFIIS/TCEA1 and favors 'Ser-2' phosphorylation of RPB1/POLR2A CTD.
SUBCELLULAR LOCATION
Nucleus, PML body, Cytoplasm.
FUNCTION
A family of proteins designated cyclin dependent kinases (Cdks) are critical regulators of cell cycle progression. Cdk family members, including Cdc2 p34, Cdk1–9, PISSLRE, KKIALRE, PITSLRE, and PCTAIRE 1–3 are constitutively expressed throughout the cell cycle. Cdc2 p34 activity peaks during mitosis and Cdk2 activity rises in late G1 or early S phase. Cdk4 and Cdk6 are critically involved in G1 to S phase progression. The functions of Cdk3, Cdk5b, PISSLRE, KKIALRE and PCTAIRE 1–3 are less well defined. Cdk9 (also designated PITALRE) has been shown to specifically phosphorylate the retinoblastoma protein. The more recently cloned Drosophila protein, P-TEFb, is thought to be the homolog of mammalian PITALRE. P-TEFb has been shown to be required for HIV Tat transcriptional activation.