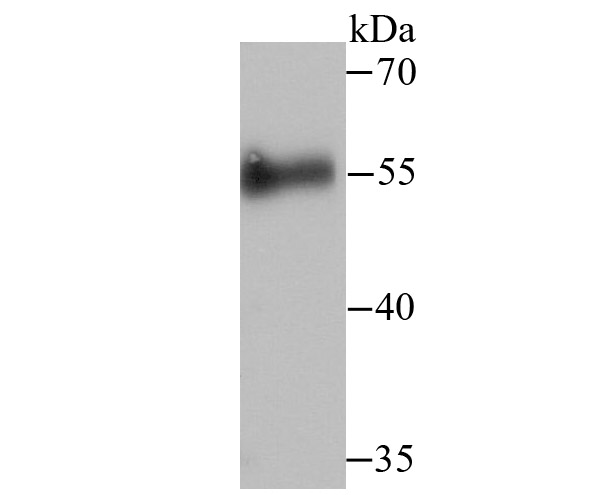 Western blot analysis of Cdc25C on human skin tissue lysate using anti-Cdc25C antibody at 1/500 dilution.
SPECIFICATIONS
Product Type
Rabbit polyclonal primary
Product Name
Cdc25C Rabbit Polyclonal Antibody (ER1706-38)
Immunogen
Synthetic peptide within c-terminal human cdc25c.
Positive Control
Human skin tissue lysate, A431, HUVEC, LOVO, rat brain tissue, human placenta tissue, mouse uterus tissue.
PROPERTIES
Storage Condition
Store at +4C after thawing. Aliquot store at -20C or -80C. Avoid repeated freeze / thaw cycles.
Storage Buffer
1*PBS (pH7.4), 0.2% BSA, 50% Glycerol. Preservative: 0.05% Sodium Azide.
PURIFICATION
Peptide affinity purified.
TARGET
SYNONYMS
CDC 25 antibody; Cdc 25C antibody; CDC25 antibody; CDC25C antibody; Cell division cycle 25 homolog C antibody; Cell division cycle 25C antibody; Cell division cycle 25C protein antibody; Dual specificity phosphatase Cdc25C antibody; M phase inducer phosphatase 3 antibody; M-phase inducer phosphatase 3 antibody; Mitosis inducer CDC25 antibody; MPIP3 antibody; MPIP3_HUMAN antibody; Phosphotyrosine phosphatase antibody; PPP1R60 antibody; protein phosphatase 1, regulatory subunit 60 antibody
SEQUENCE SIMILARITIES
Belongs to the MPI phosphatase family.
DEVELOPMENTAL STAGE
Expressed predominantly in G2 phase.
POST-TRANSLATIONAL MODIFICATION
Phosphorylated by CHEK1 and MAPK14 at Ser-216. This phosphorylation creates a binding site for 14-3-3 protein and inhibits the phosphatase. Phosphorylated by PLK4. Phosphorylated by PLK1, leading to activate the phosphatase activity. Phosphorylation by PLK3 at Ser-191 promotes nuclear translocation. Ser-198 is a minor phosphorylation site. Was initially reported to be phosphorylated by PLK3 at Ser-216. However, such phosphorylation by PLK3 was not confirmed by other groups. Phosphorylation at Thr-48, Thr-67, Ser-122, Thr-130, Ser-168 and Ser-214 occurs at G2 and G2-M transition and is probably catalyzed by CDK1. Ser-168 phosphorylation levels are lower than those at the other 5 CDK1 sites. Phosphorylation by CDK1 leads to increased activity.
FUNCTION
Cell cycle events are regulated by the sequential activation and deactivation of cyclin-dependent kinases (Cdks), including Cdk2 and Cdc2. Cdk2 in complexes with cyclin E and cyclin A appears necessary for the onset and progression of DNA replication, while the Cdc2 kinase in complexes with cyclin A or cyclin B is required for the initiation of cell division. Wee 1 has been identified as a protein kinase that suppresses the entry into mitosis by mediating inhibiting tyrosine phosphorylation of Cdc2 p34. In contrast, members of the Cdc25 family of protein phosphatases function as mitotic activators by dephosphorylation of Cdc2 p34 on regulatory tyrosine and possibly threonine residues. The Cdc25 gene family consists of at least three members that share approximately 40% identity in their most conserved carboxy-terminal sequences.