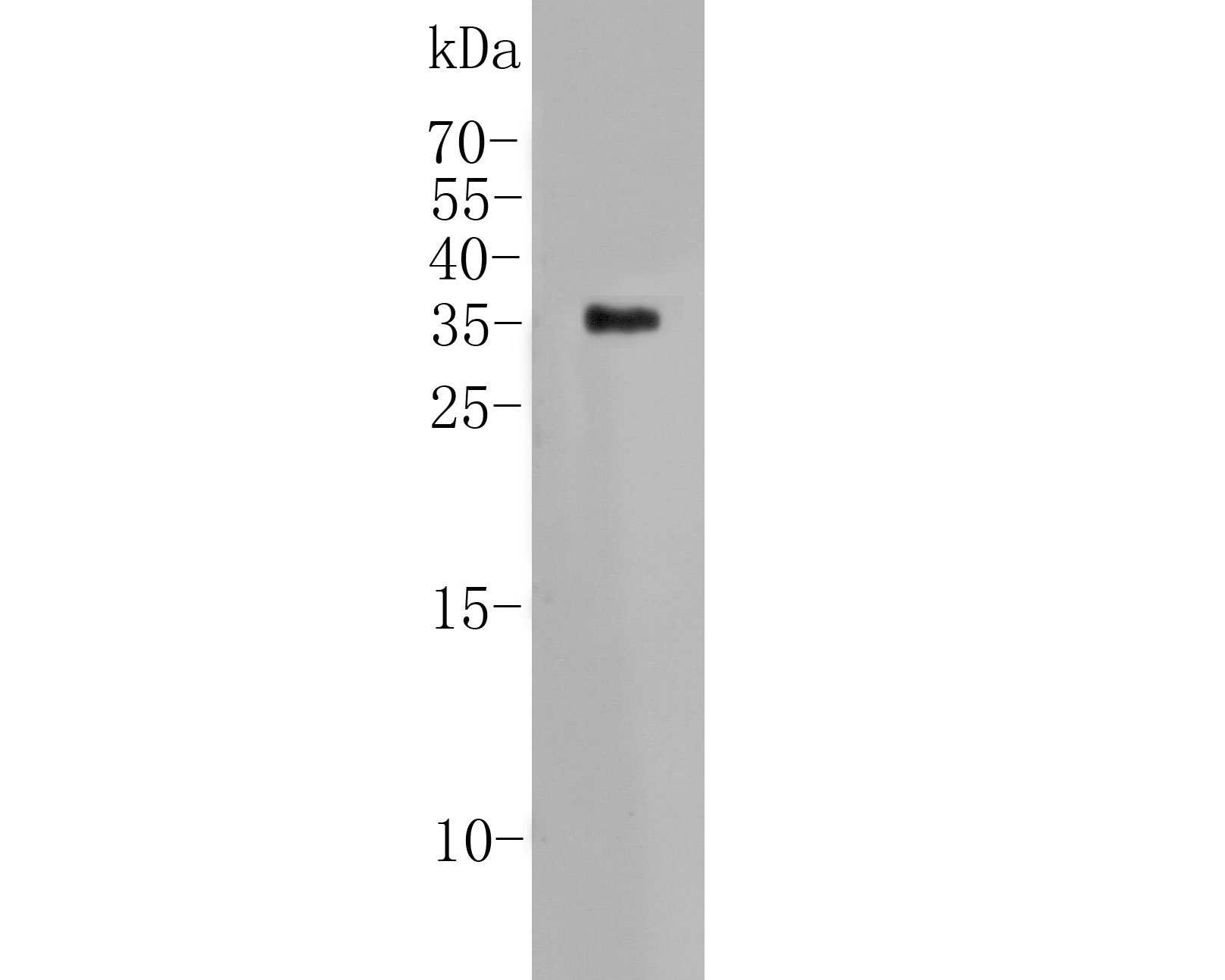 Western blot analysis of CD95 on Daudi cell lysate. Proteins were transferred to a PVDF membrane and blocked with 5% BSA in PBS for 1 hour at room temperature. The primary antibody (ER1902-56, 1/100) was used in 5% BSA at room temperature for 2 hours. Goat Anti-Rabbit IgG - HRP Secondary Antibody (HA1001) at 1:5,000 dilution was used for 1 hour at room temperature.
SPECIFICATIONS
Product Type
Rabbit polyclonal primary
Product Name
CD95 Rabbit Polyclonal Antibody (ER1902-56)
Immunogen
Synthetic peptide within c-terminal human cd95.
Positive Control
Daudi cell lysates, A431 cell.
PROPERTIES
Storage Condition
Store at +4C after thawing. Aliquot store at -20C. Avoid repeated freeze / thaw cycles.
Storage Buffer
1*PBS (pH7.4), 0.2% BSA, 50% Glycerol. Preservative: 0.05% Sodium Azide.
PURIFICATION
Peptide affinity purified.
TARGET
SYNONYMS
ALPS 1A antibody; ALPS1A antibody; APO 1 antibody; Apo 1 antigen antibody; APO 1 cell surface antigen antibody; Apo-1 antigen antibody; APO1 antibody; Apo1 antigen antibody; APO1 cell surface antigen antibody; Apoptosis antigen 1 antibody; Apoptosis mediating surface antigen FAS antibody; Apoptosis-mediating surface antigen FAS antibody; APT 1 antibody; APT1 antibody; CD 95 antibody; CD 95 antigen antibody; CD95 antibody; CD95 antigen antibody; Delta Fas antibody; Delta Fas/APO 1/CD95 antibody; Delta Fas/APO1/CD95 antibody; Fas (TNF receptor superfamily, member 6) antibody; FAS 1 antibody; FAS 827dupA antibody; Fas AMA antibody; Fas antibody; FAS Antigen antibody; Fas cell surface death receptor antibody; FAS1 antibody; FASLG receptor antibody; FASTM antibody; sFAS antibody; Surface antigen APO1 antibody; TNF receptor superfamily, member 6 antibody; TNFRSF 6 antibody; TNFRSF6 antibody; TNR6_HUMAN antibody; Tumor necrosis factor receptor superfamily member 6 antibody
TISSUE SPECIFICITY
Isoform 1 and isoform 6 are expressed at equal levels in resting peripheral blood mononuclear cells. After activation there is an increase in isoform 1 and decrease in the levels of isoform 6.
POST-TRANSLATIONAL MODIFICATION
Palmitoylated. Palmitoylation by ZDHHC7 prevents the lysosomal degradation of FAS regulating its expression at the plasma membrane.; N- and O-glycosylated. O-glycosylated with core 1 or possibly core 8 glycans.
SUBCELLULAR LOCATION
Cell membrane, Membrane, Secreted.
FUNCTION
Cytotoxic T lymphocyte (CTL)-mediated cytotoxicity constitutes an important component of specific effector mechanisms in immuno-surveillance against virus-infected or transformed cells. Two mechanisms appear to account for this activity, one of which is the perforin-based process. Independently, a FAS-based mechanism involves the transducing molecule FAS (also designated APO-1) and its ligand (FAS-L). The human FAS protein is a cell surface glycoprotein that belongs to a family of receptors that includes CD40, nerve growth factor receptors and tumor necrosis factor receptors. The FAS antigen is expressed on a broad range of lymphoid cell lines, certain of which undergo apoptosis in response to treatment with antibody to FAS. These findings strongly imply that targeted cell death is potentially mediated by the intercellular interactions of FAS with its ligand or effectors, and that FAS may be critically involved in CTL-mediated cytotoxicity.