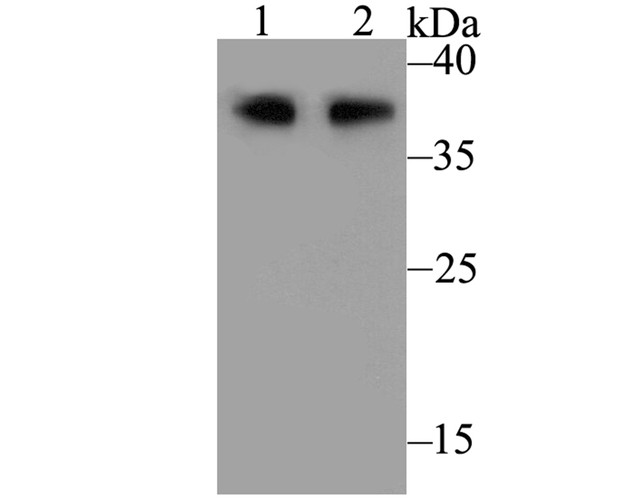 Western blot analysis of CD79a on different lysates. Proteins were transferred to a PVDF membrane and blocked with 5% BSA in PBS for 1 hour at room temperature. The primary antibody was used at a 1:500 dilution in 5% BSA at room temperature for 2 hours. Goat Anti-Rabbit IgG - HRP Secondary Antibody (HA1001) at 1:5,000 dilution was used for 1 hour at room temperature.
Positive control:
Lane 1: Daudi cell lysate
Lane 2: Raji cell lysate
SPECIFICATIONS
Product Type
Recombinant Rabbit monoclonal primary
Product Name
CD79a Recombinant Rabbit Monoclonal Antibody [JE43-50] (ET7109-33)
Immunogen
Recombinant protein within human cd79a aa 33-143.
Positive Control
Daudi, Raji, human tonsil tissue, human appendix tissue, human spleen tissue.
PROPERTIES
Storage Condition
Store at +4C after thawing. Aliquot store at -20C. Avoid repeated freeze / thaw cycles.
Storage Buffer
1*TBS (pH7.4), 0.05% BSA, 40% Glycerol. Preservative: 0.05% Sodium Azide.
MOLECULAR WEIGHT
38 kDa, predicted molecular weight 25 kDa.
TARGET
SYNONYMS
B lymphocyte-specific MB1 protein antibody; B-cell antigen receptor complex-associated protein alpha chain antibody; CD 79a antibody; CD79a antibody; CD79a antigen (immunoglobulin-associated alpha) antibody; CD79A antigen antibody; CD79a molecule, immunoglobulin-associated alpha antibody; CD79A_HUMAN antibody; Ig alpha antibody; Ig-alpha antibody; IGA antibody; IgM-alpha antibody; Immunoglobulin-associated alpha antibody; Ly54 antibody; MB-1 membrane glycoprotein antibody; MB1 antibody; Membrane-bound immunoglobulin-associated protein antibody; Surface IgM-associated protein antibody
POST-TRANSLATIONAL MODIFICATION
Phosphorylated on tyrosine, serine and threonine residues upon B-cell activation. Phosphorylation of tyrosine residues by Src-family kinases is an early and essential feature of the BCR signaling cascade. The phosphorylated tyrosines serve as docking sites for SH2-domain containing kinases, leading to their activation which in turn leads to phosphorylation of downstream targets. Phosphorylated by LYN. Phosphorylation of serine and threonine residues may prevent subsequent tyrosine phosphorylation.; Arginine methylation in the ITAM domain may interfere with the binding of SYK. It promotes signals leading to B-cell differentiation (By similarity).
FUNCTION
The mb-1 gene codes for a phosphoprotein, designated CD79a, that, together with the related CD79b protein, forms a dimer associated with membrane-bound immunoglobulin in B-cells. The CD79a/CD79b dimer is closely associated with the B-cell antigen receptor, in a similar manner to the association of CD3 with the T-cell receptor, and enables the cell to respond to the presence of antigens on its surface. The CD79a protein is present on the surface of B-cells throughout their life cycle, and is absent on all other healthy cells, making it a highly reliable marker for B-cells in immunohistochemistry. The B lymphocyte antigen receptor is a multimeric complex that includes the antigen-specific component, surface immunoglobulin (Ig). Surface Ig non-covalently associates with two other proteins, Ig-alpha and Ig-beta, which are necessary for expression and function of the B-cell antigen receptor. This gene encodes the Ig-alpha protein of the B-cell antigen component. Alternatively spliced transcript variants encoding different isoforms have been described.