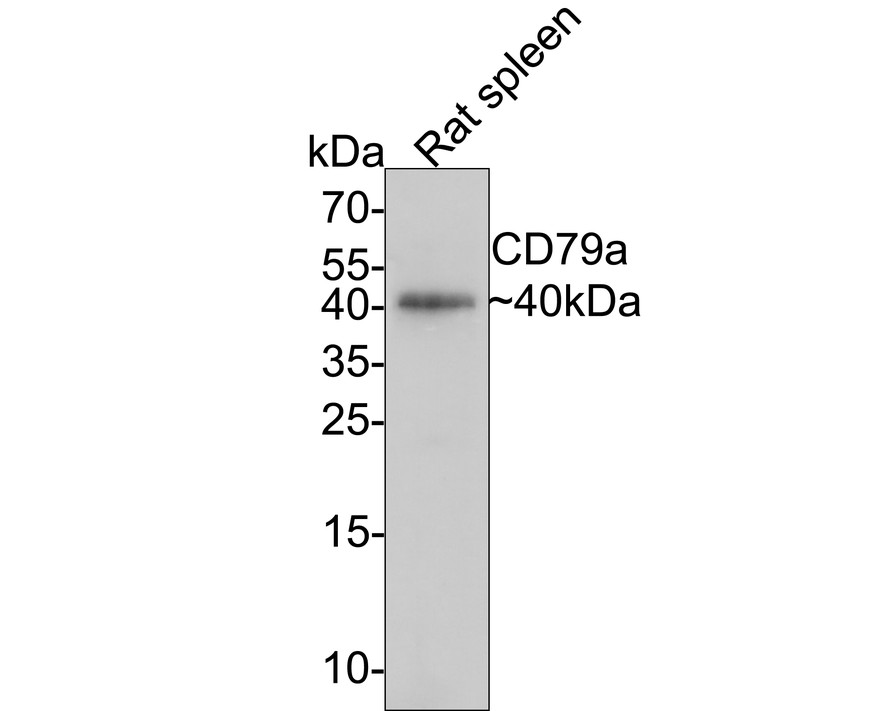 Western blot analysis of CD79a on different lysates. Proteins were transferred to a PVDF membrane and blocked with 5% BSA in PBS for 1 hour at room temperature. The primary antibody (EM1902-29, 1/500) was used in 5% BSA at room temperature for 2 hours. Goat Anti-Mouse IgG - HRP Secondary Antibody (HA1006) at 1:5,000 dilution was used for 1 hour at room temperature.
Positive control:
Lane 1: Human thymus tissue lysate
Lane 2: Mouse spleen tissue lysate
Lane 3: Daudi cell lysate
SPECIFICATIONS
Product Name
CD79a Mouse Monoclonal Antibody [C1-E8] (EM1902-29)
Immunogen
Synthetic peptide within mouse cd79a aa 100-200.
Positive Control
Human thymus tissue lysate, mouse spleen tissue lysate, Daudi cell lysate.
PROPERTIES
Storage Condition
Store at +4C after thawing. Aliquot store at -20C. Avoid repeated freeze / thaw cycles.
Storage Buffer
1*PBS (pH7.4), 0.2% BSA, 50% Glycerol. Preservative: 0.05% Sodium Azide.
MOLECULAR WEIGHT
Predicted band size 25 kDa
TARGET
SYNONYMS
B lymphocyte-specific MB1 protein antibody; B-cell antigen receptor complex-associated protein alpha chain antibody; CD 79a antibody; CD79a antibody; CD79a antigen (immunoglobulin-associated alpha) antibody; CD79A antigen antibody; CD79a molecule, immunoglobulin-associated alpha antibody; CD79A_HUMAN antibody; Ig alpha antibody; Ig-alpha antibody; IGA antibody; IgM-alpha antibody; Immunoglobulin-associated alpha antibody; Ly54 antibody; MB-1 membrane glycoprotein antibody; MB1 antibody; Membrane-bound immunoglobulin-associated protein antibody; Surface IgM-associated protein antibody
POST-TRANSLATIONAL MODIFICATION
Phosphorylated on tyrosine, serine and threonine residues upon B-cell activation. Phosphorylation of tyrosine residues by Src-family kinases is an early and essential feature of the BCR signaling cascade. The phosphorylated tyrosines serve as docking sites for SH2-domain containing kinases, leading to their activation which in turn leads to phosphorylation of downstream targets. Phosphorylated by LYN. Phosphorylation of serine and threonine residues may prevent subsequent tyrosine phosphorylation.; Arginine methylation in the ITAM domain may interfere with the binding of SYK. It promotes signals leading to B-cell differentiation (By similarity).
FUNCTION
Required in cooperation with CD79B for initiation of the signal transduction cascade activated by binding of antigen to the B-cell antigen receptor complex (BCR) which leads to internalization of the complex, trafficking to late endosomes and antigen presentation. Also required for BCR surface expression and for efficient differentiation of pro- and pre-B-cells. Stimulates SYK autophosphorylation and activation. Binds to BLNK, bringing BLNK into proximity with SYK and allowing SYK to phosphorylate BLNK. Also interacts with and increases activity of some Src-family tyrosine kinases. Represses BCR signaling during development of immature B-cells.