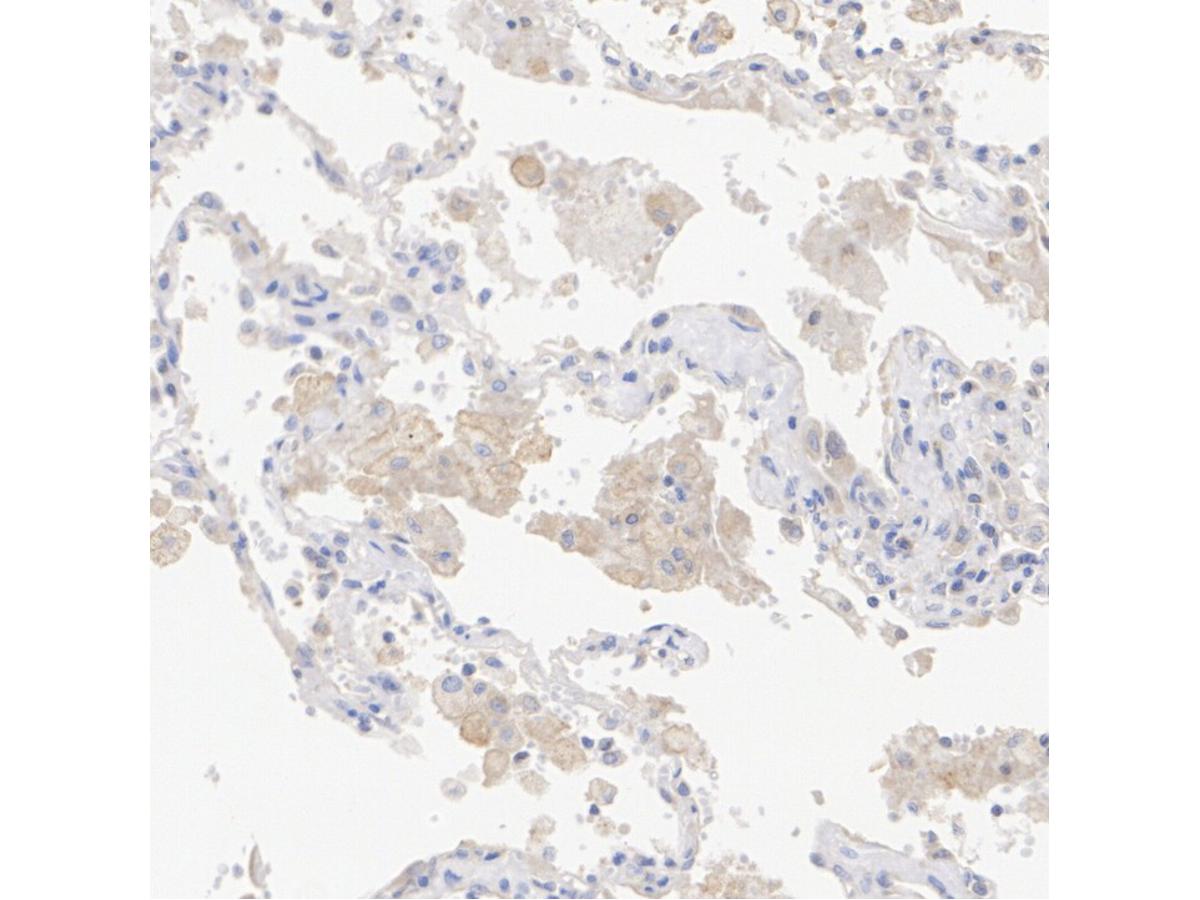 ICC staining CD71 in PC-3M cells (green). The nuclear counter stain is DAPI (blue). Cells were fixed in paraformaldehyde, permeabilised with 0.25% Triton X100/PBS.
SPECIFICATIONS
Product Type
Rabbit polyclonal primary
Product Name
CD71 Rabbit Polyclonal Antibody (ER1706-35)
Immunogen
Recombinant protein within human cd71 aa 463-750 / 760.
Positive Control
A549, MCF-7, PC-3M, human kidney tissue, human placenta tissue, mouse brain tissue, mouse kidney tissue, HL-60.
PROPERTIES
Storage Condition
Store at +4C after thawing. Aliquot store at -20C or -80C. Avoid repeated freeze / thaw cycles.
Storage Buffer
1*PBS (pH7.4), 0.2% BSA, 50% Glycerol. Preservative: 0.05% Sodium Azide.
TARGET
SYNONYMS
CD 71 antibody; CD71 antibody; CD71 antigen antibody; IMD46 antibody; OTTHUMP00000208523 antibody; OTTHUMP00000208524 antibody; OTTHUMP00000208525 antibody; p90 antibody; sTfR antibody; T9 antibody; TFR 1 antibody; TfR antibody; TfR1 antibody; TFR1_HUMAN antibody; TFRC antibody; TR antibody; Transferrin receptor (p90 CD71) antibody; Transferrin receptor protein 1, serum form antibody; Trfr antibody
SEQUENCE SIMILARITIES
Belongs to the peptidase M28 family. M28B subfamily.
POST-TRANSLATIONAL MODIFICATION
N- and O-glycosylated, phosphorylated and palmitoylated. The serum form is only glycosylated.; Proteolytically cleaved on Arg-100 to produce the soluble serum form (sTfR).; Palmitoylated on both Cys-62 and Cys-67. Cys-62 seems to be the major site of palmitoylation.
SUBCELLULAR LOCATION
Secreted and Cell membrane. Melanosome.
FUNCTION
CD71, also known as the transferrin receptor (TFR), is a type II membrane glycoprotein that exists as a disulfide-linked homodimer of two identical subunits. CD71 binds to two molecules of transferrin and a serum iron-transport protein, and directs the cellular uptake of iron via receptor-mediated endocytosis. CD71 is expressed, typically at high levels, on all proliferating cells, reticulocytes and erythroid precursors. It is not expressed on resting leukocytes, but is upregulated upon activation of lymphocytes, monocytes and macrophages. CD71 is also found on most dividing cells and on brain endothelium. A second transferrin receptor, TFR2, also mediates the uptake of transferrin-bound iron. TFR2 is a two-subunit homodimer and is highly expressed in liver as well as in hepatocytes and erythroid precursors. Mutations in the TFR2 gene result in hereditary hemochromatosis type III (HFE3), an iron overloading disorder predominant in Caucasians.