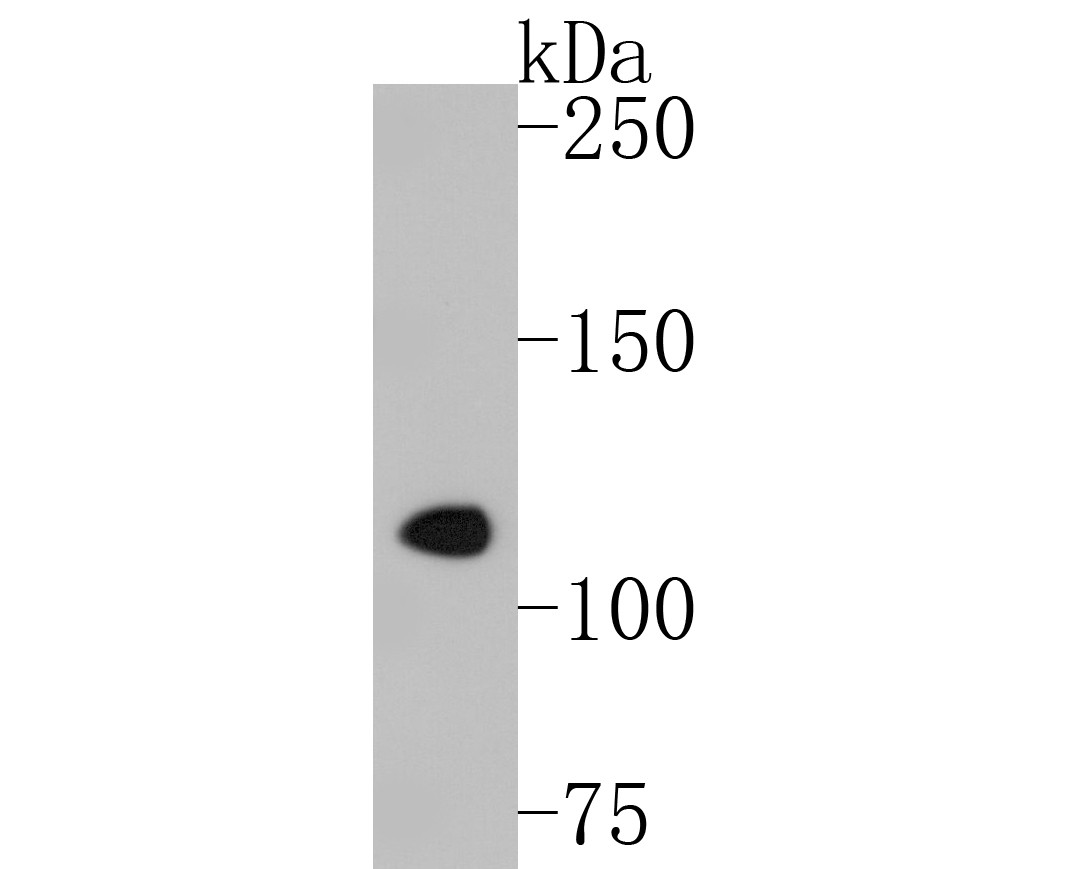 Western blot analysis of CD43 on K562 cell lysates. Proteins were transferred to a PVDF membrane and blocked with 5% BSA in PBS for 1 hour at room temperature. The primary antibody (EM1901-70, 1/200) was used in 5% BSA at room temperature for 2 hours. Goat Anti-Mouse IgG - HRP Secondary Antibody (HA1006) at 1:5,000 dilution was used for 1 hour at room temperature.
SPECIFICATIONS
Product Name
CD43 Mouse Monoclonal Antibody [A2F8] (EM1901-70)
Immunogen
Synthetic peptide within c-terminal human cd43.
Positive Control
K562 cell lysates, human tonsil tissue, HL-60 cell.
PROPERTIES
Storage Condition
Store at +4C after thawing. Aliquot store at -20C. Avoid repeated freeze / thaw cycles.
Storage Buffer
1*PBS (pH7.4), 0.2% BSA, 50% Glycerol. Preservative: 0.05% Sodium Azide.
PURIFICATION
Protein G affinity purified.
MOLECULAR WEIGHT
Predicted band size 40 kDa
TARGET
SYNONYMS
CD 43 antibody; CD43 antibody; CD43 antigen antibody; Galactoglycoprotein antibody; GALGP antibody; GPL 115 antibody; GPL115 antibody; Human gene for sialophorin antibody; Leucocyte sialoglycoprotein antibody; LEUK_HUMAN antibody; Leukocyte large sialoglycoprotein antibody; Leukocyte sialoglycoprotein antibody; Leukosialin antibody; LSN antibody; Ly-48 antibody; sialophorin (gpL115, leukosialin, CD43) antibody; Sialophorin antibody; Spn antibody
TISSUE SPECIFICITY
Cell surface of thymocytes, T-lymphocytes, neutrophils, plasma cells and myelomas.
POST-TRANSLATIONAL MODIFICATION
Glycosylated; has a high content of sialic acid and O-linked carbohydrate structures.; Phosphorylation at Ser-355 is regulated by chemokines, requires its association with ERM proteins (EZR, RDX and MSN) and is essential for its function in the regulation of T-cell trafficking to lymph nodes.; Has a high content of sialic acid and O-linked carbohydrate structures.; Cleavage by CTSG releases its extracellular domain and triggers its intramembrane proteolysis by gamma-secretase releasing the CD43 cytoplasmic tail chain (CD43-ct) which translocates to the nucleus.; [CD43 cytoplasmic tail]: Sumoylated.
SUBCELLULAR LOCATION
Membrane, microvillus, uropodium. Nucleus, PML body.
FUNCTION
This gene encodes a highly sialylated glycoprotein that functions in antigen-specific activation of T cells, and is found on the surface of thymocytes, T lymphocytes, monocytes, granulocytes, and some B lymphocytes. It contains a mucin-like extracellular domain, a transmembrane region and a carboxy-terminal intracellular region. Predominant cell surface sialoprotein of leukocytes which regulates multiple T-cell functions, including T-cell activation, proliferation, differentiation, trafficking and migration. Positively regulates T-cell trafficking to lymph-nodes via its association with ERM proteins (EZR, RDX and MSN). Negatively regulates Th2 cell differentiation and predisposes the differentiation of T-cells towards a Th1 lineage commitment. Promotes the expression of IFN-gamma by T-cells during T-cell receptor (TCR) activation of naive cells and induces the expression of IFN-gamma by CD4+ T-cells and to a lesser extent by CD8+ T-cells. Plays a role in preparing T-cells for cytokine sensing and differentiation into effector cells by inducing the expression of cytokine receptors IFNGR and IL4R, promoting IFNGR and IL4R signaling and by mediating the clustering of IFNGR with TCR. Acts as a major E-selectin ligand responsible for Th17 cell rolling on activated vasculature and recruitment during inflammation. Mediates Th17 cells, but not Th1 cells, adhesion to E-selectin. Acts as a T-cell counter-receptor for SIGLEC1.