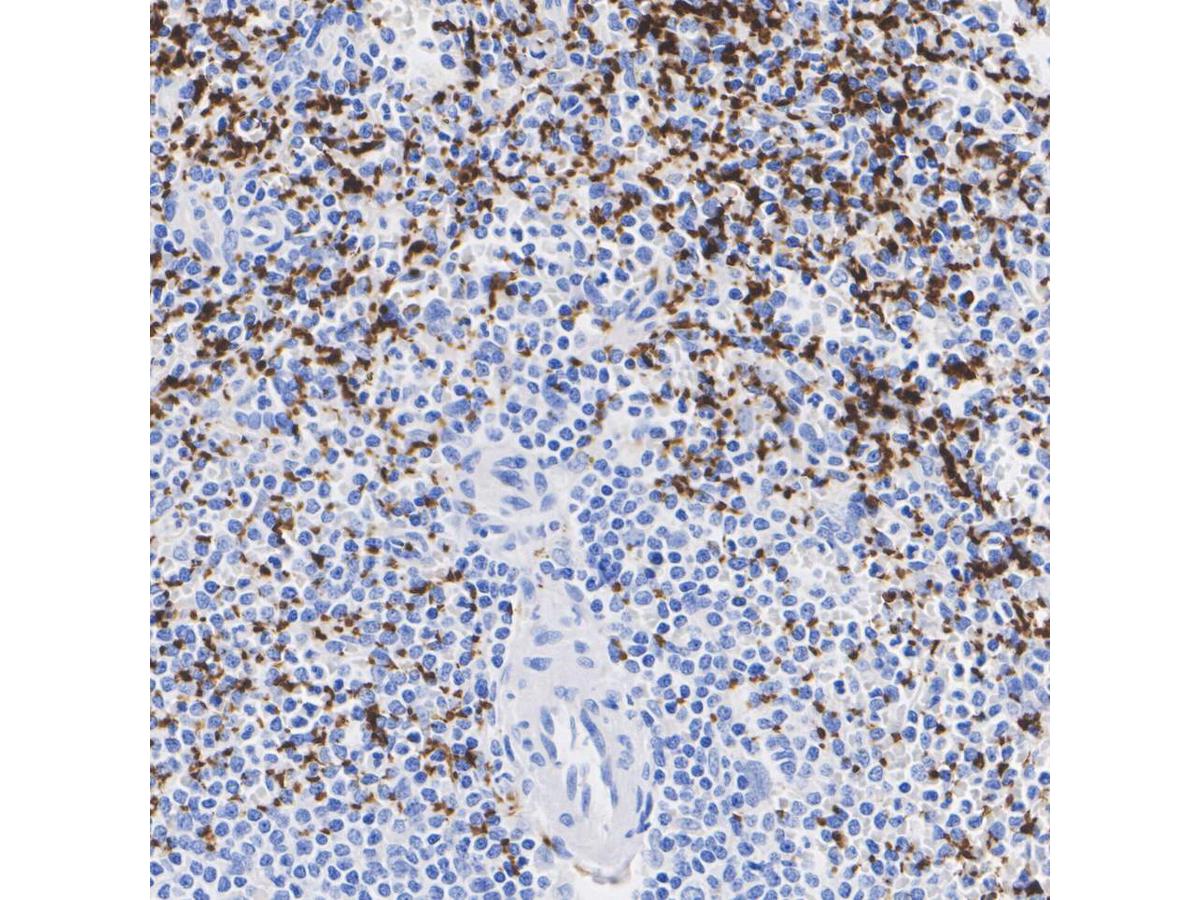 Immunohistochemical analysis of paraffin-embedded human spleen tissue using anti-CD42b antibody. The section was pre-treated using heat mediated antigen retrieval with Tris-EDTA buffer (pH 8.0-8.4) for 20 minutes.The tissues were blocked in 5% BSA for 30 minutes at room temperature, washed with ddH2O and PBS, and then probed with the primary antibody (EM1902-15, 1/100) for 30 minutes at room temperature. The detection was performed using an HRP conjugated compact polymer system. DAB was used as the chromogen. Tissues were counterstained with hematoxylin and mounted with DPX.
SPECIFICATIONS
Product Name
CD42b Mouse Monoclonal Antibody [13G2] (EM1902-15)
Immunogen
Recombinant protein within human cd42b aa 100-350.
Positive Control
Human bone tissue, human spleen tissue, Jurkat.
PROPERTIES
Storage Condition
Store at +4C after thawing. Aliquot store at -20C. Avoid repeated freeze / thaw cycles.
Storage Buffer
1*PBS (pH7.4), 0.2% BSA, 50% Glycerol. Preservative: 0.05% Sodium Azide.
TARGET
SYNONYMS
Antigen CD42b alpha antibody; BDPLT1 antibody; BDPLT3 antibody; BSS antibody; CD 42b antibody; CD42b alpha antibody; CD42B antibody; CD42b antigen antibody; DBPLT3 antibody; GLYCOCALICIN antibody; Glycoprotein Ib (platelet) alpha polypeptide antibody; Glycoprotein Ibalpha antibody; GP Ib alpha antibody; GP1B antibody; GP1BA antibody; GPIb alpha antibody; GPIbA antibody; MGC34595 antibody; Platelet glycoprotein Ib alpha chain antibody; Platelet glycoprotein Ib alpha polypeptide antibody; Platelet membrane glycoprotein 1b alpha subunit antibody; VWDP antibody
POST-TRANSLATIONAL MODIFICATION
Glycocalicin is the product of a proteolytic cleavage/shedding, catalyzed by ADAM17, which releases most of the extracellular domain. Binding sites for vWF and thrombin are in this part of the protein.
FUNCTION
Glycoprotein Ib (GP Ib) is a platelet surface membrane glycoprotein composed of a heterodimer, an alpha chain and a beta chain, that is linked by disulfide bonds. The Gp Ib functions as a receptor for von Willebrand factor (VWF). The complete receptor complex includes noncovalent association of the alpha and beta subunits with platelet glycoprotein IX and platelet glycoprotein V. The binding of the GP Ib-IX-V complex to VWF facilitates initial platelet adhesion to vascular subendothelium after vascular injury, and also initiates signaling events within the platelet that lead to enhanced platelet activation, thrombosis, and hemostasis. This gene encodes the alpha subunit. Mutations in this gene result in Bernard-Soulier syndromes and platelet-type von Willebrand disease. The coding region of this gene is known to contain a polymophic variable number tandem repeat (VNTR) domain that is associated with susceptibility to nonarteritic anterior ischemic optic neuropathy.