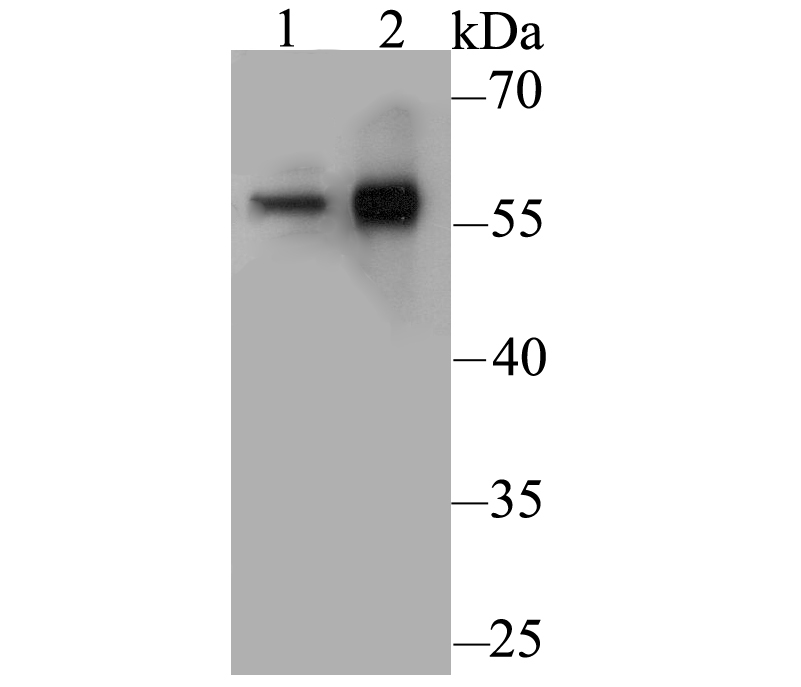 Western blot analysis of CD4 on different lysates. Proteins were transferred to a PVDF membrane and blocked with 5% BSA in PBS for 1 hour at room temperature. The primary antibody was used at a 1:500 dilution in 5% BSA at room temperature for 2 hours. Goat Anti-Rabbit IgG - HRP Secondary Antibody (HA1001) at 1:5,000 dilution was used for 1 hour at room temperature.
Positive control:
Lane 1: U937 cell lysate
Lane 2: Human thymus tissue lysate
SPECIFICATIONS
Product Type
Rabbit polyclonal primary
Product Name
CD4 Rabbit Polyclonal Antibody (ER1803-84)
Immunogen
Recombinant protein within human cd4 1-300 aa.
Positive Control
U937, human thymus tissue, Hela.
PROPERTIES
Storage Condition
Store at +4C after thawing. Aliquot store at -20C. Avoid repeated freeze / thaw cycles.
Storage Buffer
1*PBS (pH7.4), 0.2% BSA, 50% Glycerol. Preservative: 0.05% Sodium Azide.
PURIFICATION
Protein affinity purified.
TARGET
SYNONYMS
CD 4 antibody; CD4 (L3T4) antibody; CD4 antibody; CD4 antigen (p55) antibody; CD4 antigen antibody; CD4 molecule antibody; CD4 receptor antibody; CD4+ Lymphocyte deficiency, included antibody; CD4_HUMAN antibody; CD4mut antibody; L3T4 antibody; Leu3 antibody; Ly-4 antibody; Lymphocyte antigen CD4 antibody; MGC165891 antibody; OTTHUMP00000238897 antibody; p55 antibody; T cell antigen T4 antibody; T cell antigen T4/LEU3 antibody; T cell differentiation antigen L3T4 antibody; T cell OKT4 deficiency, included antibody; T cell surface antigen T4/Leu 3 antibody; T cell surface antigen T4/Leu3 antibody; T cell surface glycoprotein CD4 antibody; T-cell surface antigen T4/Leu-3 antibody; T-cell surface glycoprotein CD4 antibody; W3/25 antibody; W3/25 antigen antibody
TISSUE SPECIFICITY
Highly expressed in T-helper cells. The presence of CD4 is a hallmark of T-helper cells which are specialized in the activation and growth of cytotoxic T-cells, regulation of B cells, or activation of phagocytes. CD4 is also present in other immune cells such as macrophages, dendritic cells or NK cells.
POST-TRANSLATIONAL MODIFICATION
Palmitoylation and association with LCK contribute to the enrichment of CD4 in lipid rafts.; Phosphorylated by PKC; phosphorylation at Ser-433 plays an important role for CD4 internalization.
FUNCTION
Integral membrane glycoprotein that plays an essential role in the immune response and serves multiple functions in responses against both external and internal offenses. In T-cells, functions primarily as a coreceptor for MHC class II molecule:peptide complex. The antigens presented by class II peptides are derived from extracellular proteins while class I peptides are derived from cytosolic proteins. Interacts simultaneously with the T-cell receptor (TCR) and the MHC class II presented by antigen presenting cells (APCs). In turn, recruits the Src kinase LCK to the vicinity of the TCR-CD3 complex. LCK then initiates different intracellular signaling pathways by phosphorylating various substrates ultimately leading to lymphokine production, motility, adhesion and activation of T-helper cells. In other cells such as macrophages or NK cells, plays a role in differentiation/activation, cytokine expression and cell migration in a TCR/LCK-independent pathway. Participates in the development of T-helper cells in the thymus and triggers the differentiation of monocytes into functional mature macrophages.