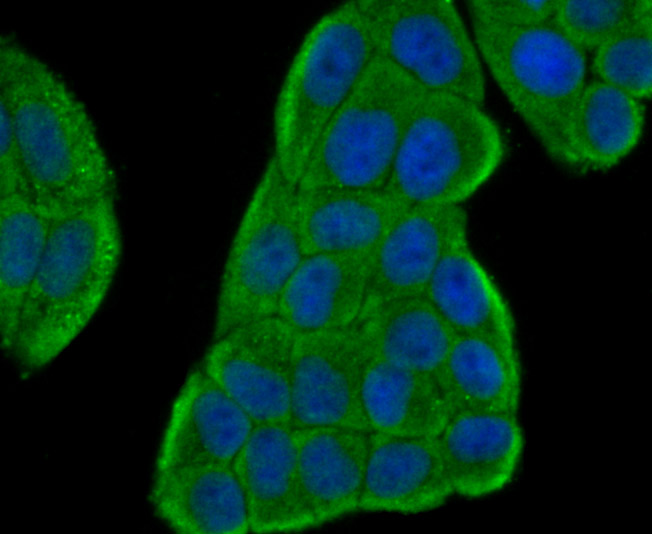 Western blot analysis of CD4 on different tissue lysates using anti-CD4 antibody at 1/500 dilution.
Positive control:
Lane 1: Mouse spleen
Lane 2: Mouse thymus
SPECIFICATIONS
Product Type
Rabbit polyclonal primary
Product Name
CD4 Rabbit Polyclonal Antibody (ER1706-80)
Immunogen
Synthetic peptide within human cd4 aa 45-109.
Positive Control
Mouse spleen tissue lysate, mouse thymus tissue lysate, Hela, HepG2, SH-SY5Y, Jurkat, human tonsil tissue, human spleen tissue, mouse colon tissue.
PROPERTIES
Storage Condition
Store at +4C after thawing. Aliquot store at -20C or -80C. Avoid repeated freeze / thaw cycles.
Storage Buffer
1*PBS (pH7.4), 0.2% BSA, 50% Glycerol. Preservative: 0.05% Sodium Azide.
PURIFICATION
Peptide affinity purified
TARGET
SYNONYMS
CD 4 antibody; CD4 (L3T4) antibody; CD4 antibody; CD4 antigen (p55) antibody; CD4 antigen antibody; CD4 molecule antibody; CD4 receptor antibody; CD4+ Lymphocyte deficiency, included antibody; CD4_HUMAN antibody; CD4mut antibody; L3T4 antibody; Leu3 antibody; Ly-4 antibody; Lymphocyte antigen CD4 antibody; MGC165891 antibody; OTTHUMP00000238897 antibody; p55 antibody; T cell antigen T4 antibody; T cell antigen T4/LEU3 antibody; T cell differentiation antigen L3T4 antibody; T cell OKT4 deficiency, included antibody; T cell surface antigen T4/Leu 3 antibody; T cell surface antigen T4/Leu3 antibody; T cell surface glycoprotein CD4 antibody; T-cell surface antigen T4/Leu-3 antibody; T-cell surface glycoprotein CD4 antibody; W3/25 antibody; W3/25 antigen antibody
TISSUE SPECIFICITY
Highly expressed in T-helper cells. The presence of CD4 is a hallmark of T-helper cells which are specialized in the activation and growth of cytotoxic T-cells, regulation of B cells, or activation of phagocytes. CD4 is also present in other immune cells such as macrophages, dendritic cells or NK cells.
POST-TRANSLATIONAL MODIFICATION
Palmitoylation and association with LCK contribute to the enrichment of CD4 in lipid rafts.; Phosphorylated by PKC; phosphorylation at Ser-433 plays an important role for CD4 internalization.
FUNCTION
The T cell receptor (TCR) is a heterodimer composed of either α and β or γ and δ chains. CD3 chains and the CD4 or CD8 co-receptors are also required for efficient signal transduction through the TCR. The TCR is expressed on T helper and T cytotoxic cells that can be distinguished by their expression of CD4 and CD8; T helper cells express CD4 proteins and T cytotoxic cells display CD8. CD4 is also expressed on cortical cells, mature medullary thymocytes, microglial cells and dendritic cells. CD4 (also designated T4 and Leu 3), is a membrane glycoprotein that contains four extracellular immunoglobin-like domains. The TCR in association with CD4 can bind class II MHC molecules presented by the antigen-presenting cells. The CD4 protein functions by increasing the avidity of the interaction between the TCR and an antigen-class II MHC complex. An additional role of CD4 is to function as a receptor for HIV.