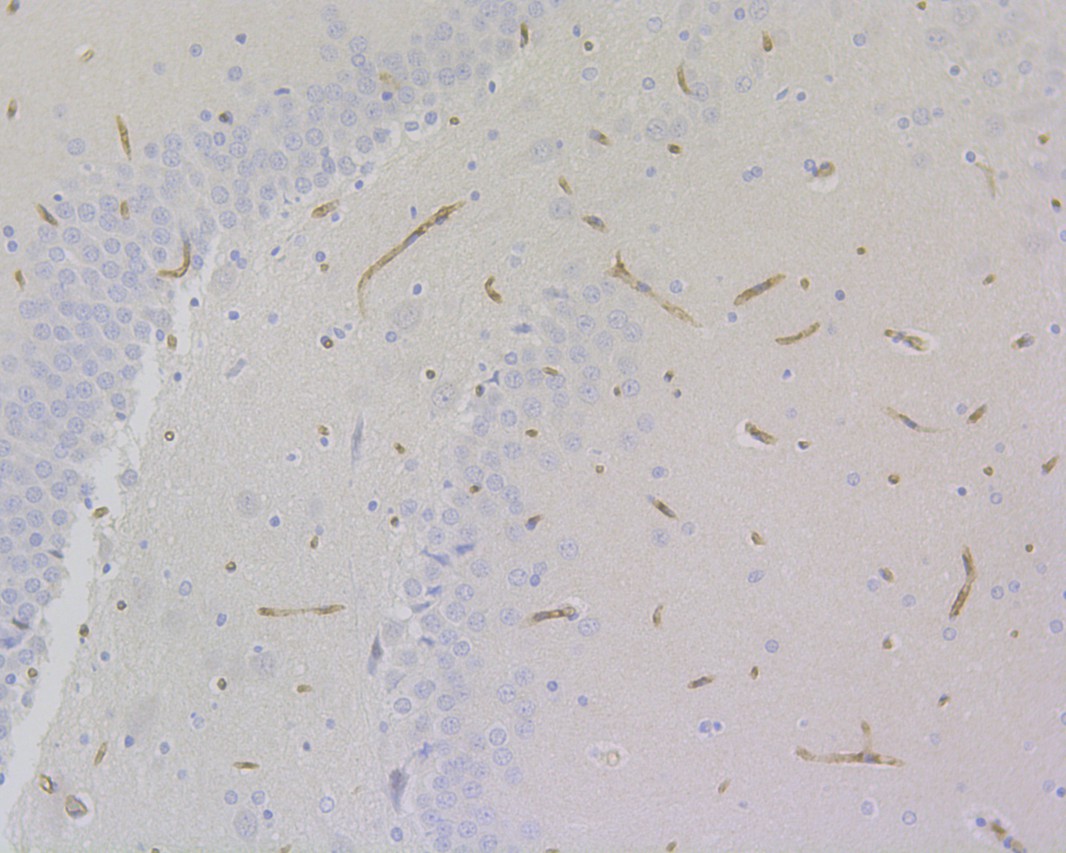 Immunohistochemical analysis of paraffin-embedded rat brain tissue using anti-CD34 antibody. The section was pre-treated using heat mediated antigen retrieval with Tris-EDTA buffer (pH 9.0) for 20 minutes.The tissues were blocked in 1% BSA for 30 minutes at room temperature, washed with ddH2O and PBS, and then probed with the primary antibody (EM1901-01, 1/200) for 30 minutes at room temperature. The detection was performed using an HRP conjugated compact polymer system. DAB was used as the chromogen. Tissues were counterstained with hematoxylin and mounted with DPX.
SPECIFICATIONS
Product Name
CD34 Mouse Monoclonal Antibody [15H1] (EM1901-01)
Immunogen
Recombinant protein within human cd34 aa 32-322 / 385.
Positive Control
Rat brain tissue, rat kidney tissue, human liver carcinoma tissue, mouse kidney tissue, human placenta tissue, human endometrium tissue, THP-1.
PROPERTIES
Storage Condition
Store at +4C after thawing. Aliquot store at -20C. Avoid repeated freeze / thaw cycles.
Storage Buffer
1*PBS (pH7.4), 0.2% BSA, 50% Glycerol. Preservative: 0.05% Sodium Azide.
MOLECULAR WEIGHT
41 kDa (Predicted band size)
TARGET
SYNONYMS
CD34 antibody; CD34 antigen antibody; CD34 molecule antibody; CD34_HUMAN antibody; Cluster designation 34 antibody; Hematopoietic progenitor cell antigen CD34 antibody; HPCA1 antibody; Mucosialin antibody; OTTHUMP00000034733 antibody; OTTHUMP00000034734 antibody
SEQUENCE SIMILARITIES
Belongs to the CD34 family.
TISSUE SPECIFICITY
Selectively expressed on hematopoietic progenitor cells and the small vessel endothelium of a variety of tissues.
DEVELOPMENTAL STAGE
On early hematopoietic progenitor cells.
POST-TRANSLATIONAL MODIFICATION
Highly glycosylated.; Phosphorylated on serine residues by PKC.
FUNCTION
Both isoforms are expressed on the cell surface. CD34-T/CD34-F ratio increases with cell differentiation,developmental stage:On early hematopoietic progenitor cells.,disease:Abnormal CD34 expression in leukemogenesis.,function:Possible adhesion molecule with a role in early hematopoiesis by mediating the attachment of stem cells to the bone marrow extracellular matrix or directly to stromal cells. Could act as a scaffold for the attachment of lineage specific glycans, allowing stem cells to bind to lectins expressed by stromal cells or other marrow components. Presents carbohydrate ligands to selectins.,online information:CD34 entry,PTM:Highly glycosylated.,PTM:Phosphorylated on serine residues by PKC.,similarity:Belongs to the CD34 family.,tissue specificity:Selectively expressed on hematopoietic progenitor cells and the small vessel endothelium of a variety of tissues.,