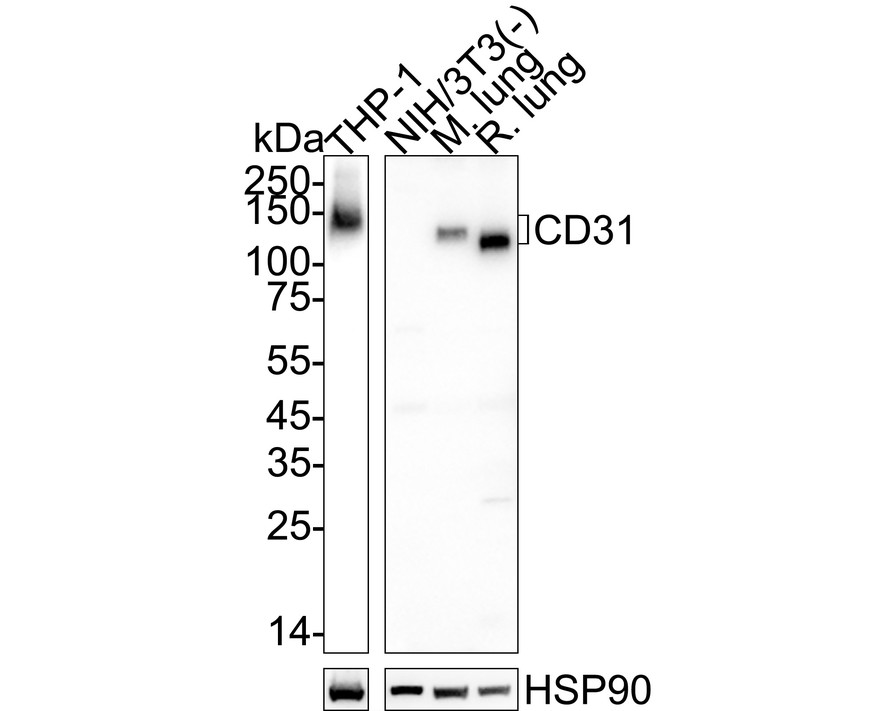 Western blot analysis of CD31 on different cell lysates using anti-CD31 antibody at 1/1000 dilution.
SPECIFICATIONS
Product Type
Rabbit polyclonal primary
Product Name
CD31 Rabbit Polyclonal Antibody (ER31219)
Immunogen
Synthetic peptide within c-terminal residues of cd31.
Positive Control
THP-1,HUVEC,Hela,SW480,NIH/3T3,Jurkat,human kidney tissue
PROPERTIES
Storage Condition
Store at +4C after thawing. Aliquot store at -20C. Avoid repeated freeze / thaw cycles.
Storage Buffer
1*PBS (pH7.4), 0.2% BSA, 40% Glycerol. Preservative: 0.05% Sodium Azide.
PURIFICATION
Peptide affinity purified
MOLECULAR WEIGHT
82 kDa (Observed: 130 kDa)
TARGET
SYNONYMS
Adhesion molecule antibody; CD31 antibody; CD31 antigen antibody; CD31 EndoCAM antibody; EndoCAM antibody; FLJ34100 antibody; FLJ58394 antibody; GPIIA antibody; GPIIA' antibody; PECA1 antibody; PECA1_HUMAN antibody; Pecam 1 antibody; PECAM 1 CD31 EndoCAM antibody; PECAM antibody; PECAM-1 antibody; Pecam1 antibody; Platelet and endothelial cell adhesion molecule 1 antibody; Platelet endothelial cell adhesion molecule antibody; Platelet/endothelial cell adhesion molecule 1 antibody
TISSUE SPECIFICITY
Expressed on platelets and leukocytes and is primarily concentrated at the borders between endothelial cells. Expressed in human umbilical vein endothelial cells (HUVECs) (at protein level). Expressed on neutrophils (at protein level). Isoform Long predominates in all tissues examined. Isoform Delta12 is detected only in trachea. Isoform Delta14-15 is only detected in lung. Isoform Delta14 is detected in all tissues examined with the strongest expression in heart. Isoform Delta15 is expressed in brain, testis, ovary, cell surface of platelets, human umbilical vein endothelial cells (HUVECs), Jurkat T-cell leukemia, human erythroleukemia (HEL) and U-937 histiocytic lymphoma cell lines (at protein level).
POST-TRANSLATIONAL MODIFICATION
Phosphorylated on Ser and Tyr residues after cellular activation by src kinases. Upon activation, phosphorylated on Ser-729 which probably initiates the dissociation of the membrane-interaction segment (residues 709-729) from the cell membrane allowing the sequential phosphorylation of Tyr-713 and Tyr-690. Constitutively phosphorylated on Ser-734 in resting platelets. Phosphorylated on tyrosine residues by FER and FES in response to FCER1 activation (By similarity). In endothelial cells Fyn mediates mechanical-force (stretch or pull) induced tyrosine phosphorylation.; Palmitoylation by ZDHHC21 is necessary for cell surface expression in endothelial cells and enrichment in membrane rafts.
FUNCTION
PECAM-1 is found on the surface of platelets, monocytes, neutrophils, and some types of T-cells, and makes up a large portion of endothelial cell intercellular junctions. The encoded protein is a member of the immunoglobulin superfamily and is likely involved in leukocyte transmigration, angiogenesis, and integrin activation. CD31 is also expressed in certain tumors, including epithelioid hemangioendothelioma, epithelioid sarcoma-like hemangioendothelioma, other vascular tumors, histiocytic malignancies, and plasmacytomas. It is rarely found in some sarcomas, such as Kaposi's sarcoma and carcinomas. In immunohistochemistry, CD31 is used primarily to demonstrate the presence of endothelial cells in histological tissue sections. This can help to evaluate the degree of tumour angiogenesis, which can imply a rapidly growing tumor