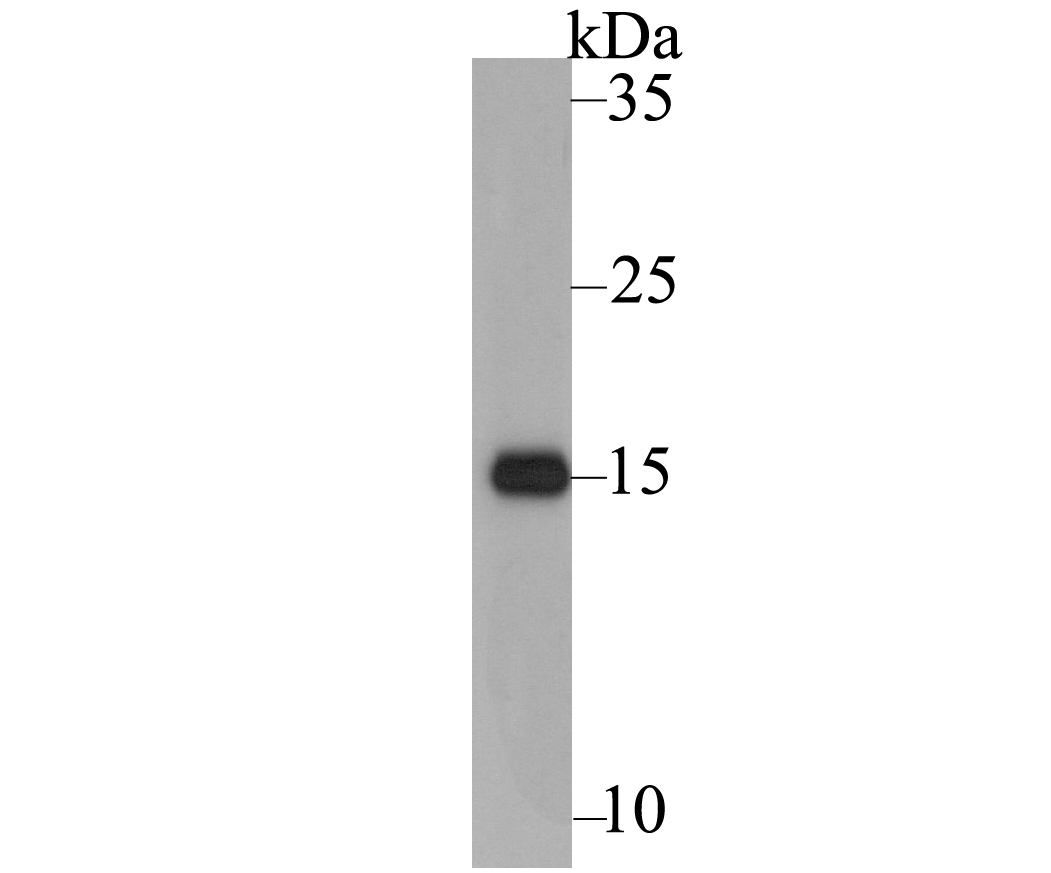 Western blot analysis of CD3 zeta on Jurkat cell lysate using anti-CD3 zeta antibody at 1/1,000 dilution.
SPECIFICATIONS
Product Type
Rabbit polyclonal primary
Product Name
CD3 zeta Rabbit Polyclonal Antibody (0805-7)
Immunogen
Synthetic peptide within c-terminal human cd3 zeta.
Positive Control
Jurkat, A549, Hela, HT-29.
PROPERTIES
Storage Condition
Store at +4C after thawing. Aliquot store at -20C. Avoid repeated freeze / thaw cycles.
Storage Buffer
1*PBS (pH7.4), 0.2% BSA, 50% Glycerol. Preservative: 0.05% Sodium Azide.
PURIFICATION
Peptide affinity purified
TARGET
SYNONYMS
4930549J05Rik antibody; A430104F18Rik antibody; AW552088 antibody; CD247 antibody; CD247 antigen antibody; Cd247 molecule antibody; Cd3 antibody; CD3 antigen, zeta polypeptide, isoform CRA_b antibody; CD3 antigen, zeta subunit antibody; CD3-eta antibody; CD3H antibody; CD3Q antibody; Cd3z antibody; CD3Z antigen zeta polypeptide (TiT3 complex) antibody; CD3Z_HUMAN antibody; CD3zeta antibody; CD3zeta chain antibody; MGC140430 antibody; T cell receptor T3 zeta chain antibody; T cell surface glycoprotein CD3 zeta chain antibody; T-cell antigen receptor complex, zeta subunit of CD3 antibody; T-cell receptor T3 zeta chain antibody; T-cell surface glycoprotein CD3 zeta chain antibody; T3z antibody; TCR zeta chain antibody; TCRk antibody; TCRZ antibody; TCRzeta antibody
SEQUENCE SIMILARITIES
Belongs to the CD3Z/FCER1G family.
TISSUE SPECIFICITY
CD3Z is expressed in normal lymphoid tissue and in peripheral blood mononuclear cells (PBMCs).
POST-TRANSLATIONAL MODIFICATION
Phosphorylated on Tyr residues after T-cell receptor triggering by LCK in association with CD4/CD8.
FUNCTION
Part of the TCR-CD3 complex present on T-lymphocyte cell surface that plays an essential role in adaptive immune response. When antigen presenting cells (APCs) activate T-cell receptor (TCR), TCR-mediated signals are transmitted across the cell membrane by the CD3 chains CD3D, CD3E, CD3G and CD3Z. All CD3 chains contain immunoreceptor tyrosine-based activation motifs (ITAMs) in their cytoplasmic domain. Upon TCR engagement, these motifs become phosphorylated by Src family protein tyrosine kinases LCK and FYN, resulting in the activation of downstream signaling pathways. CD3Z ITAMs phosphorylation creates multiple docking sites for the protein kinase ZAP70 leading to ZAP70 phosphorylation and its conversion into a catalytically active enzyme. Plays an important role in intrathymic T-cell differentiation. Additionally, participates in the activity-dependent synapse formation of retinal ganglion cells (RGCs) in both the retina and dorsal lateral geniculate nucleus (dLGN).