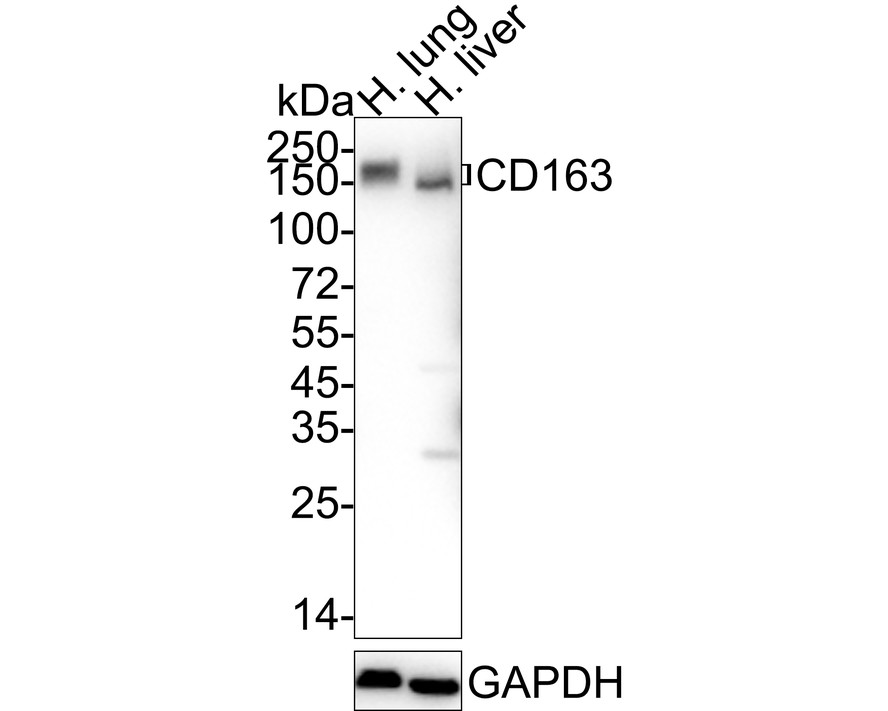 Western blot analysis of CD163 on different lysates. Proteins were transferred to a PVDF membrane and blocked with 5% BSA in PBS for 1 hour at room temperature. The primary antibody was used at a 1:500 dilution in 5% BSA at room temperature for 2 hours. Goat Anti-Rabbit IgG - HRP Secondary Antibody (HA1001) at 1:5,000 dilution was used for 1 hour at room temperature.
Positive control:
Lane 1: Human thymus tissue lysate
Lane 2: Human liver tissue lysate
SPECIFICATIONS
Product Type
Rabbit polyclonal primary
Product Name
CD163 Rabbit Polyclonal Antibody (ER1804-03)
Immunogen
Recombinant protein within human aa 22-161 / 1,156.
Positive Control
Human thymus tissue, human liver tissue, LOVO, SH-SY5Y, rat lung tissue, human placenta tissue, mouse liver tissue.
PROPERTIES
Storage Condition
Store at +4C after thawing. Aliquot store at -20C. Avoid repeated freeze / thaw cycles.
Storage Buffer
1*PBS (pH7.4), 0.2% BSA, 50% Glycerol. Preservative: 0.05% Sodium Azide.
PURIFICATION
Protein affinity purified.
MOLECULAR WEIGHT
Predicted band size: 125 kDa, observed band size: 150 kDa.
TARGET
SYNONYMS
C163A_HUMAN antibody; CD 163 antibody; CD163 antibody; CD163 antigen antibody; CD163 molecule antibody; Hemoglobin scavenger receptor antibody; M130 antibody; M130 antigen precursor antibody; Macrophage associated antigen antibody; MM130 antibody; OTTHUMP00000238617 antibody; OTTHUMP00000238618 antibody; OTTHUMP00000238619 antibody; OTTHUMP00000238620 antibody; SCARI1 antibody; Scavenger receptor cysteine rich type 1 protein M130 antibody; sCD163 antibody; Soluble CD163 antibody
TISSUE SPECIFICITY
Expressed in monocytes and mature macrophages such as Kupffer cells in the liver, red pulp macrophages in the spleen, cortical macrophages in the thymus, resident bone marrow macrophages and meningeal macrophages of the central nervous system. Expressed also in blood. Isoform 1 is the lowest abundant in the blood. Isoform 2 is the lowest abundant in the liver and the spleen. Isoform 3 is the predominant isoform detected in the blood.
POST-TRANSLATIONAL MODIFICATION
A soluble form (sCD163) is produced by proteolytic shedding which can be induced by lipopolysaccharide, phorbol ester and Fc region of immunoglobulin gamma. This cleavage is dependent on protein kinase C and tyrosine kinases and can be blocked by protease inhibitors. The shedding is inhibited by the tissue inhibitor of metalloproteinase TIMP3, and thus probably induced by membrane-bound metalloproteinases ADAMs.; Phosphorylated.
FUNCTION
CD163, also designated M130, is a macrophage-associated antigen that is a member of the scavenger receptor cysteine-rich (SRCR) superfamily. It is highly expressed on macrogphages and to a lesser extent on monocytes. The acute phase-regulated and signal-inducing macrophage protein, CD163, is a receptor that scavenges hemoglobin by mediating endocytosis of haptoglobin-hemoglobin complexes. CD163 binds only haptoglobin and hemoglobin in complex, which indicates the exposure of a receptor-binding neoepitope. The receptor-ligand interaction is calcium-dependent and of high affinity. The existence of several CD163 isoforms, which differ in the structure of their cytoplasmic domains and putative phosphorylation sites, suggests that these isoforms also differ in their signaling mechanism. The gene which encodes CD163 maps to human chromosome 12p13.31.
CITATIONS
Bai, R., Wu, D., Shi, Z., H...

Pan-cancer analyses demonstrate that ANKRD6 is associated with a poor prognosis and correlates with M2 macrophage infiltration in colon cancer. Chinese journal of cancer research = Chung-kuo yen cheng yen chiu, 33(1), 93–102.