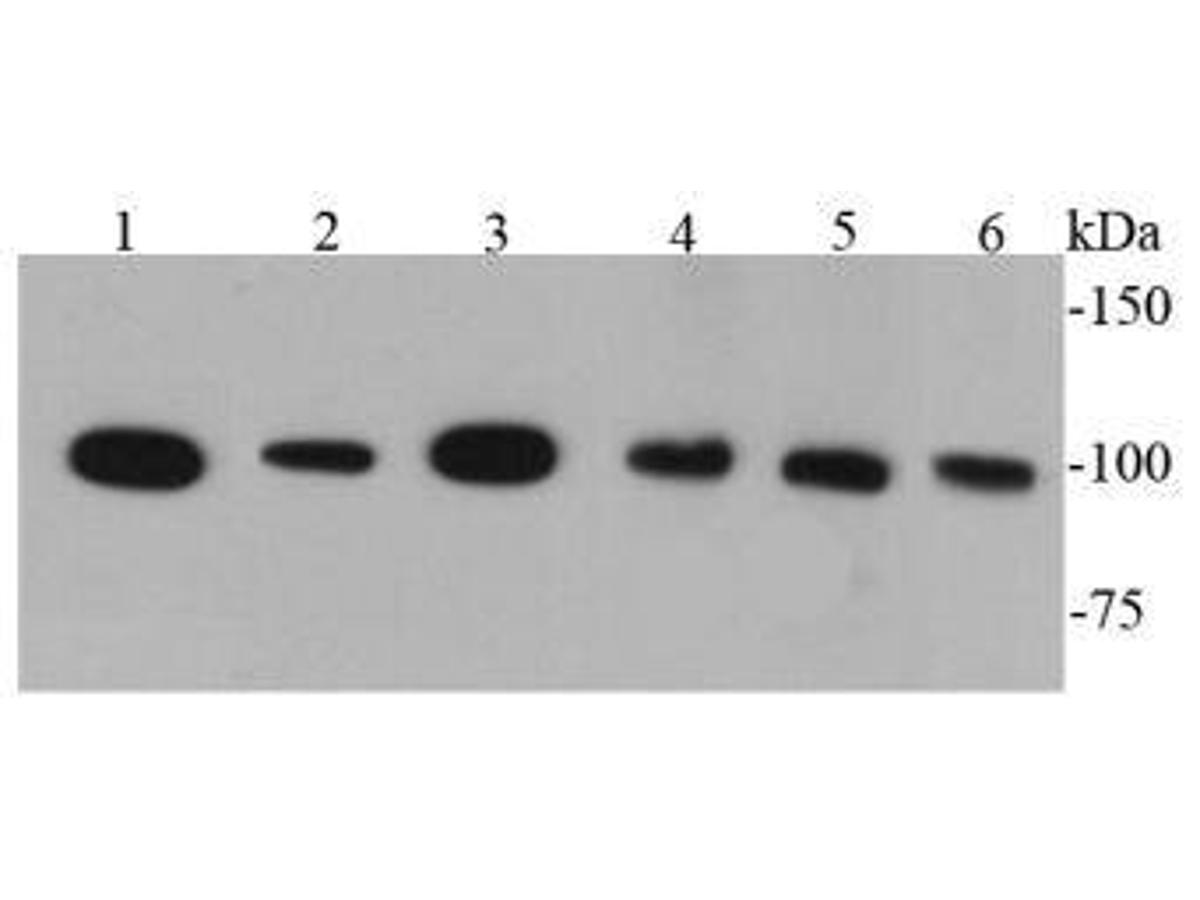 Western blot analysis of CD133 on different lysates. Proteins were transferred to a PVDF membrane and blocked with 5% BSA in PBS for 1 hour at room temperature. The primary antibody (ER31008, 1/500) was used in 5% BSA at room temperature for 2 hours. Goat Anti-Rabbit IgG - HRP Secondary Antibody (HA1001) at 1:5,000 dilution was used for 1 hour at room temperature.
Positive control:
Lane 1: Hela cell lysate
Lane 2: SW480 cell lysate
Lane 3: HCT116 cell lysate
Lane 4: HT-29 cell lysate
Lane 5: HepG2 cell lysate
Lane 6: 293 cell lysate
SPECIFICATIONS
Product Type
Rabbit polyclonal primary
Product Name
CD133 Rabbit Polyclonal Antibody (ER31008)
Immunogen
Recombinant protein within human cd133 aa 179-389.
Positive Control
SW480, Hela, HepG2, HCT116, HT29, 293, HUVEC, SHG-44, human kidney tissue
PROPERTIES
Storage Condition
Store at +4C after thawing. Aliquot store at -20C or -80C. Avoid repeated freeze / thaw cycles.
Storage Buffer
1*PBS (pH7.4), 0.2% BSA, 40% Glycerol. Preservative: 0.05% Sodium Azide.
PURIFICATION
Peptide affinity purified
TARGET
SYNONYMS
AC133 antibody; Antigen AC133 antibody; CD133 antibody; CORD12 antibody; Hematopoietic stem cell antigen antibody; hProminin antibody; MCDR2 antibody; MSTP061 antibody; OTTHUMP00000217744 antibody; OTTHUMP00000217745 antibody; OTTHUMP00000217746 antibody; PROM1 antibody; PROM1_HUMAN antibody; Prominin I antibody; Prominin like 1 antibody; Prominin like protein 1 precursor antibody; Prominin mouse like 1 antibody; Prominin-1 antibody; Prominin-like protein 1 antibody; Prominin1 antibody; PROML1 antibody; RP41 antibody; STGD4 antibody
SEQUENCE SIMILARITIES
Belongs to the prominin family.
TISSUE SPECIFICITY
Isoform 1 is selectively expressed on CD34 hematopoietic stem and progenitor cells in adult and fetal bone marrow, fetal liver, cord blood and adult peripheral blood. Isoform 1 is not detected on other blood cells. Isoform 1 is also expressed in a number of non-lymphoid tissues including retina, pancreas, placenta, kidney, liver, lung, brain and heart. Found in saliva within small membrane particles. Isoform 2 is predominantly expressed in fetal liver, skeletal muscle, kidney, and heart as well as adult pancreas, kidney, liver, lung, and placenta. Isoform 2 is highly expressed in fetal liver, low in bone marrow, and barely detectable in peripheral blood. Isoform 2 is expressed on hematopoietic stem cells and in epidermal basal cells (at protein level). Expressed in adult retina by rod and cone photoreceptor cells (at protein level).
POST-TRANSLATIONAL MODIFICATION
Isoform 1 and isoform 2 are glycosylated.; Acetylation at Lys-225, Lys-257 and Lys-264 by NAT8 and NAT8B may control PROM1 protein expression and its function in cell apoptosis.
FUNCTION
CD133 is a glycoprotein also known in humans and rodents as Prominin 1 (PROM1). It is the founding member of pentaspan transmembrane glycoproteins (5-transmembrane, 5-TM), which specifically localizes to cellular protrusions. CD133 is expressed in hematopoietic stem cells, endothelial progenitor cells, glioblastomas, neuronal and glial stem cells and some other cell types. CD133 is recognized as a stem cell marker for normal and cancerous tissues.
CITATIONS
Y James Kang

Isolation and characterization of endothelial progenitor cells from Rhesus monkeys

Zhu, Xinfeng et al.

All-Trans Retinoic Acid-Induced Deficiency of the Wnt/β-Catenin Pathway Enhances Hepatic Carcinoma Stem Cell Differentiation. | PloS One [2015]