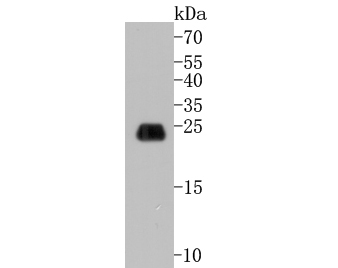 Western blot analysis of Caveolin-1 on SiHa cell lysates. Proteins were transferred to a PVDF membrane and blocked with 5% BSA in PBS for 1 hour at room temperature. The primary antibody (EM1901-88, 1/500) was used in 5% BSA at room temperature for 2 hours. Goat Anti-Mouse IgG - HRP Secondary Antibody (HA1006) at 1:5,000 dilution was used for 1 hour at room temperature.
SPECIFICATIONS
Product Name
Caveolin-1 Mouse Monoclonal Antibody [A3E8] (EM1901-88)
Immunogen
Recombinant protein within human caveolin-1 aa 1-150.
Positive Control
SiHa cell lysates, SKOV-3, human liver tissue, human lung tissue, human lung carcinoma tissue, PANC-1.
PROPERTIES
Storage Condition
Store at +4C after thawing. Aliquot store at -20C. Avoid repeated freeze / thaw cycles.
Storage Buffer
1*PBS (pH7.4), 0.2% BSA, 50% Glycerol. Preservative: 0.05% Sodium Azide.
PURIFICATION
Protein G affinity purified.
TARGET
SYNONYMS
BSCL3 antibody; CAV antibody; CAV1 antibody; CAV1_HUMAN antibody; caveolae protein, 22 kD antibody; caveolin 1 alpha isoform antibody; caveolin 1 beta isoform antibody; Caveolin 1 caveolae protein 22kDa antibody; Caveolin-1 antibody; Caveolin1 antibody; cell growth-inhibiting protein 32 antibody; CGL3 antibody; LCCNS antibody; MSTP085 antibody; OTTHUMP00000025031 antibody; PPH3 antibody; VIP 21 antibody; VIP21 antibody
SEQUENCE SIMILARITIES
Belongs to the caveolin family.
TISSUE SPECIFICITY
Skeletal muscle, liver, stomach, lung, kidney and heart (at protein level). Expressed in the brain.
POST-TRANSLATIONAL MODIFICATION
Ubiquitinated. Undergo monoubiquitination and multi- and/or polyubiquitination. Monoubiquitination of N-terminal lysines promotes integration in a ternary complex with UBXN6 and VCP which promotes oligomeric CAV1 targeting to lysosomes for degradation.; The initiator methionine for isoform 2 is removed during or just after translation. The new N-terminal amino acid is then N-acetylated.; Phosphorylated at Tyr-14 by ABL1 in response to oxidative stress.
SUBCELLULAR LOCATION
Cell membrane, golgi apparatus membrane, trans-golgi network, caveola, membrane raft.
FUNCTION
Caveolin-1 is a protein that in humans is encoded by the CAV1 gene. The scaffolding protein encoded by this gene is the main component of the caveolae plasma membranes found in most cell types. The protein links integrin subunits to the tyrosine kinase FYN, an initiating step in coupling integrins to the Ras-ERK pathway and promoting cell cycle progression. The gene is a tumor suppressor gene candidate and a negative regulator of the Ras-p42/44 MAP kinase cascade. CAV1 and CAV2 are located next to each other on chromosome 7 and express colocalizing proteins that form a stable hetero-oligomeric complex. By using alternative initiation codons in the same reading frame, two isoforms (alpha and beta) are encoded by a single transcript from this gene. Caveolin 1 has been shown to interact with heterotrimeric G proteins, Src tyrosine kinases (Src, Lyn) and H-Ras, cholesterol, TGF beta receptor 1, endothelial NOS, androgen receptor, amyloid precursor protein, gap junction protein, alpha 1, nitric oxide synthase 2A, epidermal growth factor receptor, endothelin receptor type B, PDGFRB, PDGFRA, PTGS2, TRAF2, estrogen receptor alpha, caveolin 2, PLD2, Bruton's tyrosine kinase and SCP2. All these interactions are through a caveolin-scaffolding domain (CSD) within caveolin-1 molecule. Molecules that interact with caveolin-1 contain caveolin-binding motifs (CBM).