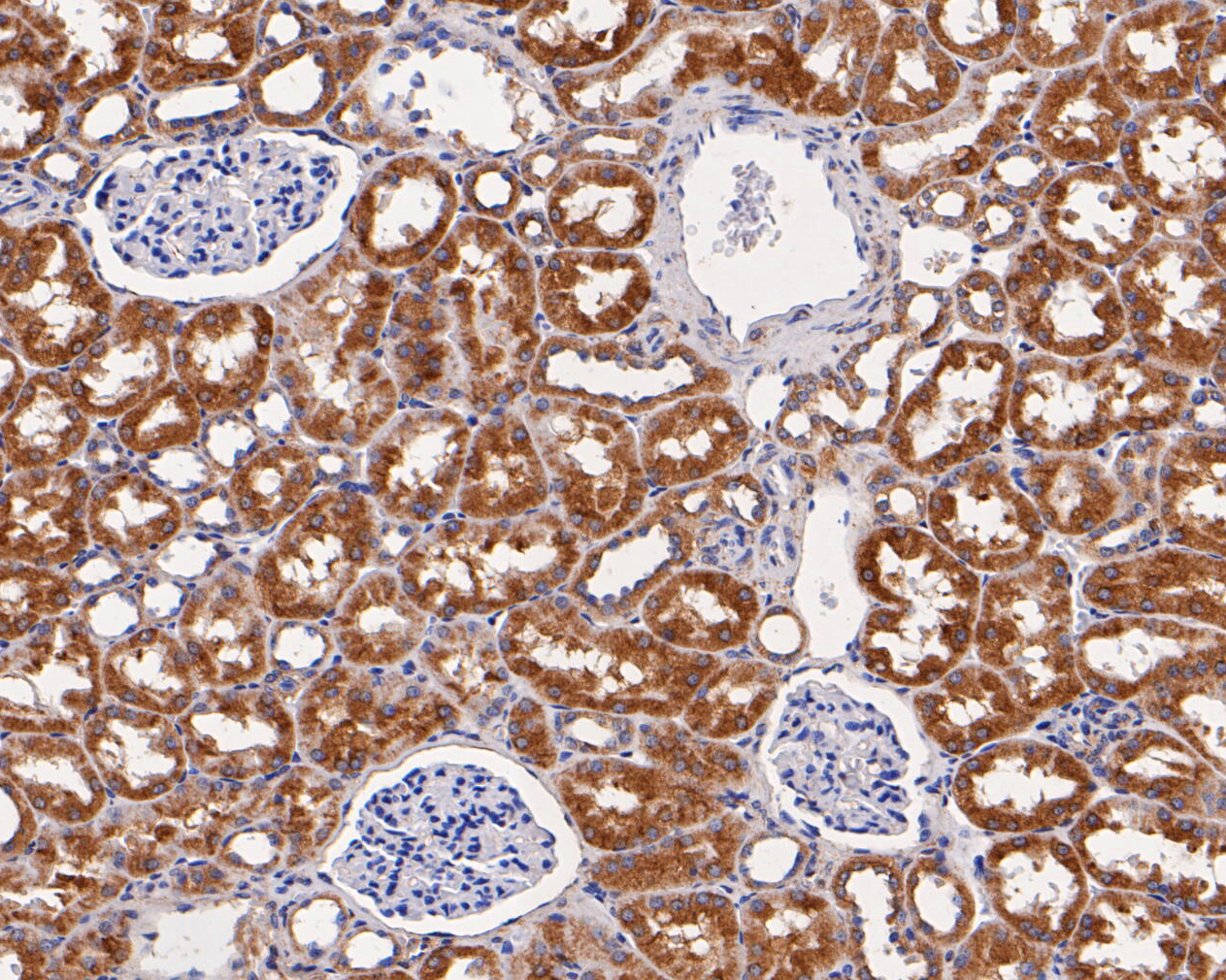 Immunohistochemical analysis of paraffin-embedded human kidney tissue using anti-Caspr antibody. The section was pre-treated using heat mediated antigen retrieval with Tris-EDTA buffer (pH 8.0-8.4) for 20 minutes.The tissues were blocked in 5% BSA for 30 minutes at room temperature, washed with ddH2O and PBS, and then probed with the primary antibody (EM1902-10, 1/200) for 30 minutes at room temperature. The detection was performed using an HRP conjugated compact polymer system. DAB was used as the chromogen. Tissues were counterstained with hematoxylin and mounted with DPX.
SPECIFICATIONS
Product Name
Caspr Mouse Monoclonal Antibody [A2D2] (EM1902-10)
Immunogen
Recombinant protein within human caspr aa 1100-1300.
Positive Control
Human kidney tissue, mouse kidney tissue, SH-SY5Y.
PROPERTIES
Storage Condition
Store at +4C after thawing. Aliquot store at -20C. Avoid repeated freeze / thaw cycles.
Storage Buffer
1*PBS (pH7.4), 0.2% BSA, 50% Glycerol. Preservative: 0.05% Sodium Azide.
PURIFICATION
Protein G affinity purified.
MOLECULAR WEIGHT
Predicted band size: 156 kDa
TARGET
SYNONYMS
Caspr antibody; Caspr1 antibody; CNTNAP antibody; Cntnap1 antibody; CNTP1_HUMAN antibody; Contactin associated protein 1 antibody; Contactin-associated protein 1 antibody; MHDNIV antibody; NCP1 antibody; Neurexin 4 antibody; Neurexin IV antibody; Neurexin-4 antibody; Nrxn4 antibody; p190 antibody; Paranodin antibody
SEQUENCE SIMILARITIES
Belongs to the neurexin family.
TISSUE SPECIFICITY
Predominantly expressed in brain. Weak expression detected in ovary, pancreas, colon, lung, heart, intestine and testis.
SUBCELLULAR LOCATION
Membrane, paranodal septate junction.
FUNCTION
CASPR also known as Contactin associated protein 1, Paranodin and CASPR1 is a protein that in humans is encoded by the CNTNAP1 gene. CASPR is a part of the neurexin family of proteins, hence its another name "Neurexin IV". CASPR is a membrane protein found in the neuronal membrane in the paranodal section of the axon[[]] in myelinated neurons, between the Nodes of Ranvier containing Na+ channels, and juxtaparanode, which contains K+ channels. During myelination, caspr associates with contactin in a cis complex, though its precise role in myelination is not yet understood. The gene product was initially identified as a 190-kD protein associated with the contactin-PTPRZ1 complex. The 1,384-amino acid protein, also designated p190 or CASPR for 'contactin-associated protein,' includes an extracellular domain with several putative protein-protein interaction domains, a putative transmembrane domain, and a 74-amino acid cytoplasmic domain. Northern blot analysis showed that the gene is transcribed predominantly in brain as a transcript of 6.2 kb, with weak expression in several other tissues tested. The architecture of its extracellular domain is similar to that of neurexins, and this protein may be the signaling subunit of contactin, enabling recruitment and activation of intracellular signaling pathways in neurons.