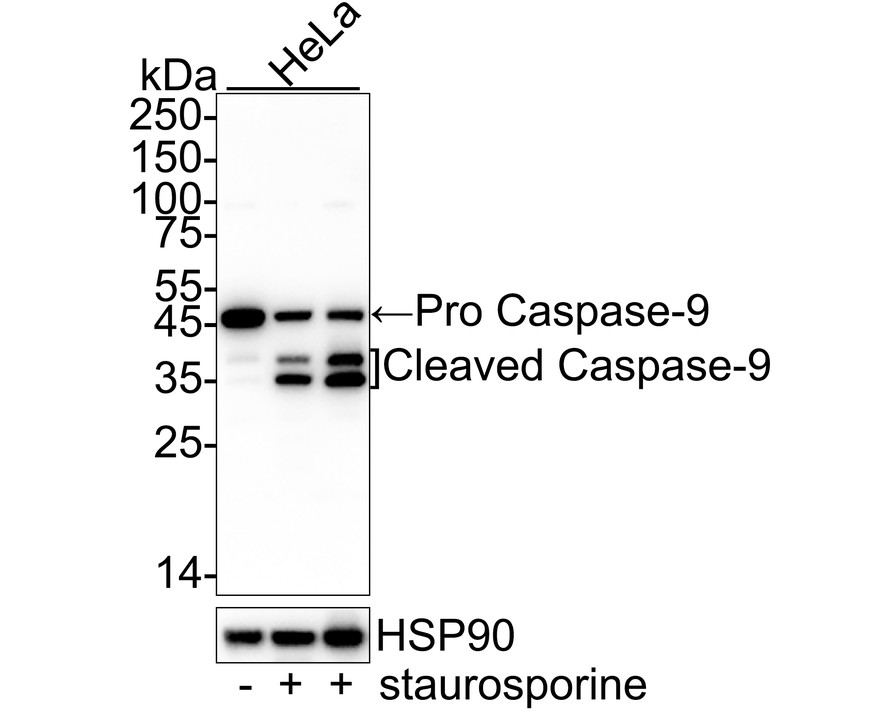 Western blot analysis of Caspase-9 on different lysates. Proteins were transferred to a PVDF membrane and blocked with 5% BSA in PBS for 1 hour at room temperature. The primary antibody (ET1610-95, 1/500) was used in 5% BSA at room temperature for 2 hours. Goat Anti-Rabbit IgG - HRP Secondary Antibody (HA1001) at 1:5,000 dilution was used for 1 hour at room temperature.
Positive control:
Lane 1: C2C12 cell lysate
Lane 2: Hela cell lysate
Lane 3: Jurkat cell lysate
SPECIFICATIONS
Product Type
Recombinant Rabbit monoclonal primary
Product Name
Caspase-9 Recombinant Rabbit Monoclonal Antibody [SC65-05] (ET1610-95)
Positive Control
C2C12 cell lysate, Hela cell lysate, Jurkat cell lysate.
PROPERTIES
Storage Condition
Store at +4C after thawing. Aliquot store at -20C or -80C. Avoid repeated freeze / thaw cycles.
Storage Buffer
1*TBS (pH7.4), 0.05% BSA, 40% Glycerol. Preservative: 0.05% Sodium Azide.
PURIFICATION
Protein A affinity purified.
TARGET
SYNONYMS
APAF-3 antibody; APAF3 antibody; Apoptosis related cysteine peptidase antibody; Apoptotic protease Mch-6 antibody; Apoptotic protease-activating factor 3 antibody; CASP-9 antibody; CASP9 antibody; CASP9_HUMAN antibody; Caspase 9 apoptosis related cysteine peptidase antibody; Caspase 9 Dominant Negative antibody; Caspase 9c antibody; Caspase-9 antibody; Caspase-9 subunit p10 antibody; ICE LAP6 antibody; ICE like apoptotic protease 6 antibody; ICE-LAP6 antibody; ICE-like apoptotic protease 6 antibody; MCH6 antibody; PPP1R56 antibody; protein phosphatase 1, regulatory subunit 56 antibody; RNCASP9 antibody
SEQUENCE SIMILARITIES
Belongs to the peptidase C14A family.
TISSUE SPECIFICITY
Ubiquitous, with highest expression in the heart, moderate expression in liver, skeletal muscle, and pancreas. Low levels in all other tissues. Within the heart, specifically expressed in myocytes.
DEVELOPMENTAL STAGE
Expressed at low levels in fetal heart, at moderate levels in neonate heart, and at high levels in adult heart.
POST-TRANSLATIONAL MODIFICATION
Cleavages at Asp-315 by granzyme B and at Asp-330 by caspase-3 generate the two active subunits. Caspase-8 and -10 can also be involved in these processing events.; Phosphorylated at Thr-125 by MAPK1/ERK2. Phosphorylation at Thr-125 is sufficient to block caspase-9 processing and subsequent caspase-3 activation. Phosphorylation on Tyr-153 by ABL1/c-Abl; occurs in the response of cells to DNA damage.
SUBCELLULAR LOCATION
Apoptosome, cytosol, Mitochondrion, nucleus, cytoplasm, protein-containing complex.
FUNCTION
A unique family of cysteine proteases has been described that differs in sequence, structure and substrate specificity from any previously described protease family. This family, Ced-3/caspase-1, is comprised of caspase-1, caspase-2, caspase-3, caspase-4, caspase-6, caspase-7 (also designated Mch3, ICE-LAP3 or CMH-1), caspase-9 and caspase-10. Ced-3/caspase-1 family members function as key components of the apoptotic machinery and act to destroy specific target proteins which are critical to cellular longevity. Poly(ADP-ribose) polymerase plays an integral role in surveying for DNA mutations and double strand breaks. Caspase-3, caspase-7 and caspase-9, but not caspase-1, have been shown to cleave the nuclear protein PARP into an apoptotic fragment. Caspase-6, but not caspase-3, has been shown to cleave the nuclear lamins, which are critical to maintaining the integrity of the nuclear envelope and cellular morphology. Caspase-10 has been shown to activate caspase-3 and caspase-7 in response to apoptotic stimuli.