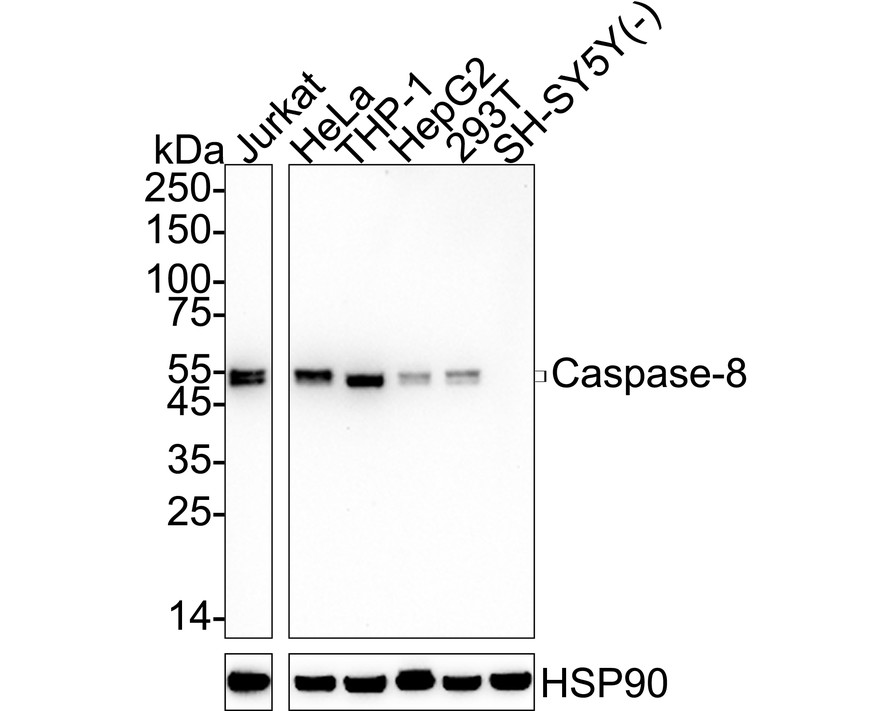 Western blot analysis of Caspase-8 on different lysates. Proteins were transferred to a PVDF membrane and blocked with 5% BSA in PBS for 1 hour at room temperature. The primary antibody (ET1603-16, 1/500) was used in 5% BSA at room temperature for 2 hours. Goat Anti-Rabbit IgG - HRP Secondary Antibody (HA1001) at 1:5,000 dilution was used for 1 hour at room temperature.
Positive control:
Lane 1: Jurkat cell lysate
Lane 2: K562 cell lysate
SPECIFICATIONS
Product Type
Recombinant Rabbit monoclonal primary
Product Name
Caspase-8 Recombinant Rabbit Monoclonal Antibody [SZ01-08] (ET1603-16)
Immunogen
Synthetic peptide within human caspase-8 aa 207-256 / 479.
Positive Control
Jurkat cell lysate, K562 cell lysate, Hela, MCF-7, HepG2, human tonsil tissue.
PROPERTIES
Storage Condition
Store at +4C after thawing. Aliquot store at -20C or -80C. Avoid repeated freeze / thaw cycles.
Storage Buffer
1*TBS (pH7.4), 0.05% BSA, 40% Glycerol. Preservative: 0.05% Sodium Azide.
PURIFICATION
Protein A affinity purified.
TARGET
SYNONYMS
ALPS2B antibody; Amyotrophic lateral sclerosis 2 chromosomal region candidate gene 12 protein antibody; Apoptotic cysteine protease antibody; Apoptotic protease Mch-5 antibody; Apoptotic protease Mch5 antibody; CAP4 antibody; CASP-8 antibody; CASP8 antibody; CASP8_HUMAN antibody; Caspase 8 antibody; Caspase 8 apoptosis related cysteine peptidase antibody; Caspase-8 subunit p10 antibody; CED 3 antibody; FADD Like ICE antibody; FADD-homologous ICE/CED-3-like protease antibody; FADD-like ICE antibody; FLICE antibody; FLJ17672 antibody; ICE-like apoptotic protease 5 antibody; MACH alpha 1/2/3 protein antibody; MACH antibody; MACH beta 1/2/3/4 protein antibody; MCH5 antibody; MGC78473 antibody; MORT1 associated ced 3 homolog antibody; MORT1-associated CED-3 homolog antibody; OTTHUMP00000163717 antibody; OTTHUMP00000163720 antibody; OTTHUMP00000163724 antibody; OTTHUMP00000163725 antibody; OTTHUMP00000165062 antibody; OTTHUMP00000165063 antibody; OTTHUMP00000165064 antibody; OTTHUMP00000206552 antibody; OTTHUMP00000206582 antibody
SEQUENCE SIMILARITIES
Belongs to the peptidase C14A family.
TISSUE SPECIFICITY
Isoform 1, isoform 5 and isoform 7 are expressed in a wide variety of tissues. Highest expression in peripheral blood leukocytes, spleen, thymus and liver. Barely detectable in brain, testis and skeletal muscle.
POST-TRANSLATIONAL MODIFICATION
Generation of the subunits requires association with the death-inducing signaling complex (DISC), whereas additional processing is likely due to the autocatalytic activity of the activated protease. GZMB and CASP10 can be involved in these processing events.; Phosphorylation on Ser-387 during mitosis by CDK1 inhibits activation by proteolysis and prevents apoptosis. This phosphorylation occurs in cancer cell lines, as well as in primary breast tissues and lymphocytes.
FUNCTION
Initiator caspases, which include caspase-8, activate effector caspases by cleaving inactive forms of effector caspases. In the activation cascade responsible for apoptosis induced by TNFRSF1A and mediated by TNFRSF6/FAS, caspase-8 is the most upstream protease. Caspase-8 binds to adaptor molecule FADD, forming an aggregate referred to as death-inducing signaling complex (DISC), which activates caspase-8. The actived protein is released from the complex and further activates downstream apoptotic proteases. Caspase-8, which is a heterodimer consisting of two subunits (p18 and p10), is widely expressed, but is detected at highest levels in peripheral blood leukocytes (PBLs), thymus, liver and spleen. Defects in CASP8, the gene encoding for caspase-8, may cause CASP8D (caspase-8 deficiency disorder), which is characterized by splenomegaly and CD95-induced apoptosis of PBLs, may lead to immunodeficiency due to defects in T lymphocyte, NK cell and B lymphocyte activation.
CITATIONS
Gao, Fei et al.

Identification of anti-tumor components from toad venom. | Oncology Letters [2017]