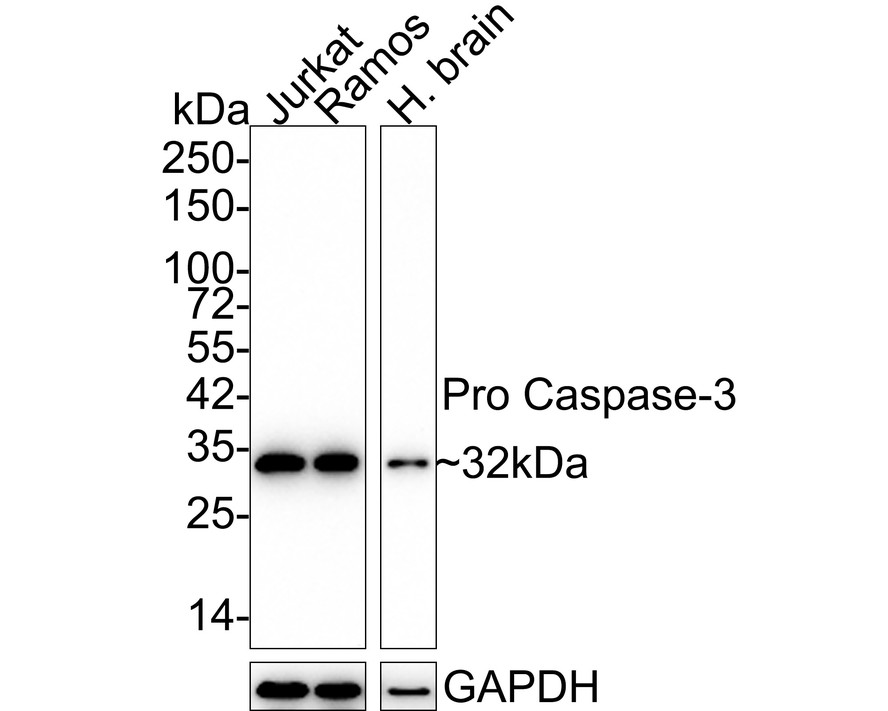 Western blot analysis of Caspase-3 on different lysates using anti- Caspase-3 antibody at 1/1,000 dilution.
Positive control:
Lane 1: Human lung
Lane 2: Human brain
Lane 3: Jurkat
Lane 4: F9
Lane 5: NCCTI
Lane 6: Daudi
Lane 7: Raji
Lane 8: MCF-7
Lane 9: Hela
SPECIFICATIONS
Product Type
Rabbit polyclonal primary
Product Name
Caspase-3 Rabbit Polyclonal Antibody (ER30804)
Immunogen
Synthetic peptide within n-terminal human caspase-3.
Positive Control
Jurkat, F9, NCCIT, Hela, Raji, MCF-7, Daudi, A549, human tosil tissue, human liver cancer tissue, human lung tissue,human brain tissue,HepG2
PROPERTIES
Storage Condition
Store at +4C after thawing. Aliquot store at -20C. Avoid repeated freeze / thaw cycles.
Storage Buffer
1*PBS (pH7.4), 0.2% BSA, 40% Glycerol. Preservative: 0.05% Sodium Azide.
PURIFICATION
Immunogen affinity purified.
TARGET
SYNONYMS
A830040C14Rik antibody; Apopain antibody; CASP 3 antibody; CASP-3 antibody; CASP3 antibody; CASP3_HUMAN antibody; Casp3a antibody; Caspase 3 antibody; Caspase 3, apoptosis-related cysteine peptidase antibody; Caspase 3, apoptosis-related cysteine protease antibody; Caspase 3, apoptosis-related cysteine protease a antibody; Caspase-3 subunit p12 antibody; Caspase3 antibody; CC3 antibody; CPP 32 antibody; CPP-32 antibody; CPP32 antibody; CPP32B antibody; Cysteine protease CPP32 antibody; EC 3.4.22.56 antibody; ICE3 antibody; LICE antibody; mldy antibody; OTTHUMP00000165052 antibody; OTTHUMP00000165053 antibody; OTTHUMP00000165054 antibody; PARP cleavage protease antibody; Procaspase3 antibody; Protein Yama antibody; SCA 1 antibody; SCA-1 antibody; SCA1 antibody; SREBP cleavage activity 1 antibody; Yama antibody; Yama protein antibody
SEQUENCE SIMILARITIES
Belongs to the peptidase C14A family.
TISSUE SPECIFICITY
Highly expressed in lung, spleen, heart, liver and kidney. Moderate levels in brain and skeletal muscle, and low in testis. Also found in many cell lines, highest expression in cells of the immune system.
POST-TRANSLATIONAL MODIFICATION
Cleavage by granzyme B, caspase-6, caspase-8 and caspase-10 generates the two active subunits. Additional processing of the propeptides is likely due to the autocatalytic activity of the activated protease. Active heterodimers between the small subunit of caspase-7 protease and the large subunit of caspase-3 also occur and vice versa.; S-nitrosylated on its catalytic site cysteine in unstimulated human cell lines and denitrosylated upon activation of the Fas apoptotic pathway, associated with an increase in intracellular caspase activity. Fas therefore activates caspase-3 not only by inducing the cleavage of the caspase zymogen to its active subunits, but also by stimulating the denitrosylation of its active site thiol.
FUNCTION
Caspase-3 (CPP-32, Apoptain, Yama, SCA-1) is a critical executioner of apoptosis, as it is either partially or totally responsible for the proteolytic cleavage of many key proteins, such as the nuclear enzyme poly (ADP-ribose) polymerase (PARP). Heterotetramer that consists of two anti-parallel arranged heterodimers, each one formed by a 17 kDa (p17) and a 12 kDa (p12) subunit.
CITATIONS
Chen, Fen et al.

Combination of HSP90 and autophagy inhibitors promotes hepatocellular carcinoma apoptosis following incomplete thermal ablation. | Molecular Medicine Reports [2020]

Liu, Xia et al.

Silencing RRM2 inhibits multiple myeloma by targeting the Wnt/β-catenin signaling pathway. | Molecular Medicine Reports [2019]

Fan, H., Wang, S., Wang, H....

Melatonin Ameliorates the Toxicity Induced by Deoxynivalenol in Murine Ovary Granulosa Cells by Antioxidative and Anti-Inflammatory Effects. Antioxidants (Basel, Switzerland), 10(7), 1045.

Fan, H., Ren, Z., Xu, C., W...

Chromatin Accessibility and Transcriptomic Alterations in Murine Ovarian Granulosa Cells upon Deoxynivalenol Exposure

Liu, Junjun et al.

Sini decoction alleviates E. coli induced acute lung injury in mice via equilibrating ACE-AngII-AT1R and ACE2-Ang-(1-7)-Mas axis. | Life Sciences [2018]

Chen, Qiuhua et al.

Sini decoction ameliorates sepsis-induced acute lung injury via regulating ACE2-Ang (1-7)-Mas axis and inhibiting the MAPK signaling pathway. | Biomedicine & Pharmacotherapy = Biomedecine & Pharmacotherapie [2019]

Jian-Hong Luo;Tian-Le Xu;Xi...

Restoration of Cingulate Long-Term Depression by Enhancing Non-apoptotic Caspase 3 Alleviates Peripheral Pain Hypersensitivity

Wang, L., Meng, Q., Yang, L...

Luman/CREB3 knock-down inhibit hCG induced MLTC-1 apoptosis