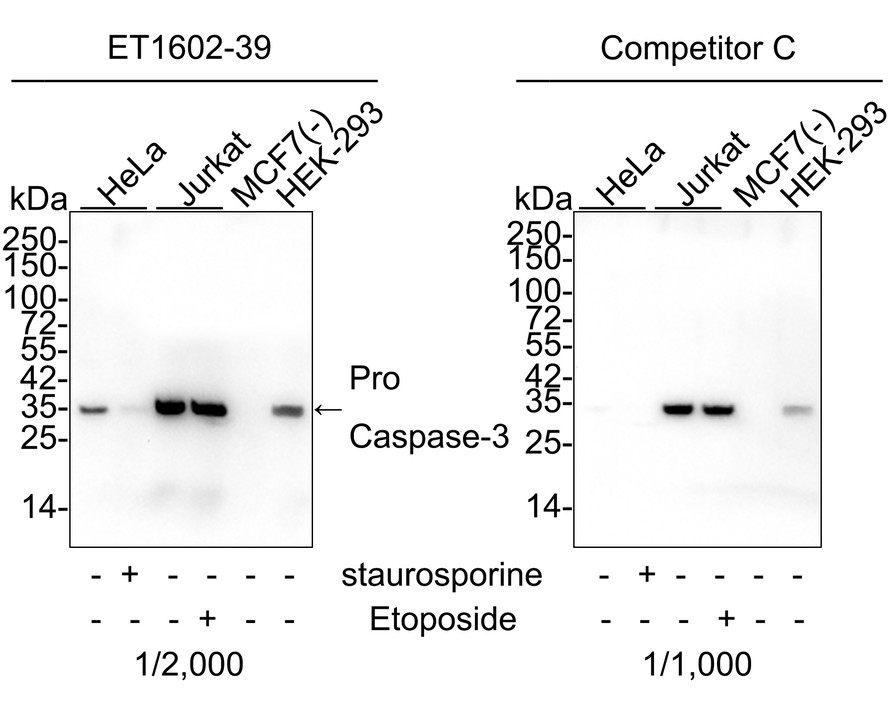 All lanes: Western blot analysis of Caspase-3 with anti-Caspase-3 antibody [SR03-01] (ET1602-39) at 1:500 dilution.
Lane 1: Wild-type Hela whole cell lysate (20 µg).
Lane 2: Caspase-3 knockout Hela whole cell lysate (20 µg).

ET1602-39 was shown to specifically react with Caspase-3 in wild-type Hela cells. No band was observed when Caspase-3 knockout samples were tested. Wild-type and Caspase-3 knockout samples were subjected to SDS-PAGE. Proteins were transferred to a PVDF membrane and blocked with 5% NFDM in TBST for 1 hour at room temperature. The primary antibody (ET1602-39, 1/500) and Loading control antibody (Rabbit anti-β-actin, R1207-1, 1/1,000) was used in 5% BSA at room temperature for 2 hours. Goat Anti-Rabbit IgG-HRP Secondary Antibody (HA1001) at 1:200,000 dilution was used for 1 hour at room temperature.
SPECIFICATIONS
Product Type
Recombinant Rabbit monoclonal primary
Product Name
Caspase-3 Recombinant Rabbit Monoclonal Antibody [SR03-01] (ET1602-39)
Immunogen
Synthetic peptide within human caspase-3 aa 60-100.
Positive Control
Hela cell lysate, Jurkat cell lysate, 293 cell lysate, Hela, human tonsil tissue, human spleen tissue.
PROPERTIES
Storage Condition
Store at +4C after thawing. Aliquot store at -20C or -80C. Avoid repeated freeze / thaw cycles.
Storage Buffer
1*TBS (pH7.4), 0.05% BSA, 40% Glycerol. Preservative: 0.05% Sodium Azide.
PURIFICATION
Protein A affinity purified.
APPLICATION DILUTION
IP

Use at an assay dependent concentration.
TARGET
SYNONYMS
A830040C14Rik antibody; Apopain antibody; CASP-3 antibody; CASP3 antibody; CASP3_HUMAN antibody; Casp3a antibody; Caspase 3 antibody; Caspase 3, apoptosis-related cysteine peptidase antibody; Caspase 3, apoptosis-related cysteine protease antibody; Caspase 3, apoptosis-related cysteine protease a antibody; Caspase-3 subunit p12 antibody; CC3 antibody; CPP-32 antibody; CPP32 antibody; CPP32B antibody; Cysteine protease CPP32 antibody; EC 3.4.22.56 antibody; LICE antibody; mldy antibody; OTTHUMP00000165052 antibody; OTTHUMP00000165053 antibody; OTTHUMP00000165054 antibody; PARP cleavage protease antibody; Procaspase3 antibody; Protein Yama antibody; SCA 1 antibody; SCA-1 antibody; SREBP cleavage activity 1 antibody; Yama antibody
SEQUENCE SIMILARITIES
Belongs to the peptidase C14A family.
TISSUE SPECIFICITY
Highly expressed in lung, spleen, heart, liver and kidney. Moderate levels in brain and skeletal muscle, and low in testis. Also found in many cell lines, highest expression in cells of the immune system.
POST-TRANSLATIONAL MODIFICATION
Cleavage by granzyme B, caspase-6, caspase-8 and caspase-10 generates the two active subunits. Additional processing of the propeptides is likely due to the autocatalytic activity of the activated protease. Active heterodimers between the small subunit of caspase-7 protease and the large subunit of caspase-3 also occur and vice versa.; S-nitrosylated on its catalytic site cysteine in unstimulated human cell lines and denitrosylated upon activation of the Fas apoptotic pathway, associated with an increase in intracellular caspase activity. Fas therefore activates caspase-3 not only by inducing the cleavage of the caspase zymogen to its active subunits, but also by stimulating the denitrosylation of its active site thiol.
FUNCTION
Caspase-3, also known as apopain, SCA-1, Yama and CPP32, is an aspartate-specific cysteine protease that belongs to the ICE subfamily of caspases. Caspase-3 is expressed in cells as an inactive precursor from which the p17 and p11 subunits of the mature caspase-3 are proteolytically generated during apoptosis. The caspase-3 precursor is first cleaved at Asp175-Ser176 to produce the p11 subunit and the p20 peptide. Subsequently, the p20 peptide is cleaved at Asp28-Ser29 to generate the mature p17 subunit. The active caspase-3 enzyme is a heterodimer composed of two p17 and two p11 subunits. At the onset of apoptosis, caspase-3 proteolytically cleaves PARP at an Asp216-Gly217 bond. During the execution of the apoptotic cascade, activated caspase-3 releases SREBP from the membrane of the ER in a proteolytic reaction that is distinct from their normal sterol-dependent activation. Caspase-3 cleaves and activates SREBPs between the basic helix-loop-helix leucine zipper domain and the membrane attachment domain. Caspase-3 also cleaves and activates caspase-6, -7 and -9. The human caspase-3 gene encodes a cytoplasmic protein that is highly expressed in lung, spleen, heart, liver, kidney and cells of the immune system.