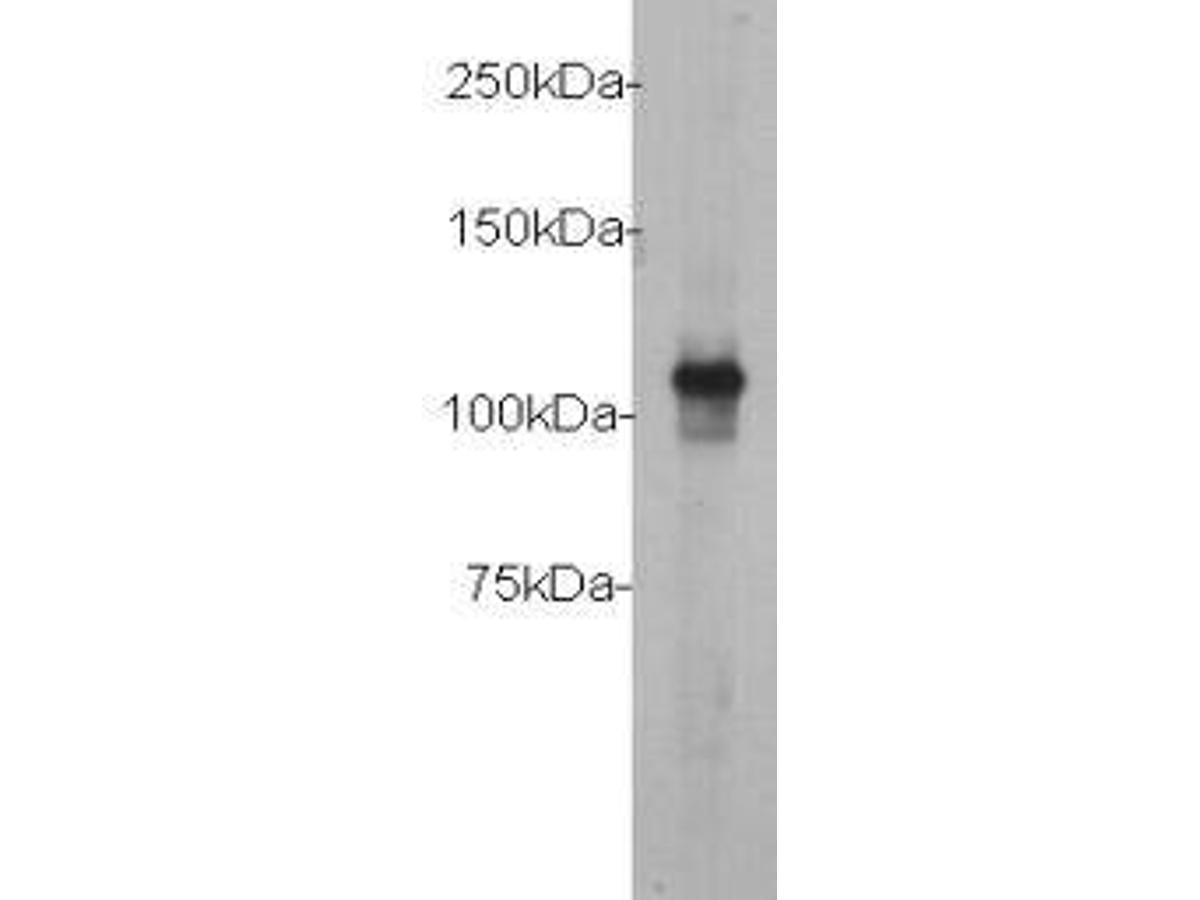 Western blot analysis on myc-tagged recombinant protein using c-myc antibody HRP conjugated.
SPECIFICATIONS
Product Type
Rabbit polyclonal primary
Product Name
HRP Conjugated C-myc Rabbit Polyclonal Antibody (0912-4)
PROPERTIES
Storage Condition
Store at +4C after thawing. Aliquot store at -20C or -80C. Avoid repeated freeze / thaw cycles.
Storage Buffer
1*PBS (pH7.4), 0.2% BSA, 40% Glycerol.
PURIFICATION
Immunogen affinity purified
TARGET
SYNONYMS
AU016757 antibody; Avian myelocytomatosis viral oncogene homolog antibody; bHLHe39 antibody; c Myc antibody; Class E basic helix-loop-helix protein 39 antibody; MRTL antibody; Myc antibody; Myc protein antibody; Myc proto oncogene protein antibody; Myc proto-oncogene protein antibody; myc-related translation/localization regulatory factor antibody; MYC_HUMAN antibody; Myc2 antibody; MYCC antibody; Myelocytomatosis oncogene antibody; Niard antibody; Nird antibody; Oncogene Myc antibody; OTTHUMP00000158589 antibody; Proto-oncogene c-Myc antibody; Protooncogene homologous to myelocytomatosis virus antibody; RNCMYC antibody; Transcription factor p64 antibody; Transcriptional regulator Myc-A antibody; V-Myc avian myelocytomatosis viral oncogene homolog antibody; v-myc myelocytomatosis viral oncogene homolog (avian) antibody
POST-TRANSLATIONAL MODIFICATION
Phosphorylated by PRKDC. Phosphorylation at Ser-329 by PIM2 leads to the stabilization of MYC (By similarity). Phosphorylation at Ser-62 by CDK2 prevents Ras-induced senescence. Phosphorylated at Ser-62 by DYRK2; this primes the protein for subsequent phosphorylation by GSK3B at Thr-58. Phosphorylation at Thr-58 and Ser-62 by GSK3 is required for ubiquitination and degradation by the proteasome.; Ubiquitinated by the SCF(FBXW7) complex when phosphorylated at Thr-58 and Ser-62, leading to its degradation by the proteasome. In the nucleoplasm, ubiquitination is counteracted by USP28, which interacts with isoform 1 of FBXW7 (FBW7alpha), leading to its deubiquitination and preventing degradation. In the nucleolus, however, ubiquitination is not counteracted by USP28 but by USP36, due to the lack of interaction between isoform 3 of FBXW7 (FBW7gamma) and USP28, explaining the selective MYC degradation in the nucleolus. Also polyubiquitinated by the DCX(TRUSS) complex. Ubiquitinated by TRIM6 in a phosphorylation-independent manner (By similarity).
FUNCTION
Myc gene encodes for a transcription factor that is believed to regulate expression of 15% of all genes through binding on Enhancer Box sequences (E-boxes) and recruiting histone acetyltransferases (HATs). c-Myc is commonly activated in a variety of tumor cells and plays an important role in cellular proliferation, differentiation, apoptosis and cell cycle progression. This c-Myc antibody detects endogenous levels of total c-Myc protein and is also for detection of Myc-tagged fusion proteins.