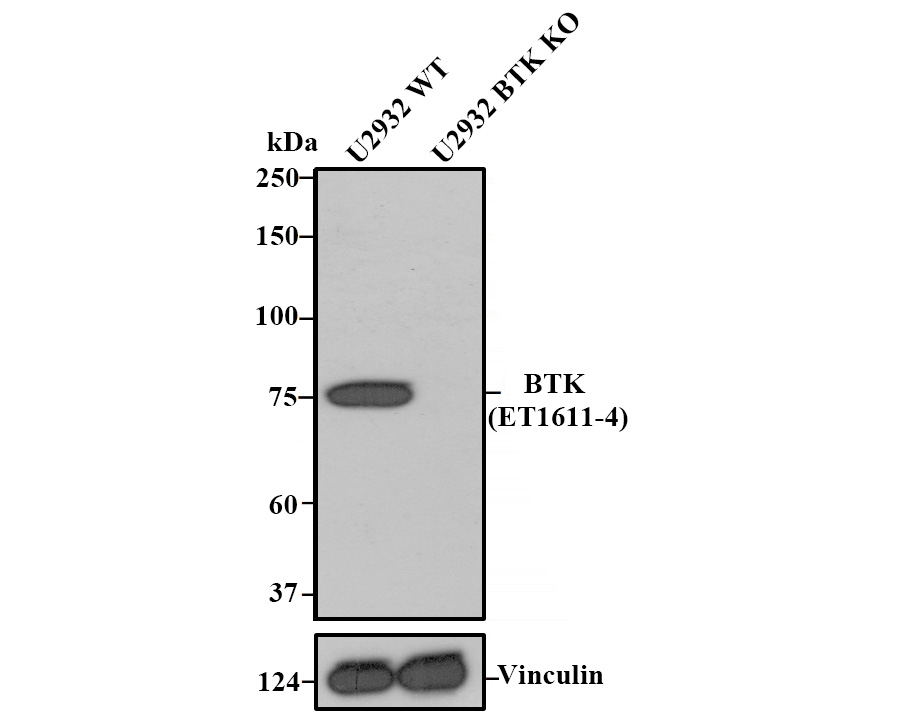 Western blot analysis of BTK on different lysates. Proteins were transferred to a PVDF membrane and blocked with 5% BSA in PBS for 1 hour at room temperature. The primary antibody (ET1611-4, 1/500) was used in 5% BSA at room temperature for 2 hours. Goat Anti-Rabbit IgG - HRP Secondary Antibody (HA1001) at 1:5,000 dilution was used for 1 hour at room temperature.
Positive control:
Lane 1: Daudi cell lysate
Lane 2: Raji cell lysate
Lane 3: U937 cell lysate
SPECIFICATIONS
Product Type
Recombinant Rabbit monoclonal primary
Product Name
BTK Recombinant Rabbit Monoclonal Antibody [SN69-07] (ET1611-4)
Immunogen
Synthetic peptide within c-terminal human btk.
Positive Control
Daudi cell lysate, Raji cell lysate, U937 cell lysate, human tonsil tissue.
PROPERTIES
Storage Condition
Store at +4C after thawing. Aliquot store at -20C or -80C. Avoid repeated freeze / thaw cycles.
Storage Buffer
1*TBS (pH7.4), 0.05% BSA, 40% Glycerol. Preservative: 0.05% Sodium Azide.
PURIFICATION
Protein A affinity purified.
TARGET
SYNONYMS
Agammaglobulinaemia tyrosine kinase antibody; AGMX 1 antibody; AGMX1 antibody; AT antibody; ATK antibody; B cell progenitor kinase antibody; B-cell progenitor kinase antibody; BPK antibody; Bruton agammaglobulinemia tyrosine kinase antibody; Bruton tyrosine kinase antibody; Bruton's Tyrosine Kinase antibody; Btk antibody; BTK_HUMAN antibody; dominant-negative kinase-deficient Brutons tyrosine kinase antibody; IMD 1 antibody; IMD1 antibody; MGC126261 antibody; MGC126262 antibody; OTTHUMP00000063593 antibody; PSCTK 1 antibody; PSCTK1 antibody; truncated Bruton agammaglobulinemia tyrosine kinase antibody; Tyrosine protein kinase BTK antibody; Tyrosine-protein kinase BTK antibody; tyrosine-protein kinase BTK isoform (lacking exon 14 antibody; XLA antibody
SEQUENCE SIMILARITIES
Belongs to the protein kinase superfamily. Tyr protein kinase family. TEC subfamily.
TISSUE SPECIFICITY
Predominantly expressed in B-lymphocytes.
POST-TRANSLATIONAL MODIFICATION
Following B-cell receptor (BCR) engagement, translocates to the plasma membrane where it gets phosphorylated at Tyr-551 by LYN and SYK. Phosphorylation at Tyr-551 is followed by autophosphorylation of Tyr-223 which may create a docking site for a SH2 containing protein. Phosphorylation at Ser-180 by PRKCB, leads in translocation of BTK back to the cytoplasmic fraction. Phosphorylation at Ser-21 and Ser-115 creates a binding site for PIN1 at these Ser-Pro motifs, and promotes it's recruitment.
SUBCELLULAR LOCATION
Cytoplasm, Nucleus, Cell membrane.
FUNCTION
The Tec family of non-receptor tyrosine kinases is composed of six proteins designated Tec, Emt (also known as Itk or Tsk), Btk (previously known as Atk, BPK or Emb), Bmx, Txk (also known as Rlk) and Dsrc28C. All members of the family contain SH3 and SH2 domains and, with the exception of Txk and Dsrc28C, also contain a pleckstrin homology (PH) and a Tec homology (TH) domain in their amino termini. Four alternatively spliced forms of Tec are found to be expressed broadly in cells of hematopoietic lineage and hepatocytes. The Emt gene product associates with CD28 and becomes activated subsequent to CD28 ligation. Btk is necessary for proper B cell development, and mutations in the gene encoding Btk have been associated with families suffering from X-linked agammaglobulinemia, also referred to as Bruton's disease. The Bmx protein shares a high degree of homology with Btk and seems to be expressed at highest levels in the heart. Txk expression is T cell-specific, while expression of the Drosophila Tec homolog, Dsrc28C, is developmentally regulated.