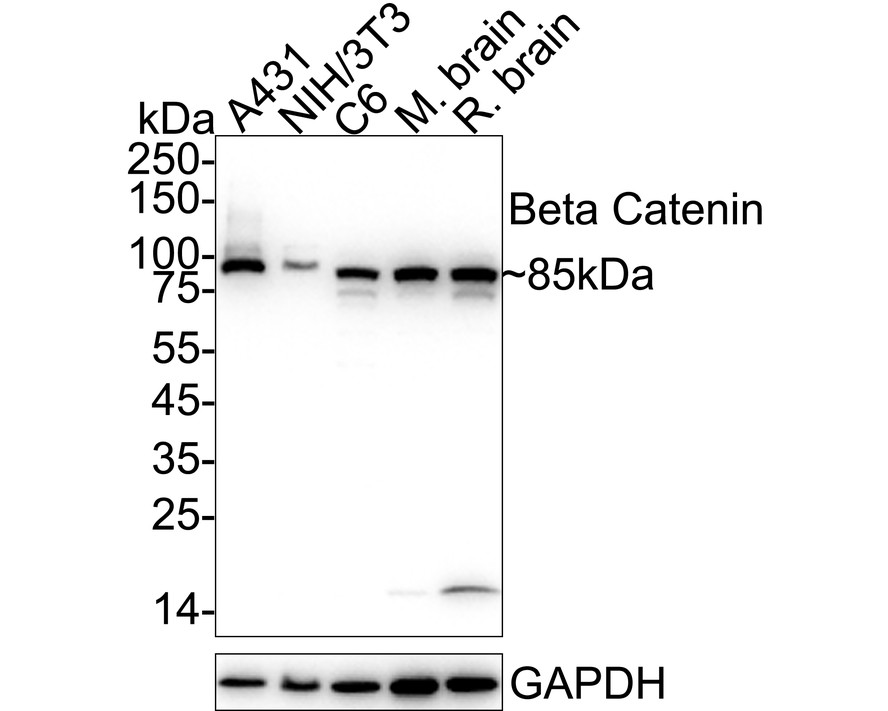 Western blot analysis of beta Catenin on different lysates. Proteins were transferred to a PVDF membrane and blocked with 5% NFDM/TBST for 1 hour at room temperature. The primary antibody (0407-16, 1/5,000) was used in 5% NFDM/TBST at room temperature for 1 hour. Goat Anti-Rabbit IgG - HRP Secondary Antibody (HA1001) at 1:200,000 dilution was used for 45 mins at room temperature.
REACTIVITY
Human

Mouse

Rat

Zebrafish
SPECIFICATIONS
Product Type
Rabbit polyclonal primary
Product Name
beta-Catenin Rabbit Polyclonal Antibody (0407-16)
Immunogen
Synthetic peptide within n-terminal human beta catenin.
Positive Control
Hybrid fish (crucian-carp) heart tissue lysates, SW480.
PROPERTIES
Storage Condition
Store at +4C after thawing. Aliquot store at -20C or -80C. Avoid repeated freeze / thaw cycles.
Storage Buffer
1*PBS (pH7.4), 0.2% BSA, 40% Glycerol. Preservative: 0.05% Sodium Azide.
PURIFICATION
Immunogen affinity purified
TARGET
SYNONYMS
Beta catenin antibody; Beta-catenin antibody; Cadherin associated protein antibody; Catenin (cadherin associated protein), beta 1, 88kDa antibody; Catenin beta 1 antibody; Catenin beta-1 antibody; CATNB antibody; CHBCAT antibody; CTNB1_HUMAN antibody; CTNNB antibody; CTNNB1 antibody; DKFZp686D02253 antibody; FLJ25606 antibody; FLJ37923 antibody; OTTHUMP00000162082 antibody; OTTHUMP00000165222 antibody; OTTHUMP00000165223 antibody; OTTHUMP00000209288 antibody; OTTHUMP00000209289 antibody
SEQUENCE SIMILARITIES
Belongs to the beta-catenin family.
TISSUE SPECIFICITY
Expressed in cerebellar granule neurons (at protein level).
POST-TRANSLATIONAL MODIFICATION
Phosphorylation by GSK3B requires prior phosphorylation of Ser-45 by another kinase. Phosphorylation proceeds then from Thr-41 to Ser-33. Phosphorylated by NEK2. EGF stimulates tyrosine phosphorylation. Phosphorylation on Tyr-654 decreases CDH1 binding and enhances TBP binding (By similarity). Phosphorylated on Ser-33 and Ser-37 by HIPK2. This phosphorylation triggers proteasomal degradation. Phosphorylation at Ser-552 by AMPK promotes stabilizion of the protein, enhancing TCF/LEF-mediated transcription. Phosphorylation on Ser-191 and Ser-246 by CDK5. Phosphorylation by CDK2 regulates insulin internalization (By similarity). Phosphorylation by PTK6 at Tyr-64, Tyr-142, Tyr-331 and/or Tyr-333 with the predominant site at Tyr-64 is not essential for inhibition of transcriptional activity (By similarity).; Ubiquitinated by the SCF(BTRC) E3 ligase complex when phosphorylated by GSK3B, leading to its degradation (By similarity). Ubiquitinated by a E3 ubiquitin ligase complex containing UBE2D1, SIAH1, CACYBP/SIP, SKP1, APC and TBL1X, leading to its subsequent proteasomal degradation (By similarity). Ubiquitinated and degraded following interaction with SOX9 (Probable).; S-nitrosylation at Cys-619 within adherens junctions promotes VEGF-induced, NO-dependent endothelial cell permeability by disrupting interaction with E-cadherin, thus mediating disassembly adherens junctions.; O-glycosylation at Ser-23 decreases nuclear localization and transcriptional activity, and increases localization to the plasma membrane and interaction with E-cadherin CDH1.; Deacetylated at Lys-49 by SIRT1.
SUBCELLULAR LOCATION
Cell membrane, perinuclear region
FUNCTION
β-Catenin is a multifunctional adaptor protein involved in cadherin-mediated cell–cell adhesion and in responding to the activation of several signal transduction pathways. CK1 phosphorylates β-catenin on Ser45. This phosphorylation event primes β-catenin for subsequent phosphorylation by GSK-3. GSK-3β destabilizes β-catenin by phosphorylating it at Ser33, Ser37 and Thr41.). Mutations in β-Catenin have been implicated in its accumulation and various forms of carcinomas.
CITATIONS
Xiang, Bingyu et al.

Transplantation of Menstrual Blood-Derived Mesenchymal Stem Cells Promotes the Repair of LPS-Induced Acute Lung Injury. | International Journal of Molecular Sciences [2017]

Xiangru Wang

Induction of VEGFA and Snail-1 by meningitic Escherichia coli mediates disruption of the blood-brain barrier

Zhu, Xinfeng et al.

All-Trans Retinoic Acid-Induced Deficiency of the Wnt/β-Catenin Pathway Enhances Hepatic Carcinoma Stem Cell Differentiation. | PloS One [2015]